The Park Hyatt Aviara's secret weapon isn't so secret: It sits high on a ridge overlooking the vast, wild and majestic Pacific Ocean, so you'll never run short of wondrous sights to behold. But if that natural beauty isn't enough for you, the Park Hyatt Aviara has lots more opulent amenities to guarantee a fantastic stay.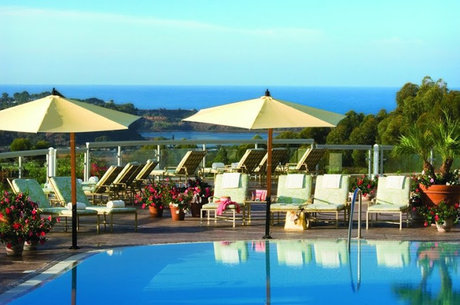 Located in Carlsbad, California, atop San Diego, this luxurious resort offers all the features discerning travelers will appreciate, including top-line sports facilities, well-appointed facilities for meetings and private events, a plush spa, and gourmet restaurants and bars. We won't blame you if you never want to leave.
Your eyes aren't deceiving you — the Park Hyatt Aviara's shiny exterior is every bit as sparkling as you'd expect. The sunny skies, paired with 200 acres of rolling hills and green countryside, are matched by indulgences built into the facilities.
Active visitors can dip into the opulent swimming pools, serve up a set on the tennis courts, get their blood pumping at the fitness center, or play a round on the Arnold Palmer-designed 18-hole championship golf course.
Outdoor enthusiasts will also appreciate the Park Hyatt Aviara's location, neighboring the Batiquitos Lagoon, a wildlife sanctuary with untouched delicacy.
But the Park Hyatt Aviara earns its AAA Five Diamond rating in more ways than one. The hotel offers 329 expansive guest rooms, among them 44 ample suites, with private balconies opening up to pleasing views of the ocean, garden, or golf course. The rooms themselves are specially dialed up for the ultimate guest comfort, including those suffering from allergies.
Cleanliness is not enough at the Park Hyatt Aviara — the commitment to purity goes even deeper. At the Park Hyatt Aviara, every room is subject to Respire by Hyatt, a six-step process to decrease the number of allergens, from the installation of a state-of-the-art air purification system and treatment of all fabrics and surfaces.
You don't even have to check in to enjoy one of the Park Hyatt Aviara's most popular delights: the fine dining. Previously The Four Season's Hotel, the Park Hyatt Aviara retained the culinary team, which is known for their exquisite cuisine. All the restaurants, and room services as well, provides 5 Star cuisine!  The culinary map is well covered. Vivace, which translates into "alive" in Italian, presents creative Italian cuisine in a sophisticated and modern setting, while the Argyle Steakhouse specializes in prime cuts of organic meats.
For more casual dining, head to the California Bistro, where California-style preparations are on the menu, or take it outside to the Ocean Pool Bar & Grill and scoop up American specialties, such as fresh salads, fish tacos, and healthy wraps, right alongside the pool. If you just want to wet your whistle, stop by the Lobby Lounge for a mixed drink, afternoon tea, or a light snack. The Park Hyatt Aviara can satisfy nearly any yen.
The Park Hyatt Aviara is also available for meetings, weddings, and other events. Your business conferences and work functions will be both more appealing and more convenient with state-of-the-art audio, video, and Internet technology; pleasing catering; and mindful service. Guests can make use of the 19 breakout rooms for more intensive get-togethers, and of course, your organization can take advantage of the outdoor spaces that distinguish the Park Hyatt Aviara, whether to breathe new life into your important meetings or simply for less-structured brainstorming sessions.
Business services are also available for hotel guests. A 24-hour business center allows guests to fax, print, and copy around the clock. Wired and wireless Internet is offered throughout the hotel and in meeting rooms as well.
The Park Hyatt Aviara welcomes weddings, birthdays, anniversaries, engagements, and other milestones. The 11,730-square-foot Grand Ballroom is perfect for such extravaganzas, and professional meeting planners are available to help you plan your theme or motif. As with business clients, innovative catering is available to add to your event's highlights.
The Park Hyatt Aviara takes all the features you'd expect of a high-end hotel — sumptuous accommodations, top-notch hospitality, delicious dining and catering, and desirable amenities — and places them in one of the most breathtaking natural surroundings on the California coast. The result is a hotel and resort that becomes more than a roof and stop on the road — it's a destination you'll want to visit again and again, whether for pleasure or for business, for sport or for dining, or even just to take in the environmental allure.
A short distance from San Diego or a leisurely drive from Los Angeles, the Park Hyatt Aviara offers all the best of southern California in its purest and most concentrated form. For an escape within an escape, the Park Hyatt Aviara beckons. Go ahead and answer the call.
For more information on the Park Hyatt Aviara Resort, special offers and room rates please visit www.parkaviara.hyatt.com.