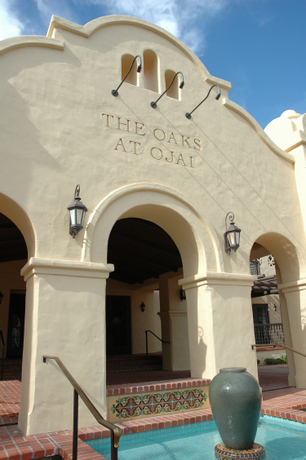 Fall is upon us again, cooler days, leaves turning golden hues and a bounty of pumpkin in-season produce.  Summer was hectic but now it's time to slow down a bit, plan a rejuvenatory getaway and enjoy the crisp air. For Angelenos, The Oaks at Ojai is one of the best places to "fall" gracefully into the season and take advantage of special deal.
Now through December 24, 2012, bring a friend for a 3 night stay (or longer) and they will receive a 50% discount for sharing your room.  Rates start at $199 per person/per night and include accommodations, three flavorful, calorie conscious spa cuisine meals, choice of 15 fitness classes and evening seminars.
If anyone knows healthy fitness tips, it's the expert staff at The Oaks, here are their six Fall Fitness Tips: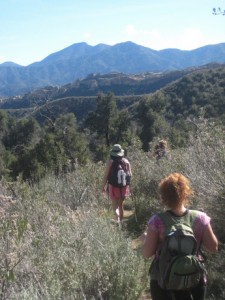 1.     Fall in love with fall cool! Get outside of the gym and breath the crisp autumn air- look around as you walk/jog in the color.
2.     Renew your gym membership! Summer is over and it's no excuses, so plug back into your regime!
3.     Pull out your home work out tools and put them in front of the TV. If it's too cold or wet to be outside, have your Plan B in place and ready to go
4.     Hire a trainer for a month. Pick a goal and have them help you set up a program to succeed
5.     Train for a 5k or more. Pick your favorite charity and work your butt off for them! It's good and it's fun and everyone wins. Have a friend join you on the adventure.
6.     Get a strong mindset and plan in place BEFORE the holidays arise and stick with your program!
The Oaks is renowned for their delicious, healthy cuisine. Along with pumpkins, apples and greens like spinach and swiss chard are also in season with the cooler weather.  Did you know pumpkin is full of Vitamin A, along with potassium, iron, calcium and Vitamin C?
The Oaks shares a few healthy low-cal pumpkin recipes for you to try this fall and winter season.
Pumpkin and Chile Soup
2 cloves garlic (2 teaspoons), minced
1/2 cup chopped Pasilla chile
1 cup chopped onion
1/2 cup chopped Anaheim chile
2 cups pumpkin puree
4 cups low- sodium chicken broth
1 Tablespoon olive or canola oil
1/4 cup nonfat plain yogurt
2 teaspoons maple syrup
1 Tablespoon lime juice
In a medium soup pot, add the olive oil and heat briefly before adding the onions and all of the chilies.  When they begin to soften, add the garlic and sauté until the onions are clear (do not brown).
Add the chicken broth, bring to a boil, and simmer the mixture until the chilies are soft.  Stir in the pumpkin puree, warm and then blend with an immersion blender or transfer the mixture in batches to a blender; blend until creamy.  Return to the pot, warm and serve into warmed bowls or soup cups. Mix the last three ingredients together for garnish. Toasted pumpkin seeds make a nice garnish, as well.
Serves:10  Serving size: 1/2 cup  Calories: 53
Pumpkin Mousse
3 cups pumpkin puree
12 oz. soft or silken tofu
1 TBS. gelatin
1/4 cup apple juice concentrate
6 oz. water
1/2 c. honey
2 tsp. ground cinnamon
1/4 tsp. ground all-spice
1/2 tsp. ground ginger
Mix water and apple juice concentrate in a small saucepan.  Sprinkle gelatin over liquid and let sit for ten minutes.  In the meantime, puree tofu in food processor until smooth.  Add pumpkin, honey and spices and continue to process until smooth.  On low heat, melt gelatin with liquid.  Whisk until smooth (you do not want any gelatinous lumps in this).  With processor running, add gelatin and liquid mixture.  Process until well incorporated.  Chill for at least three hours or overnight.  Mousse can then be scooped with ice cream scoop onto plate or into bowl and garnished with vanilla or maple yogurt and toasted nuts, if desired.
Serving size: 1/4 cup Servings per recipe: 24 Calories:  42.5
Pumpkin-Cranberry Muffins  
1/2 cups chopped walnuts
2 T. agave
2 T. wheat germ
1 1/2 c. whole wheat flour
1/2 cup wheat germ
2 tsp. baking powder
1 tsp. cinnamon
1/2 tsp. allspice
1/4 tsp. baking soda
3/4 cup pumpkin
1/3 cup agave
1 cup non-fat yogurt
2 Tablespoons canola oil
1 large egg
1/2 cup dried cranberries
1/2 cup dried cranberries
1 tsp. orange rind
Preheat oven to 350 degrees. Combine first three ingredients and set aside. Combine second set of ingredients in a large mixing bowl. Stir third set of ingredients together in a bowl, mixing well.  Stir the wet mixture into the flour mixture, stirring just until moist. Fold in #4, cranberries and orange rind. Line tins with muffin cups. Spoon 1/4 cup batter into muffin cups. Sprinkle top of muffins with #1 walnut mixture. Bake for twenty minutes. Cool on a wire rack.
Yield: 16 muffins Calories: 100/muffin
About The Oaks at Ojai
The Oaks is Ojai's all-inclusive destination spa.  The Oaks is a peaceful, healthy retreat offering guests everything from guided hikes into the mountains, to water aerobics under the warm Southern California sun, while winding down the day with calming restorative yoga.
The Oaks provides guests a casual, welcoming environment in the unique town of Ojai, known for being franchise free and foot friendly.  Guests can come on their own or with a friend for a quick two night getaway, a long vacation, or even just for a day of pampering and feel the embrace of a truly caring staff.
Take advantage of The Oaks of Ojai, CA special promotion by visiting www.oaksspa.com or call 800.753.OAKS (6257).
Wait! Don´t forget to Subscribe for Free!
Main Feed | What is RSS?
Enter your E-mail below to Subscribe

*
No spam
|
Privacy Policy
We will not sell or distribute your e-mail address to anyone else.
Written by Jane Emery