Maybe you can't jet off to St.Tropez or Maui for some fun, sea and sun this year, but there are ways to have that experience right here in the Marina Del Rey beachside community of Los Angeles for a fraction of the cost.
Some of the many choices of fun things to do in Marina Del Rey, is Phins Water Sports Club, who offers a rip-rowing good time with their custom-made slide rowing boats. Tour the Marina Del Rey Harbor via row boat, enjoying the fresh air, water and marine life such as playful sea lions swimming about, while getting a great workout. Then dock your boat right in front of Killer Shrimp at their 300-foot public boat dock and have a healthy, seaside lunch.
Killer Shrimp, with a seafood, steak, salad and soup menu, is the only "dock and dine" destination in Los Angeles, not to mention the amazing waterfront views it affords. Killer Shrimp's harbor patio features outdoor seating with glass enclosures, cozy heaters and date-worthy ambiance. The daytime vibe is upbeat and sparkling with ocean breezes, while dining after dusk is an aphrodisiac mix of sultry rock, jazz/R&B, and low-lit bliss.
With a sea and shrimp daycation, you'll feel like you had an escape without the time or cost of a vacation.  Or maybe you need a new workout regime. Phins Water Sports Club can be the outdoor gym you've been looking for. Like a health club, you pay a monthly fee and it provides you with all the fun of owning a boat or paddleboard without any of the fuss. You'll never have to worry about where to store it or about the maintenance and upkeep. The Pro Staff at Phins will take care of all of that for you and more.
All you need to do to join is take an introductory lesson (as pictured above) with one of Phins Water Sports Club pro staff instructors. An intro one-hour class is $25 for a solo lesson or $45 for a double lesson. Then you have access to their rowing boats and stand up paddleboards by reserving a time online and purchasing hourly packages. Burn up to 800 calories an hour or simply enjoy the outdoors and if you like, you can even bring your dog along.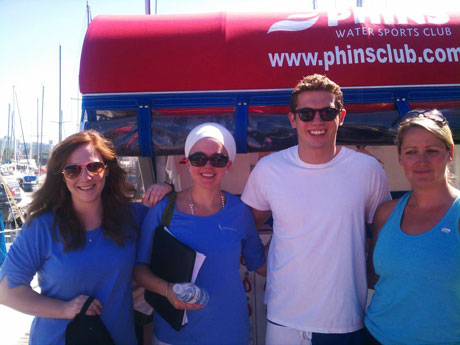 Whether you need a new workout routine, need a mini-vacation or have guests in town you need to entertain, it's a nice escape to take a nice relaxing ride in the bay of Marina del Rey watching playful sea lions that swim under your row boat.
For Pet Lovers
There are many other options if you're a landlubber. If you want to like to have your furry best friends join you, there are a variety of dog friendly parks located in Marina Del Rey suited for recreational activities from barbecues to beautiful ocean views. Burton W. Chace Park is an amazing place to take a dog on a walk while relaxing and enjoying the ambiance of the surroundings. Glen Alla Park may not be officially considered a dog park, though it is still a very popular location to take dogs on walks and let them play with other dogs. At the Marina Del Rey Visitors Center, there are maps outlining both dog-friendly and individual walks that are wonderful for getting away from the busy industrial city.
More Great Places to Dine with Your Pet
There are several places to eat with your dog that have seating specially designed for your pooch. Baja Fresh, and Chipotle are both Mexican fast-food restaurants that are dog-friendly and have seating available. Frankie and Johnnie's New York Pizza and Fresh Brothers Pizza are amazing choices for wings, desserts, or even just a traditional delicious pizza. Joni's Coffee Roasting Cafe is located right on the Marina, it's claim to fame is that it has the "freshest cup of coffee on the Marina". Mercedes Grill is a fine location for a delicious breakfast, they are famous for their cinnamon pancakes and omelets.
Other great places to dine are Mercede's Grill 310-577-0035; 14 Washington Blvd. Breakfast lovers rave about the banana cinnamon pancakes and the Waldorf omelet. Mendocino Farms Sandwiches & Marketplace, 310-822-2300, 4724 Admiralty Way Using fresh, seasonal ingredients, Mendocino Farms has a reputation for offering the most flavorful sandwich, salad and soup options. The outdoor eating area is open to pets.
Great Dog Friendly Accommodations in Marina del Rey
The Ritz-Carlton, Marina del Rey, 310-823-1700; 4375 Admiralty Way
The Ritz-Carlton is no longer offering the d"doggie dining" menu but will instead whip up specialty dishes for any traveling companion from their kitchen on request.
The Marina del Rey Hotel 310-301-1000, 13534 Bali Way. A refreshing pool overlooks Marina views at this dog-friendly (25 pounds or less) destination.
The Marina International Hotel and Bungalows, 310-301-2000; 4200 Admiralty Way. Dogs of any size are welcome at the Marina International Hotel and Bungalows.
For more information, visit  Marina del Rey Convention & Visitors Bureau, the official destination marketing organization for Marina del Rey, California. MdR CVB provides support and information on tourism services and facilities to the public, travel agents, tour operators, meeting planners and the media.
For more information, call 310-305-9545, log on to www.VisitMarinaDelRey.com, www.facebook.com/visitmarinadelrey, www.twitter.com/marinadelrey_ca, or www.marinadelrey-ca.blogspot.com/; or stop by the Marina del Rey Visitors Center, 4701 Admiralty Way, Marina del Rey, CA 90292. For group information and travel professionals, call 310-306-9900.