The Kia Sorento SX proves once more how far the Korean auto manufacturer has come in crafting affordable, reliable, and attractive vehicles. This compact crossover hits the sweet spot as a solid all-around car that seats five passengers, including taller, longer-legged adults. Add in good gas mileage, a comfortable look and feel, and a reasonable sticker price, and you have yourself ideal transportation for a family or anyone who wants to drive in expansive ease.
Though looks aren't everything, the Kia Sorento SX casts an attractive profile, striking a fine balance between the strength of an SUV and the practicality of a station wagon, albeit one with its own body kit and sporty wheels. Stylistically, it holds its own against more expensive makes, though the SX could use better interior trim than the hard plastic detail. Put it this way: Mom or dad, married or single, young or old, you'll have no qualms about pulling up to your destination in this car.
On the Edge Electronically
The view from the outside is impressive, and you'll probably be just as pleased with the features inside. It should be noted that the dash is finished in plastic — Kia is still a more economical brand, after all — but plenty of other goodies come standard, including a rearview camera and LCD screen; big, readable gauges; and well-defined air vents and climate controls, both in front and in back. On the electronics edge, the Kia Sorento SX comes with air conditioning, power features, Bluetooth, satellite radio, USB/auxiliary ports, a standard navigation system with voice commands, ventilated front seats, and Infinity speakers. Drivers in colder climates will appreciate the heated steering wheel too.
Sorrento's Cups Runneth Over
It's a cliché, but you're probably wondering about cup holders. Don't worry — there are plenty to go around. In fact, the abundance of drink holders is just one sign of the Kia Sorento's overall commitment to driver convenience. More examples: the smart key with push-button start; the automatic setting for headlights; and easily accessible seat belts that can accommodate children's booster seats.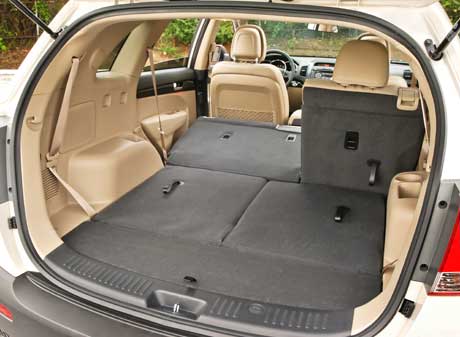 Kia Sorento Safety Features
Of course, safety is a major concern for family-oriented cars like the Kia Sorento SX, and this model piles on the protection. The Sorento is packed with dual front advanced airbags, front seat mounted side airbags, and side curtain airbags (for the first and second rows), as well as front active headrests. On the ground, the Sorento backs up drivers with an antilock brake system, a traction control system, and electronic stability control. For overall crash protection, the Sorento earned four out of five stars in government crash tests. More specifically, the Sorento clinched four stars for frontal-impact protection and five stars for side-impact protection. The Sorento qualifies as "Good" in the frontal-offset, side and roof strength crash tests, the high possible rating from the Insurance Institute for Highway Safety.
Sorento Speed/Gas Mileage
The Kia Sorento SX comes with a 3.5-liter, 276-horespower V6 engine, which matches nicely with the optional all-wheel drive. Even better, the V6 doesn't penalize your mileage much; as a front-drive automatic-equipped crossover, the Sorento is rated at 20/26 mpg by the EPA, while the four-wheel drive remains competitive at 18/24 mpg. If these numbers sound good, you can use the additional power for, say, towing a load (up to 3,500 pounds) or simply transporting an especially rambunctious set of passengers. This extra juice will get you up to speed more quickly, but at the same time, the Sorento's suspension remains smooth enough to help you and your precious cargo overlook most road imperfections. That said, leave the off-roading adventures to more rugged vehicles, but trust the Sorento to handle snowfall and wintery conditions.
An optional third-row seat is available for the Sorento SX, but it probably won't be sufficient for average-size adults. However, it ups the seat count to seven and could serve you well as an alternative to a minivan.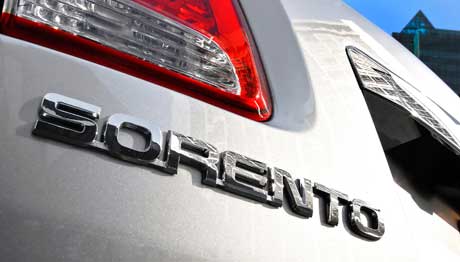 Extensive Warranty Plans
To top it off, the Sorento SX comes with Kia's extensive coverage plans: 10 year/100,000 mile limited powertrain warranty, a 5 year/60,000 mile limited basic warranty, and a 5 year/60,000 mile roadside assistance. Overall, Kia has put together another solid vehicle that will please any driver who wants a spacious cabin, smooth handling, thoughtful details, and a wealth of features, all at a fair price (starting at $23,150).
For more about Kia Sorento SX, visit www.kia.com
Wait! Don´t forget to Subscribe for Free!
Main Feed | What is RSS?
Enter your E-mail below to Subscribe

*
No spam
|
Privacy Policy
We will not sell or distribute your e-mail address to anyone else.
Written by Jane Emery