September is Self Improvement Month. One way to improve overall health is eating farm-to-table food. The gourmet gifting retailer Harry & David, with self-improvement in mind, has a few healthy & wholesome options for yourself or for family and friends. From an Orchard Gift Basket, to the Fresh Fruit Gift Basket to the Sensible Snack Gift Box, Harry & David's Healthy & Wholesome Gifts are sure to help you re-center through September Self Improvement month.
With a 75-year reputation for genuine farm-to-table freshness and unsurpassed artisanal quality, Harry & David is legendary for exclusive gifts. Through its stores, catalogs and website, Harry & David offers an affordable "best-of-class" experience as part of everyday life. Gifts from Harry & David, and its brands Cushman's and Wolferman's, are designed for festive occasions, entertaining and self-enjoyment throughout the year.  Self-improvement never looked or tasted so good!
Here are their healthy, delicious options:
Sensible Snack Gift Box
Naturally delicious in every way. This guilt-free gift is a great way to experience gourmet the wholesome way.
Price: $49.95
Details: 4 Premium Pears, Roasted Salted Pistachios, Roasted Salted Trail Mix, Cherry Berry Granola, California Almond Valley Snack Bar, Niagara Apple Country Snack Bar.
Orchard Gift Basket – Original
Filled with orchard-fresh fruit and savory treats, making this canvas-lined basket a great gift for anyone who appreciates a wholesome snack with a gourmet flare.
Price: $49.95
Details: 5 Premium Pears, 2 Apples, Roasted Almonds, Dried Fruit Mix and Double Nut Granola.
Fresh Fruit Gift Basket
Exotic flavors define the cornucopia of fruit in our Fresh Fruit Gift Basket. Features a delicious selection of pears, apples and more.
Price: $79.95
Details: 3 Premium Pears, 4 Apples, 2 Kiwi, Papaya, Pineapple 1 hand Baby Bananas, 2 Limes, Avocado and Mango. (as depicted in first photo)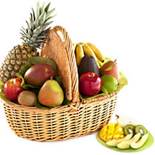 All Fruit Basket- Original
Great for fruit lovers of all kinds, this reusable picnic basket is filled to the brim with premium fruits creating a wonderfully colorful and healthy display.
Price: $59.95
Details: 2 Premium Pears, 2 Apples, Kiwi, Golden Pineapple, 1 hand Baby Bananas, Lime, Avocado and Mango.
Happiness delivered at www.harryanddavid.com.
Wait! Don´t forget to Subscribe for Free!
Main Feed | What is RSS?
Enter your E-mail below to Subscribe

*
No spam
|
Privacy Policy
We will not sell or distribute your e-mail address to anyone else.
Written by Lanee Neil