Sorrel River Ranch went unnoticed for years as I drove through Moab, Utah dozens of times from University of Utah to visit family in New Mexico. A decade later, after graduating and leaving Utah for Los Angeles, I returned to Moab. This time I didn't whiz by on my way to somewhere else. I came to fully soak in the surreal red rock landscapes and relax at the most luxurious stay in Moab: Sorrel River Ranch Resort & Spa.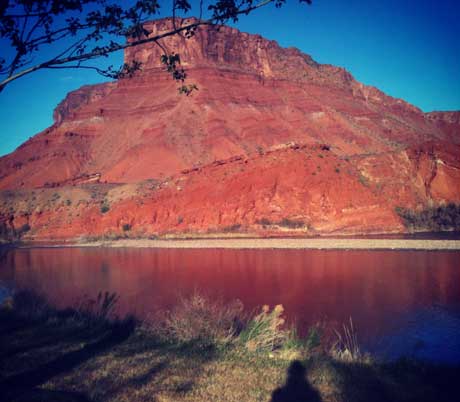 I flew in on a tiny Great Lakes airplane (the only commercial airline to service Moab with flights 2x daily) ; offering a wonderful bird's eye view of Southern Utah. A Sorrel River Ranch staff member picked my friend, Lindsay, and I up at Moab Canyonlands Airport and we were off on our girlfriend getaway.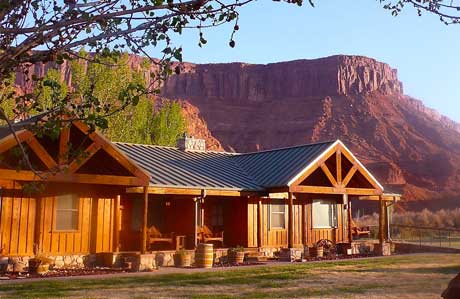 It's no surprise I missed Sorrel River Ranch all these years driving through Moab as it's located on the Colorado River, about 20 minutes east on Highway 128 from the center of town.  Although Moab is a sleepy town in itself, the remote, secluded location only added to the mystique of Sorrel River Ranch.
Southwest Chic Cabins
Sorrel River Ranch's 55 rooms, many overlooking the Colorado River, are decorated in rustic yet sophisticated Southwestern style. No teal howling coyote statues or clusters of red chilies here. I stayed in the one of the River View Deluxe Suites, outfitted with comfortable bedding, a mini kitchenette, a claw-foot hydrotherapy bathtub and the best feature: a porch swing on my private deck.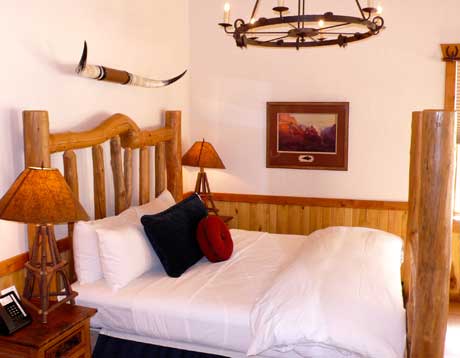 To begin our luxury-meets-adventure holiday, Lindsay and I watched kayakers glide down the river from our porch swing as we toasted with a crisp Chenin Blanc from Castle Creek, a neighboring winery.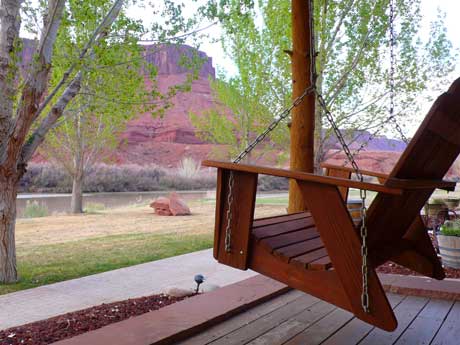 As one of Utah's six wineries, I highly suggest a visit to the Castle Creek Winery tasting room. Sorrel River offers free transportation and tastings begin daily at noon. Don't try to start tasting even a minute early (I tried at 11:49 am and was denied). Utah state law prohibits any alcohol served before noon.
The Spa at Sorrel River Ranch
You may not be able to get a drink in Moab before noon, but you can order a Bourbon Cowboy anytime at Sorrel River Ranch's spa. We headed over to the spa, intrigued to find out what a Bourbon Cowboy treatment entailed. We secretly hoped there would be a handsome cowboy administering it, but no such luck. Even without the cowboy in tow, the vanilla-bourbon infused scrub was invigorating. Other signature spa treatments at Sorrel Spa include the Red Rock Body Glow, Wranglers Wrap and Spirit Vibration (combo of Reiki, Acupressure and Chakra alignment). Treatments range from $80-$200.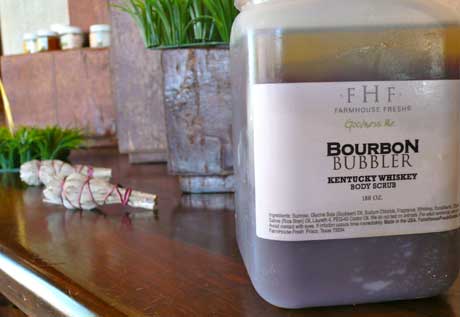 If you want a massage, request spa director Regina Ciarfella. Her massages are magical and she is a wealth of information on organic, local beauty products utilized at the spa like Sister Root Medicinals.
Farm-to-Plate at River Grill Restaurant
Local products dominate both the spa and the restaurant's menu at Sorrel River.  In fact, Sorrel River Ranch Resort even has its own greenhouse that sits at the entrance of the property. Much of the salad greens and vegetables on the River Grill Restaurant's menu are picked that day from just a few hundred yards away. Check their website to see what produce is in season during the month you visit.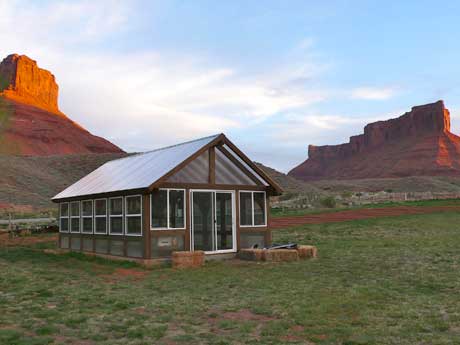 For a fine dining experience, the River Grill Restaurant is really the top of the town among Moab's restaurants. Try the scallops or the braised elk – both incredible dishes exemplifying Chef Richard Potts ability to fuse five-star training with Southwestern flair.
Adventures on the Ranch
Sorrel River Ranch used to be a horse ranch (the word 'Sorrel' means a horse with a light reddish-brown coat) and you can arrange a guided horseback ride through the mountains or even bring your own. It is extremely pet friendly as it might be one of the only hotels in the world where you can bring your horse along too! I went for a hike as the property is immense and affords some great easy hikes, see the front desk for a map. But if playing tennis with soaring red rock mountains for your inspiration is your ideal way to play, Sorrel has a beautiful tennis court as well as yoga classes on site.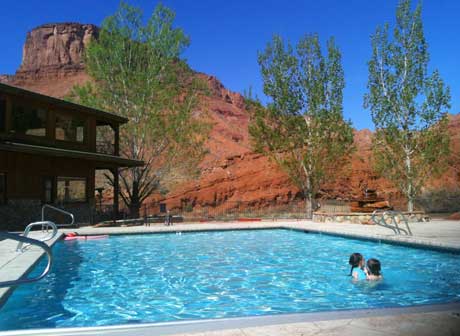 When headed to Moab, Utah to explore Arches National Park or Canyonlands National Park, Sorrel River Ranch Resort & Spa is the perfect balance to a rough and tumble day out in the gorgeous red rock terrain. My friend and I biked, rappelled, river rafted and then came back to Sorrel River Ranch for a dip in the pool and fireside cocktails under the star-studded desert sky making it a glorious girlfriend getaway!
Sorrel River Ranch Highway 128, Mile 17, Moab, UT. Room rates start at $429 per night, double occupancy.
For reservations, call (877) 317-8244 or visit sorrelriver.com
For more on the incredible activities for all ages Moab, Utah offers, visit Discover Moab.
Wait! Don´t forget to Subscribe for Free!
Main Feed | What is RSS?
Enter your E-mail below to Subscribe

*
No spam
|
Privacy Policy
We will not sell or distribute your e-mail address to anyone else.
Written by Lanee Neil