A Los Angeles Restaurant Review – Bistro Bagatelle, Editor's pick - THElist 2012 for Best Restaurants in Los Angeles
Bagatelle's mix of classic French- and Mediterranean-style cuisine, electric atmosphere, and party ambiance finds the perfect home in West Hollywood. Imagine Champagne brunch dates spilling out onto La Cienega, fueled by the beats provided by an in-house DJ, and you're almost there. Pull up a seat and lift a Mimosa and you've made it the rest of the way to restaurateurs Aymeric Clemente and Remi Laba's vision of hospitality, which the West Coast can finally enjoy after successful ventures in New York's Meatpacking District and St. Barth.
Step into Bagatelle's Los Angeles space, and you could easily mistake it for a Parisian pied-a-terre, but with the unmistakable air of Southern Californian lifestyle. French design mingles with West Coast openness, resulting in a cosmopolitan yet easy-going setting where you can meet for drinks with friends, feast on a gourmet meal, and even make new celebrity acquaintances in the dining room, bar area, or open patio space. Anything's possible in the ever-festive atmosphere of Bagatelle. The elegant, trendy Hollywood crowd can always spot  a good one – a real 'insiders' haunt already, for those "in-the-know" who have already staked their claim and return on a weekly basis. But don't tell the paparrazzi.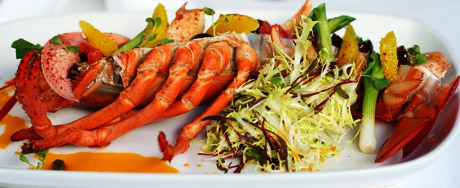 Chef Romuald Jung (known as Chef Romy) takes his place as the Corporate Executive Chef of Bagatelle, tailoring menus for all Bagatelle branches. In Los Angeles, the Bagatelle kitchen specializes in classic French courses such as croque monsiers, croque madams, or ratatouille. Those with lighter appetites might favor crudités, endive salad, or tuna tartare; alternately, you can dig into a steak au poivre, chicken paillard, or truffle roast chicken. Though the ingredients seem simple, the results are anything but.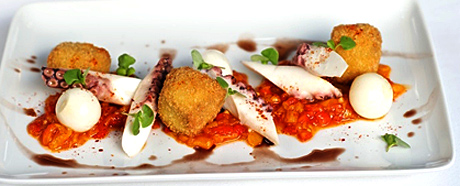 When you have to celebrate or just want to live a little, feel free to add a side of Tsar Imperial Ossetra Caviar, a glass of wine from Bagatelle's respected wine list, or a refreshing cocktail such as a mimosa or a punch bowl crafted by a Bagatelle bartender. Go ahead — your taste buds are worth it.
Still, that's only half the Bagatelle story because the kitchen's divine dishes are complemented by a nonstop celebratory air. In New York City, Bagatelle is known as a favorite destination for supermodels, European tastemakers, and chic celebrities dropping in for a freewheeling brunch. In Los Angeles, an eclectic, attractive crowd flocks to Bagatelle's Halloween and New Years Even blowouts that leave the guests buzzing for days and weeks afterward. Bagatelle has also welcomed L.A. Fashion Week events; theme parties such as Arabian Nights and Night Fever have touched down at Bagatelle as well.
But the good times aren't limited to special occasions — Bagatelle's on-staff DJ keeps the ball rolling with an irresistible soundtrack suited to dancing in tables or simply shimmying in your seat, whether in full daylight or the dark of the night. The club is open, even while the sun is still out. Take it from co-owner Remi Laba: "It's what an afternoon in Saint-Tropez would be."
At 2,700 square feet in size, Bagatelle is available for private events, ranging from intimate parties or major fetes. Think of it this way: If you can't fly to the South of France this year, you can still bring that same élan and esprit to Southern California with a gathering at Bagatelle.
Bagatelle 755 N La Cienega, LA 90069
For reservations, 310.659.3900
Wait! Don´t forget to Subscribe for Free!
Main Feed | What is RSS?
Enter your E-mail below to Subscribe

*
No spam
|
Privacy Policy
We will not sell or distribute your e-mail address to anyone else.
Written by Jane Emery