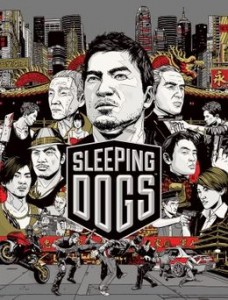 The Sleeping Dogs video game launch party was a celebratory event for the August 14 release of the open world crime drama for PS3 and Xbox 360. Invitees entered the event at Dim Mak Studios from Cosmo Street in Hollywood and were led up a switchback staircase and down a hall decorated with a neon orange Chinese dragon, where beyond a nightclub welcomed them with decorations emulating the crowded side streets of Hong Kong, the main setting for Sleeping Dogs.
Developed by United Front Games and Square Enix, Sleeping Dogs follows Detective Wei Shen of the San Francisco Police Department as he travels to Hong Kong to dismantle from the inside one of the most dangerous criminal organizations in the world—the triad Sun Oh Yee.
An open bar at the August 8 event featured game-inspired drinks, including a Snake Blood shot; Wei's Whiskey; the Sleeping Dog, and my personal favorite, the Yellow Lotus. Meanwhile, servers wound through burgeoning numbers passing out dim sum favorites, like vegetable wraps, spicy chicken kabobs, and dumplings.
Marshall Barnes and DJ Rashida kept the event flowing with smooth rap and remixes of artist favorites, like Fiona Apple. Video game enthusiasts also had the opportunity to be the firsts to demo Sleeping Dogs at a PlayStation 3 and Xbox 360 game station near the second bar.
Beyond here, an open-air patio greeted guests looking for a relaxing smoke in comfy lounge chairs near a buffet of traditional Asian candies and swag, including Sleeping Dogs t-shirts and conical Asian hats guarded by friendly hosts who took photos for guests.
An excitable air surrounded the event, with attractive guests mingling and discussing their experience with the Sleeping Dogs demo.
In the game, players tackle an action-packed storyline at full sprint with a smooth combat system that includes grapples and counters essential for taking down packs of intelligent foes. And with the ability to hurtle over obstacles and climb the sides of buildings in the streets of Hong Kong, Sleeping Dogs ascertains players have a plethora of options for chasing (or running from) foes.
Meanwhile, Wei Shen builds allegiances and "face" with the police or triad depending on players' actions, affecting the overall story and how non-player characters react to Wei Shen. There are plenty of opportunities for unlocking new clothes and vehicles for purchase too, ensuring a versatile gameplay experience.
The Hollywood launch party was hosted by A-list and socialite event producer Michael Utsinger, president of BOXeight Studios. Utsinger recently opened David Arkettes' club Bootsy Bellow on Sunset Boulevard; and if his launch party for Sleeping Dogs was any indication of the parties he runs at Bootsy Bellow on Tuesdays and Fridays, Hollywood partygoers can be ascertained of a good time.
Wait! Don´t forget to Subscribe for Free!
Main Feed | What is RSS?
Enter your E-mail below to Subscribe

*
No spam
|
Privacy Policy
We will not sell or distribute your e-mail address to anyone else.
Written by michael galvis