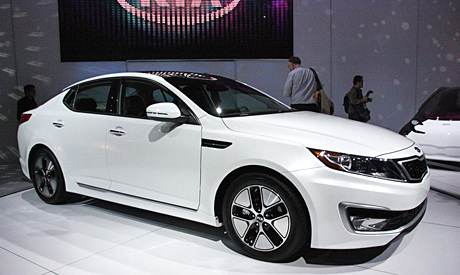 The first time I saw a commercial for the Kia Optima Hybrid, I was impressed by how sporty yet classy it looked.  Yet when I told friends that I was going to review the new Kia, I didn't sense too much excitement. I thought, they just don't know about the new era of Kia…
Yes, I had the opportunity to drive and review a Kia Optima Hybrid here in Los Angeles for a week, and was quite impressed when I took possession. I thought it was beautiful.
The Kia Hybrid is entering its third year as one of the best-looking, well-equipped mid-size hybrids in its class. The Kia Optima Hybrid was released November 2011 and has since outclassed other hybrid vehicles in its class. With a combined 37 MPG and a roomy interior (it is a good-size car!), the hybrid is comparable with the Prius, which has little to offer against the Kia Optima Hybrid's sleek and classy design, which is quite impressive.
Eye-Catching
The car brand has come a long way in recent years with its redesign, adopting a European, assertive dynamic exterior with a slight forward tilt, stretched headlamps, a sharp angled windshield, and a one-inch lower ride height than the non-hybrid Optima. I was actually approached by several people on different occasions when I was out running errands and grocery shopping, who were curious about this gorgeous car.  They were surprised it was a Kia, really loved it, and expressed an interest in getting one themselves. They were surprised, as I was, with all that Kia Optima Hybrid had to offer.
The interior adopts a minimalist approach with the dashboard angled comfortably toward the driver. Tack on the optional navigation system and the interior becomes reminiscent of the Audi A4. The driver's seat comes standard with eight-way power adjust.
With an MSRP of $21,200, the Optima Hybrid has a generous assortment of standard features too. It was fun to be able to start the car with the push-button start with smart key. Having dual-zone climate control was quite a luxury. Also, automatic up/down on the front windows; and a leather-wrapped steering wheel make you feel like you have it all.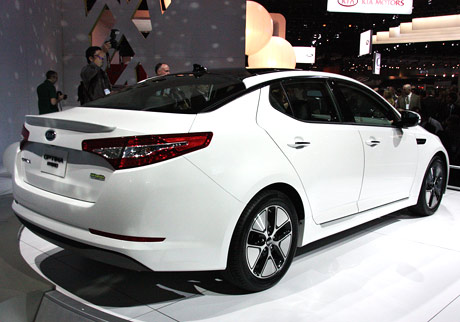 Luxury Optional Features
Choose your own level of comfort with heated and cooled front seats and heated steering wheel  - talk about 'climate-control! And what a treat, having heated rear seats as an option! Also, the optional gorgeous tinted glass moonroof, I think is a must-have. The design of the wheels are also quite eye-catching.
And last but not least, a navigation system with backup camera! With a little moniter in the dash, you can see what is behind you, and with the grid of green, yellow and red parameters, it will help you avoid collisions when you are backing up.
Like the Hyundai Sonata Hybrid, the Optima Hybrid uses a 30-kilowatt electric motor with a 2.4-liter four-cylinder for a combined 206 horsepower. It draws power from a lithium-polymer battery mounted behind the rear seat. The trunk measures at 9.9 cubic feet too, an enormous inconvenience for IKEA enthusiasts, but for day to day usage, it's perfect, especially with a remote trunk release! All in all, this is a perfect-size car.
Automatic Recharging of the Electric Battery – No Stopping to Charge
And no worries about finding a 'plug-in' station! You won't be plugging in the Optima Hybrid, the battery charges off the gas engine and from "regenerative" braking. However, because the gas engine shuts off automatically when the car comes to a stop, you'll learn how to gingerly avoid the slight jolt when you accelerate when the gas engine restarts.
Audio Sound Effects!
Interestingly, the Kia Hybrid intentionally makes noise using a prerecorded track when in electric-only mode so as to alert pedestrians of an otherwise silent vehicle's approach. Kia calls it the "Virtual Engine Sound System". Amazing.
Overall, the Kia Optima Hybrid sets itself apart from other hybrids through its classy design. With high safety ratings, very impressive gas mileage, and a generous amount of standard features, the Kia is creating a lot of excitement and people are standing up and taking notice of the new classy kid in town. Oh, and my 18 year old son loved it too!
For more information and to see the new Kia Optima Hybrids, click here…
Wait! Don´t forget to Subscribe for Free!
Main Feed | What is RSS?
Enter your E-mail below to Subscribe

*
No spam
|
Privacy Policy
We will not sell or distribute your e-mail address to anyone else.
Written by Jane Emery