The Roxy, one of LA's most legendary music clubs, has featured many rock stars over its long history. Now you can add one more 'rock star' to the Roxy roster: KAPPA Pisco.
KAPPA Pisco is featured in three of Roxy's brand new cocktails during the month of August. So when the moment strikes, you can channel a little Chilean energy the next time you're out catching the latest band to hit the music scene.
Here are the recipes so you can rock a Roxy-themed party of your own, created by Steve Olson for The Roxy.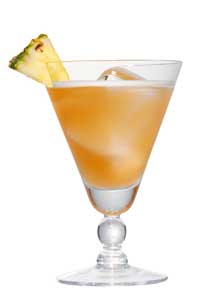 KAPPA PUNCH
1 1/2 oz KAPPA Pisco
1/2 oz Grand Marnier
1 oz pineapple juice
1/2 oz lime juice
1/2 oz of orange juice
2 dashes bitters
Combine all ingredients in a mixing glass with ice. Shake vigorously and strain over fresh ice.
KAPPALOMA

1.5 oz KAPPA Pisco
0.5 oz lime juice
0.5 oz simple syrup
Pour the KAPPA Pisco, lime juice and simple syrup into a cocktail shaker and strain over a rocks glass filled with ice.  Top with splash of grapefruit juice and soda water.  Garnish with lime wedge.
KAPPA GRAPEFRUIT FIZZ
1.5 oz KAPPA Pisco
3 oz grapefruit juice
1 oz soda water
Pour KAPPA and grapefruit juice into an ice filled highball glass. Top with soda water and garnish with a lime wedge.
The Making of KAPPA Pisco

The Marnier Lapostolle family announces their new super premium Pisco, KAPPA™ from the Elqui Valley in Chile. Created to set a new standard of luxury for the category, KAPPA Pisco (SRP $34.00) is the latest project of the renowned Marnier Lapostolle family producers of the iconic global brand, Grand Marnier and the award-winning Lapostolle Wines from Chile.
Like in Cognac, where Marnier Lapostolle's roots began centuries ago with Grand Marnier, Chilean Pisco is a spirit made from the double distillation of wine. However, unlike Cognac which must be aged in oak, Chilean Pisco can be either aged or unaged in oak. KAPPA is the unaged variety that results in a delicious white spirit with excellent mixability.
The grapes for KAPPA Pisco are sourced from the Elqui Valley, which boasts 300 days of sunshine a year, fresh water from the Andes Mountains and clear, pristine skies free of pollution.  Above the Elqui Valley, the Southern Cross Constellation is visible in the night sky. Within the Constellation is the Kappa Crucis star cluster, also known as the Jewel Box. Considered one of the most breathtaking sights in Southern Hemisphere, this is where KAPPA derives its name.  The sleek and eye-catching midnight blue bottle is a proprietary design by international renowned designer Ora-Ito. kappapisco.com
Wait! Don´t forget to Subscribe for Free!
Main Feed | What is RSS?
Enter your E-mail below to Subscribe

*
No spam
|
Privacy Policy
We will not sell or distribute your e-mail address to anyone else.
Written by Lanee Neil