Summer is still alive and thriving at Bouchon's Sunday Suppers & Movies in the Park Sundays!
Chef Thomas Keller wanted to do something special for the summer, something for that special family day, Sunday. Bouchon Bistro in Beverly Hills, is still featuring weekly 'Sunday Suppers'. Sunday Suppers highlight classic dishes the whole family loves, including Whole Roasted Chicken, Pork Chops, All Day Braised Beef Brisket, and Barbeque Baby Back ribs with corn on the cob, baked beans, salad and corn bread.
What a great way to reconnect with grown children, coming together for a family Sunday meal, and watching a great movie in a beautiful garden setting. Enjoying the foods you grew up with and ate together on Sundays. Create new family memories at Sunday Suppers at Bouchon Bistro. Or come together with all those busy best friends that you never see!
Movies in the Park Sundays
In addition to serving up American family style classics on Sundays from 5:30 PM – 9 PM, Bouchon Bistro is also featuring 'Movies in the Park' which shows family appropriate films on a big screen under the stars in beautiful Beverly Canon Gardens every Sunday evening at 8:00pm at no extra charge. The next 'Movies in the Park night' will be August 26th, screening "Mirror, Mirror".
The Rest of The Week at Bouchon Bistro in Beverly Hills
The summertime menu is still in full force, with favorites like Roasted Lamb, Pork Chops, BBQ Ribs, Fried Chicken and more. Whether you decide to go cold or hot, your taste buds will be taken on a gastronomic Tour de France with the new summer menu at Bouchon Bistro Beverly Hills. Keep your summer going!
Launched on June 20th, the new menu at the bustling Canon Drive restaurant, bar and cafe includes a delicious mix of classic French fare and family style comfort foods showcasing the finest seasonal produce from the Santa Monica Farmer's Market. There's something to be enjoyed for every age, taste and occasion.
Bouchon Bistro's Summer Starters & Salads
A selection of tastes and flavors span from North to South, beginning the journey with fresh seafood platters overflowing with lobsters, oysters and crab, Fromages fine cheeses and hors d'oeuvres like Chicken Liver Mousse or Assiette de Charcuterie with pickled vegetables and Dijon mustard, both served with a toasted baguette.
Crisp and refreshing salads will tantalize the senses, including the Melon Salad made with cucumbers, heirloom radish, and a zesty lemon yogurt, and the Duck Tongue Salad garnished with fennel bulb, seasonal stone fruit, and incredible house cured Peking Duck.
Bouchon Bistro's Summer Entrees & Desserts
Venture on to an entrée of Alaskan Halibut with ratatouille using fresh Heirloom Farms tomatoes, peppers and eggplant, or visit the Champagne region and its Boudin Blanc – fragrant white pork sausage with potato puree and French prunes. A host of side dishes reflect the season's finest offerings with sweet Sugar Snap Peas, Sautéed Forest Mushrooms, and Glazed French Green Beans.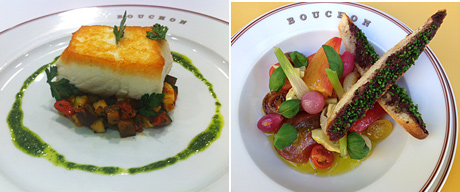 And finally, complete your journey with an indulgent dessert of Tart au Citron ('lemon tart') or Baba au Rhum (Rum Soaked Cake with seasonal fruit and vanilla cream) worthy of the finest found on the Ile-de-France.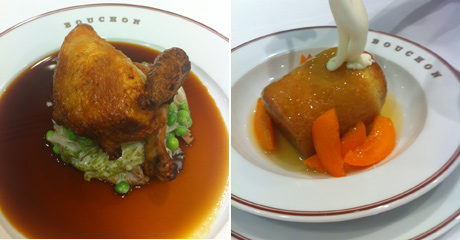 Creative Chefs @ Bouchon Bistro
Created and inspired by Chef de Cuisine Rory Herrmann, Executive Sous Chef David Hands and Pastry Chef Alen Ramos, Bouchon Bistro's new Summer Menu allows diners to truly enjoy the best, simple tastes of France, and escape the city life as they settle in the comfortable and casual bistro-style environment.
Sunday Suppers To Go
Dine-in reservations are available, as well as carryout 'To Go' dining. For the summer season, Bouchon Bistro will also introduce its weekly 'Sunday Suppers' with new and exciting family style dishes served every Sunday evening, along with the continuance of 'Fried Chicken Night' every last Monday of each month.
And don't forget, the casual upstairs Oyster Bar with an additional continued offering with the array of cold seafood selections including lobster, shrimp, and crab. Paired with a perfect glass of crisp Sancerre (French wine originating from the Loire region), a light and refreshing summer meal can be enjoyed any time of day or evening.
For more information on Bouchon Bistro and other menu offerings, please visit www.bouchonbistro.com.
Call: 310.271-9910 for Reservations.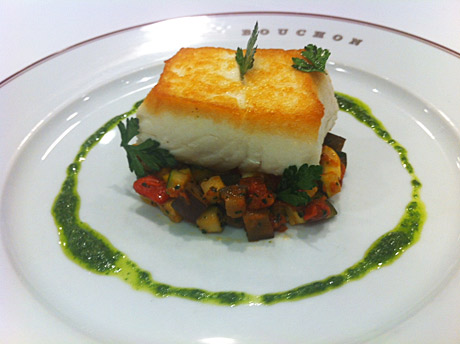 Bouchon Bistro, 235 N. Canon Dr. Beverly Hills
Dinner hours at Bouchon Bistro are from 5:30 p.m. to 10:30 p.m.
Wait! Don´t forget to Subscribe for Free!
Main Feed | What is RSS?
Enter your E-mail below to Subscribe

*
No spam
|
Privacy Policy
We will not sell or distribute your e-mail address to anyone else.
Written by Lanee Neil