The world-famous Beverly Hills restaurant scene has welcomed Delfini Citta, an urban Italian tapas bar, lounge and restaurant.
This summer, Delfini Citta has been amping up the atmosphere every Thursday with jazz and live music bands playing Latin, Brazilian, and classic tunes. The addition of live music offers Delfini Citta and its diners the chance to enjoy local artists and musicians in a friendly, convivial atmosphere, anchored by good food and drinks.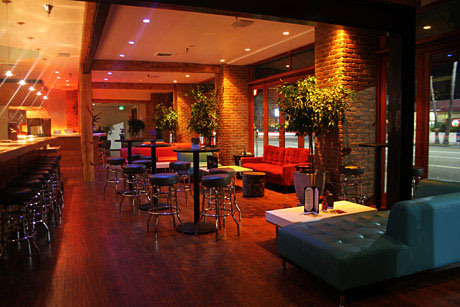 Delfini Citta is the east-side branch of a longtime Santa Monica favorite, Caffe Delfini. Lifelong friends Gianpietro Silardi and Alessandro Ercoli established the original Delfini crew, have brought on new partner Franco Lupinacci, who is bringing a contemporary version of the Italian trattoria to a hip, trendy crowd in Beverly Hills.
At Delfini Citta, Executive Chef David Santiago creates traditional flavors enlivened by modern, artisanal touches, merging classic Italian flavors, Spanish fusion and Asian flair,  and offering a wide selection of tapas, pizzas, pastas, and classic Italian dishes. Some new items includes Polipo -Grilled octopus sautéed in tomato and basil, and Crudo di salmon – Fresh salmon seasoned with fresh citrus spicy chips, and so much more. (See full menu below.)

In the Delfini Citta pizzeria, anchored by a brick fire oven and the skilled hands of David Santiago, a three-time gold medalist pizza chef, Chef Santiago makes the most of the oven, carefully pre-cooking and seasoning ingredients in the intense heat before they can be added to the crisp thin-crust pizzas. Diners will taste the difference in the layers of unctuous cheese and sauce, mixed with caramelized crunch.
Pizzas range from traditional Italian combos, such as pepperoni, favorites such as Roasted Garlic Clams (white Baby clams, roasted garlic, roasted onions, tomato and basil), and the best BBQ Chicken Pizza (grilled chicken, smoked Gouda, red onions and cilantro). They recently garnered a great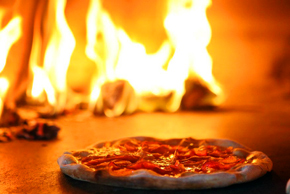 accolade from LA Confidential, who claims Delfini Citta as a "top pizza spot" in its newest dining article.
Offering a full roster of wine, beers, and cocktails to complement your meals, alongside the congenial hospitality and personal service, combined with beautiful surroundings, it's no surprise that customers are coming back again and again, and Delfini Citta is emerging as Beverly Hills newest hotspot.
Drop by for happy hour from 4 to 8 p.m., Monday through Friday, or fill out your evening with selections from the equally enticing tapas menu, such as risotto with spicy shrimp, salmon crudo, or black mussels sautéed in wine.
Whatever your choice, make yourself comfortable on a leather sofa or lounge chair, or stake out a table with your friends, as you catch up, take in a game, or enjoy old-time Italian cinema on the TV screen.
Some of their delicious specialty cocktails include:
Scooby Snack Martini – Midori, Malibu Rum, Blue Curacao and  Coconut Milk shaken and layered in Martini Glass
Key Lime Pie Martini – Absolut Vanilla, Lime Juice, House made simple syrup, Cream, shaken and served in a Martini   Glass with a Graham Cracker Rim
Black Manhattan – House made sweet vermouth with marinated maraschino cherries mixed with Johnnie Walker Black Label, chilled and served in a martini glass
French Kiss – Raspberry Vodka, Pineapple Juice, Blue Curacao shaken and served in a Martini Glass with a Chambord Sinker, Garnished with a Raspberry.
Upcoming events include: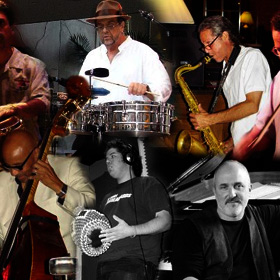 July 19: Brazilian Jazz w/ Nobresil (Leo Nobre (bass), Mari Nobre (voice)
July 26: Brazilian Jazz w/ Leo Nobre (bass), Christian Barion (drums), Angelo Metz (guitar)
Delfini Citta is located at 8635 Wilshire Blvd. in Beverly Hills and is open for lunch Monday – Friday, from 11:30 a.m. to 3:00 p.m. Dinner is served Sunday – Friday at 5:30 p.m., and at 5:00 p.m. on Saturdays.
For reservations call: 310.659.9555
Summer Menu:
ANTIPASTI & INSALATE
MISTA 9
Mix green, radicchio, carrots, cherry tomatoes, balsamic
CAESAR 11
Hearts of Romaine, homemade Caesar dressing, Reggiano cheese, garlic and croutons
CAPRESE 11
Fresh mozzarella, grilled tomatoes, extra virgin olive oil,basil
SPINACH & RADICCHIO 10
With toasted pine nuts, basil/berries dressing
SUMMER STACK 13
Grilled tomatoes, grilled green and yellow squash, mozzarella, basil pesto
CARCIOFINI 13
Fresh baby artichoke, fresh arugola, celery, lemon dressing
PROSCIUTTO & MELONE 15
FRIED CALAMARI 11
STEAMED CLAMS 11
Manila clams in white wine sauce
STEAMED MUSSELS 10
Black mussels in red spicy sauce
PRIMI
CAPELLINI 15
Fresh heirloom tomatoes,roasted grape tomatoes, garlic and basil
FETTUCCINE ESTIVE 16
Fresh veggies julienne and fresh thime
PAPPARDELLE BOLOGNESE 18
Homemade pappardelle with veal ragu
STROZZAPRETI ALLA NORMA 15
Grilled eggplant,plum tomatoes,basil,garlic,fresh thime,smoked mozzarella
CANNELLONI 16
Fresh vegetables wrapped in homemade cannelloni pasta with spicy New Orleans sauce
LINGUINE ALLE VONGOLE 18
Manila clams, garlic, white wine sauce
BLACK LINGUINE MARE 20
Black linguine, Manila clams, black mussels, shrimp, calamari, garlic, (spicy)
ARTESAN PIZZA'S
SPECK & POTATOES 18
Speck,fresh rosemary potatoes
SALSICCIA E PARMIGIANO 16
Spicy sausage,tomato sauce,mozzarella,parmesan cheese
MARGHERITA 14
Tomato sauce,mozzarella,basil
PROSCIUTTO DI PARMA 17
Mozzarella,tomato sauce and Parma Ham
BLACK BEAUTY 16
Spicy sausage, black olives, tomato and gorgonzola
ROASTED GARLIC CLAMS 17
Baby clams, roasted garlic, roasted onions, tomato and basil
FRESH SALMON 17
Grilled salmon, mushrooms and roasted red peppers
SHRIMP PEPPER 17
Roasted tri-color peppers, white shrimp, herbs and fresh lemon juice
CIPOLLA E GORGONZOLA 15
Tomato sauce, mozzarella, roasted onions and fresh gorgonzola
FUNGHI 15
Sauteed mushroom, mozzarella, tomato sauce
BBQ CHICKEN 16
Grilled chicken, smoked gouda, red onion, cilantro
VEGETABLE 16
Grilled tri-color peppers, onions, zucchini, eggplant
MyPIZZA 17
Pepperoni, sausage, salame, tomato sauce, mozzarella
DELFINI Citta' ITALIAN TAPAS
Pane e Pomodoro 8
Grilled Baguette rubbed with tomato, Garlic,
Truffle oil, Prosciutto
Panzerotto di Salmone 9
Empanadas
Fresh Salmon Soffritto turnover, Cilantro,
Lime, Aioli
Panzerotto di Carne 8
Empanadas
Spicy Angus Beef turnover, roasted
Red lpeppers Aioli
Patate Brave 8
Spicy Paprika potatos, Aioli di Mare
Spicy Patate Brave 8
Habanero Basil Potatoes,
Roast Pepper, Aioli
Frittata Romana 8
Potato confit, Caramelized onions
Garlic, Aioli
Pulpo alla Griglia 13
Grilled Octopus Tomato, Basil, Garlic, Wine
Shrimp Goodfellas Little Italy NYC 14
5 Jumbo Shrimp over bisquits,
spicy red sauce…Hot Hot
Datteri 12
Gorgonzola Stuffed Dates wrapped with Speck
Piatto di Formaggi 12
3 Cheeses
Insaccati 12
Assorted dry aged meats
DELFINI Citta'
ITALIAN TAPAS
Tricolore 8
Trio of pasta, gorgonzola, arrabbiata, pesto
Pollo e salsiccia
Chicken and sausage skewer 9
Risottino con Gamberi 9
Risotto with spicy shrimps
Crudo di Salmone 10
Fresh Salmon seasoned with fresh citrus
spicy Chips
Pimientos Padron 9
Fried Peppers with Sea salt
Calamari Fritti 11
Fried Calamari side Marinara sauce
Clams
Fresh Clams sauteed wine and tomato sauce 11
Cozze 11
Black Mussle sauteed wine and tomato sauce
Form 4.00pm to 7.00pm Half Price
Pulpo alla Griglia
Patate Brave
Pimientos Padron
Panzerotto di Salmone/Carne
Calamari Fritti
Pane e Pomodoro
Pollo e Salsiccia
Black Mussels
Wait! Don´t forget to Subscribe for Free!
Main Feed | What is RSS?
Enter your E-mail below to Subscribe

*
No spam
|
Privacy Policy
We will not sell or distribute your e-mail address to anyone else.
Written by Victoria Chadwell