Mama Mio, known for its extraordinarily effective line of skincare that offers "Fit Skin For Life – Face Care, Body Care and Spa Treatments" offers Bootcamp for Tummies.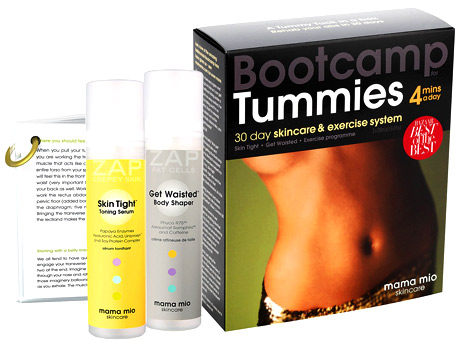 With the Summer Olympics right around the corner, you might be thinking more of body fitness. With Boot Camp for Tummies ($99), using Mama Mio products can help you look fit just like an Olympian! It is a complete system that includes a fast and easy four-minute comprehensive regimen where you can lift, tightens and tone your skin and tighten and re-contour your waist. It includes a potent combination of high-performance skincare and no-gym-required, at-home exercises! The kit includes: Skin Tight Toning Serum, which lifts, tightens and tones your skin and Get Waisted, a body shaper and rehab for your abs as well as exclusive exercise.
Skincare & Exercise is the complete package that takes only 4 minutes a day for 30 days to Love Your Tummy. Mama Mio is the specialist that has been taking care of your body's needs to get back in shape, and this product is targeted specifically just for your waistline and tummy. It's a great way to tackle tummy bulge… It combines targeted exercises for the abs and stomach.
Along with the special exercises, it also includes Skin Tight Toning Serum that will smooth and tighten your skin across your tummy. What is is designed to do is 'iron' out crepeyness and uneven skin tone. The other product included is Get Waisted Body Shaper, which includes 9 clinically-tested waist-whittling ingredients designed to stimulate circulation, eliminate puffiness, tighten your tummy and re-contour your waist.
The exercises are designed by Julie Tupler, the famous New York ab rehab guru, who shares her two best exercises to tighten your whole transverse muscle which improves posture, back strength and cinches in your waist.
If you commit for 30 days, you will see results; your tummy will be tighter, flatter, smoother and more defined. Your posture will be improved, your back stronger and your skin softer.
Bootcamp benefits: Flat, toned ab muscles that will act like a corset to redefine your waist, improved posture and back strength, tight, firm, toned, touchable skin.
Bootcamp for Tummies retails for $99.00
Mama Mio:
Founded in London by 4 beauty experts who create each product to solve the skincare issues that we all want to overcome, using the very best ingredients at their highest potency to ensure that every product really works. They believe that, whatever your shape, your age or your stage, if your skin looks FIT, toned, nourished and glowing – you will feel and look your most gorgeous.
Wait! Don´t forget to Subscribe for Free!
Main Feed | What is RSS?
Enter your E-mail below to Subscribe

*
No spam
|
Privacy Policy
We will not sell or distribute your e-mail address to anyone else.
Written by Victoria Chadwell