Sandra Linz has practically been engaged in acting all her life. Born in the German city of Berlin, Linz began acting at a very young age. She received rigorous training in various areas of acting to improve on her talent. She made various cameo appearances in movies and TV shows in her native country as well as lead roles in theatre plays.
Linz shot to stardom in her home country in 2003 when she was cast as Lara in the legendary TV series "Gute Zeiten, Schlechte Zeiten" which received popular acclaim from her staunchest critics. A year later, she relocated to Japan where she appeared in various movies, TV shows and commercials.
Linz's versatile talents have never been questioned and she displayed her star credentials when she featured in four separate rock bands while managing tours for her production firm in her native country. She's also skilled in martial arts as well as voiceovers, dancing, stage combat, etc.
Linz took her career to the next step when she relocated to Los Angeles to study at the renowned Stella Adler Academy of Acting. Her sharp skills as well as stunning looks soon made her one of the hottest actresses in Hollywood. She was featured in the 2011 movie "Against the Grain" and appeared in the latest installment of the Sinbad franchise "The Fifth Voyage". She was also cast as Sofie in "The Extra" and appeared in the 2010 award winning film, "Maria My Love". Her excellent play in these films has seen her Hollywood stock rising at an extremely quick pace by the day.
Linz has also been active in the modeling industry in LA as well as Japan and Germany and has appeared in numerous print and TV commercials. She featured as Irene in the huge "Beyond Trust" Ad Campaign and even sang the commercial song for the Japanese Sofie Commercial in 2007.
The actress is also becoming a phenomenon in theater circles and has already featured in the top major production: FUBAR in which she starred as Mary Conrad. She is fluent in German, English and Japanese and knows some French and Korean. She also dabbles in martial arts as well as dancing, stage combat, voiceovers, etc.
Not only is she an amazing unique talent in acting but also has gotten acclaim as an artist for her oil paintings. She started painting when she was 6 and started selling her art when she was 14. Nowadays she is getting requests from private buyers as well as celebrities to buy her art which is still a secret tip in the art world. She is selling her unique art under her artist name "Fae" directly to buyers, though it is extremely hard to actually receive an art piece from Fae due to the large request and small amount of time she can spend painting due to her successful acting career.
Sandra took some time out to answer these questions for LA's The Place:
LATP: How did you first get into the entertainment business?
Sandra Linz: I started acting and singing when I was about 7 years old and worked first time as a TV host and reporter for a youth program on a local Berlin TV network in Germany in my teens. At the same time I did theater and had smaller roles in Commercials and TV Series. I had a break in 2003 around high school time, when I was cast as "Lara" in "Good Times, Bad Times" the highest rated German daily TV series. I did some other films and TV and then went to Japan to do commercials, some modeling in fashion magazines and was a singer of several rock bands. Then I came to the US to study more acting and luckily it is getting very busy for me nowadays.
LATP: Who were some of your inspirations growing up?
Linz: When it comes to actors, I think my biggest inspiration were Sandra Bullock and Johnny Depp. These amazing actors not only have a great talent but also the will to have a sustainable career out of hard work. Some of my favorite actors include Christopher Walken, Gary Oldman, Robert DeNiro and Cate Blanchett. Ridley Scott is also a great inspiration for me since he directed a lot of great films and most of my favourite Sci-Fi Films. Besides, I think of "Wong Kar Wai" as a great artist, his films are so inspirational and I guess I get a lot of ideas for my stories from his films.
LATP: What has been one of your favorite roles to play so far?
Linz: In theater I loved Shakespeare's "Lady Macbeth", her character is so demanding and interesting and I like to play dark roles in general. I also played a female samurai in a short film, which was very interesting. Maybe I feel a closer grab to strong "tough women" roles than to brighter and nicer characters. I also love to play villains, though I wouldn't mind playing a hero character as well. I really admire the character of "Kara Thrace aka Starbuck" in "Battlestar Galactica", you could say I am a little Sci-Fi geek and if I could get a role in the new "Blade Runner" movie, I'd be happy for life. (laughs)
LATP: What do you prefer most out of singing, acting and modeling?
Linz: Acting and singing are my main path in life. It is where I can express feelings and with these feelings I can move the people who watch the movie or listen to the music. For me that is the reason why I became an artist. Of course I also want to produce and direct my own films when the time comes. I am developing many stories since my childhood and hope I get the chance to develop these into films or TV. I am planning a project for 2013 right now.
LATP: How do you stay in shape for the camera?
Linz: It is hard work to stay fit as an actor, because you often have a very busy schedule and not much time to exercise. I did a lot of martial arts and dancing, though I get less time nowadays to do so due to my schedule getting busier.
LATP: What does your family think of your success?
Linz: Hopefully they like it and support it.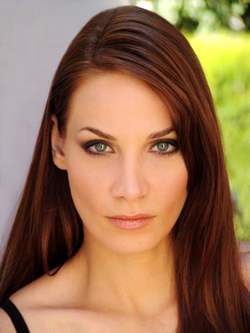 LATP: Who would be your ideal co-star and why?
Linz: God, there would be too many, actors to mention, but it would be a great honor to work with Christopher Walken he is simply amazing. Also Michael Fassbender, I imagine, would be great to work with. He has so much talent and I probably could learn a lot from him, too.
LATP: What is your advice to anyone else planning on a career in the entertainment industry?
Linz: First of all, you have to believe in yourself and not listen to anyone who tells you that you can't or won't do it. Every human can make their own decisions and stand for it. There is no one else to blame but yourself if you won't get where you belong. Also it is very important to think positive and understand how the industry works and work hard. Actors also need to educate themselves about marketing and promotion, not only about acting itself. I believe everyone can achieve their goals with the right attitude.
Check out Sandra Linz on IMDB:
Wait! Don´t forget to Subscribe for Free!
Main Feed | What is RSS?
Enter your E-mail below to Subscribe

*
No spam
|
Privacy Policy
We will not sell or distribute your e-mail address to anyone else.
Written by Staff Writer