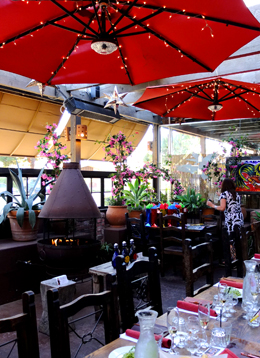 Summer school is in session and this not a class you will cut or even dare doze off in. Ortega 120′s Tequila University in Redondo Beach is sold out weeks in advance to parched pupils.
But not to worry, Tequila University is held on the fourth Tuesday of every month until September because, as founder of Tequila University and owner of Ortega 120 Demi Stevens says, "So many people have had horrible experiences with tequila. My mission is to educate people about the refinement and sophistication of tequila."
Tequila University began with well-balanced margarita and Pura Vida Tequila representative Grace Gomez saying, "Welcome to the good life."
Held on the Spanish-meets-Luche Libre decorated patio, the table was adorned with fresh salsa, guacamole and leather bound notebooks for note taking. This was my kind of summer school: stylish school supplies, champagne flutes for tequila tasting and inexhaustible pitchers of award-winning margaritas.
Speaking of accolades, LA Weekly voted Ortega 120 the 'Best Classic Margarita in Los Angeles' in 2009 and Irene Virbilia, food critic of the LA Times, described it as 'nowhere by the beach can you find such heart felt Mexican cooking'. Why are their margaritas so good, you may ask? All margaritas from the Espicy Mango to the Original are made with fresh juices. If you mention Sweet & Sour mix to the five-foot tall Stevens, she may be tempted to pick you up and hurl you out the door.
Stevens, feisty, fun and brutally honest, started the class with, "There will be no shot glasses, no salt and no limes in my Tequila University, EVER." Noticing the looks of dismay on some of the students faces, she quickly explained that lime and salt with tequila were used as a flu epidemic remedy but they have no place in a tequila tasting because it ruins your palate.
And the tasting ensued with the Pura Vida Silver Tequila made of the triple-distilled, 100% agave azul. Tequila is a long labor of love as each agave plant takes from 7-10 years to mature and in order to make one precious liter of tequila, it requires 17 lbs of agave!
Next, paired with a chicken and short-rib taco, we sampled the Gold Pura Vida Tequila. Gomez offered a handy piece of tequila tasting advice, "If tequila tends to burn your throat, take a sip, swallow and huff out like a dragon afterwards to eliminate the burning sensation." Huffing and puffing were not necessary for me to relish in the caramel and vanilla notes of the Gold Pura Vida Tequila, aged in Jack Daniel barrels for 6-8 months.
Stevens interjected at this point, "I've tasted 867 tequilas at this point and this trick works."
And she has sampled mulitudes for good reason. Ortega 120's tequila menu is longer than she is tall, offering 250 tequilas to choose from. The most expensive is a $2000 shot.
Depending on what you order from the Jicama Y Mango salad to the Duck Confit Chilaquiles, Stevens and her staff recommend pairing a specific tequila utilizing a similar guideline as wine pairing. Silver tequilas pair well with lighter meats like chicken or fish and Repasado or Anejo tequilas pair better with steak, lamb or duck. As we discovered in Tequila University, there are even after-dinner tequilas to pair with dessert, like you would a port or a cognac.
The Pura Vida Anejo would serve as our lesson in this dessert-tequila pairing experiment. The cinnamon-sugar churros, served with molten chocolate, were an excellent companion to the Pura Vida Anejo. Because the tequila is aged over a year in American oak barrels, it offers a smooth, chocolaty finish.
Stevens, a seasoned liquid chef, ended the night's sipping session with two cocktail making demos featuring Pura Vida Tequila: The Denny's Restaurant Cocktail (with 'free' ingredients sourced from your local Denny's restaurant like orange slices from an omelet and sugar packets) and the Espicy Mango Margarita made with Pico de Gallo spices.
Tequila University, with tequila maven Demi Stevens, was a 'spirited' experience. I left, as most students did that night, discovering a new restaurant and tequila producer I wouldn't have found otherwise and a greater appreciation for the 'Liquid Gold of Mexico'.
About Pura Vida Tequila
Pura Vida, Spanish for pure life or the good life, means living life to the fullest, pushing the limits of excitement, or, as far as your sense of adventure takes you. Distilling since 1923, but only recently launched in the U.S market, Pura Vida Tequila is a partnership of the Skloss and the Vivanco families. Pura Vida currently has five labels: Silver, Gold, Añejo, Extra Añejo and most recently released – the Mexican orange liqueur, CONTROY. www.tequilapuravida.com
About Ortega 120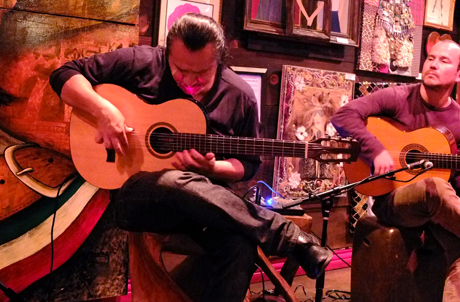 From Taco & Tequila Tuesdays to Flamenco Fridays, there is always a fiesta happening at Ortega 120. Mondays is pure economic ecstasy as it's Happy Hour all night with $2 tacos and $5 cocktail specials in the bar. Tequila University features a different spirit/cocktail demo each session, $20-30 from 7 PM – 9 PM on July 24, August 28, and September 25. The cuisine, as Stevens describes it, is Latin with French influences like confits, sauces and presentation by Chef Tommy Ortega. The ambiance is playful and casual with Day of Dead altars, local art and eccentric hand-picked accents throughout the restaurant.
Ortega 120 1814 South Pacific Coast Hwy, Redondo Beach, CA 90277 www.ortega120.com
Wait! Don´t forget to Subscribe for Free!
Main Feed | What is RSS?
Enter your E-mail below to Subscribe

*
No spam
|
Privacy Policy
We will not sell or distribute your e-mail address to anyone else.
Written by Lanee Neil