Next Door Lounge launches its new Summer Fare Menu with a line of hand crafted cocktails and artisan small bites. Next Door Lounge a space where both locals and destination diners can unwind without typical Hollywood A-list policy.
A few blocks from iconic Sunset Boulevard, Next Door allows guests to enjoy innovative cocktails and contemporary bits in a sleek, dimly lit, speak-easy inspired space. Next Door is reminiscent of the 1920's, when gentlemen wore top hats and coat tails, women wore flapper dresses, and black-and-white films were all the rage.
The high back chairs, plush leather couches, and antique cocktail tables give way to a comfortable setting for guests to be transported back to this iconic period of Hollywood magic. Live jazz is commonplace during the week with lounge music described as 'DJ punk rock bad ass flapper' on the weekends.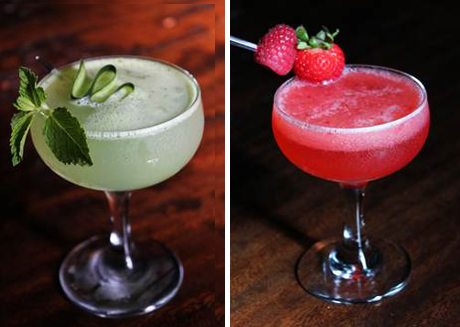 Next Door's cocktails play a leading role, with cocktails such as A Summer Fare favorite is The Eastside, a classic 1920s drink with a spa inspired mix; both refreshing and vibrant, made with Citadel, Cucumber Water, Fresh Lime Juice, Muddled Fresh Mint. Another new favorite is Strawberry Razz made with Lillet Rose, Fresh Muddled Raspberry and Strawberry, and Sparkling Wine. Included in many of these original cocktails are fresh herbs grown in a community garden which owner Ferris Wehbe created himself.
The state of the art kitchen and bakery includes a wood-burning oven delivering delicious tapas and contemporary bar food prepared with fresh ingredients by Chef Fidel Mendez. Part of the new Summer Fare Menu includes one of the most unique bites: the deep-fried pasta with sea salt and soy sauce. Simply amazing. Resembling pick-up sticks, this unusual bite is crunchy, salty and a satisfying starter for the table.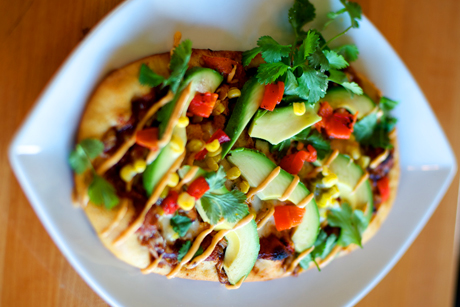 The Rosemary Sweet Potato Pizza topped with kale is as unique as it is delicious. Cooked perfectly in the wood-burning oven, this pizza will delight your palate with the sweetness of the roasted sweet potato paired with the lively taste of the kale. It's a wonderful combination and a healthy choice to boot. The Attayboys Sliders are classic and mouth watering, made with either grass-fed beef or buffalo meat, crispy onion strings, fresh herbs, melted Asiago Cheese and a side of sweet potato fries.
Be sure to leave room for dessert. Among the assortment of desserts to choose from, our favorite was the homemade pumpkin pie topped with fresh whip cream as well as the decedent crème brulee sprinkled with strawberries.
The lounge is open five days a week Tuesdays through Saturdays from 5 PM – 2 AM. Kitchen closes at 1 AM.
Next Door Lounge, 154 North Highland Ave, Hollywood, CA 90038.
Photo credit: Alen Lin
Wait! Don´t forget to Subscribe for Free!
Main Feed | What is RSS?
Enter your E-mail below to Subscribe

*
No spam
|
Privacy Policy
We will not sell or distribute your e-mail address to anyone else.
Written by Staff Writer