WOW! Creations, the Los Angeles-based creative marketing and publicity company, run by the "Kings of Swag", Mark and Matt Harris, was honored to be invited to produce the Official VIP Gift Bags for the Follow Your Heart Charity Event to benefit the Women's Heart Center at Cedars Sinai Medical Center, which took place at Barbra Streisand's oceanfront Malibu home.
The event took place on June 14th to an invite-only guest list of who's who, paying as much as $25,000 to attend. The event hosted by Barbra Streisand and husband James Brolin with co-host former President Bill Clinton.
The event, which was held in a large tent on the Malibu compound was Mc'd by comedian Martin Short. The evening's entertainemnt included songs by Josh Groban with David Foster on the piano. The evening ended with Evergreen sung by Ms. Streisand which drew a standing ovation. The guests in attendance were an elite group of Philanthropists, fashion and business moguls including Sumner Redstone, Carole Bayer Sager and Haim Saban, Josh Brolin, Diane Lane, Ralph Lauren and many more.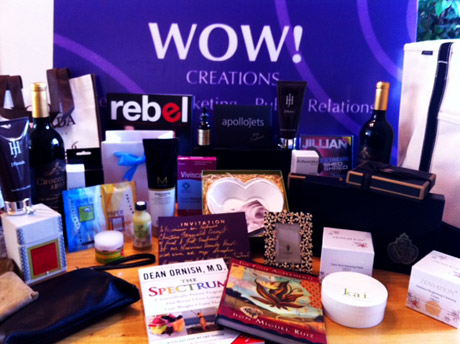 A total of 250 Gift Bags were gifted. These are the brands involved in the Follow Your Heart fundraiser at Barbra Streisands Malibu home:
Lands End – Clothing and items for men, women, children and for the home. www.LandsEnd.com
Tiffany & Company – Since 1837, Tiffany & Co. have been the world's premier jeweler, and American's house of design. www.Tiffany.com
Freshology – FreshDining is a fresh diet meal delivery program with a creative gourmet menu that uses unique and exotic flavors and ingredients to enhance your dining experience. www.Freshology.com
Viviscal – Hair growth suppliments for thinning hair. www.Viviscal.com
Bourbon Balls Bourbon Candy – combine the richness of chocolates with fine bourbon!
Dr.Hauschka Skincare – Dr. Hauschka Skin Care products gently guide the skin to a radiant, balanced state while always allowing the skin's biological processes to function as they naturally function. www.drhauschka.com
The Ranch Granola – Made at The Ranch at Live Oak/Malibu, where The Ranch offers the perfect setting to focus on your health, fitness, nutrition and wellness goals. www.TheRanchMalibu.com
Keratin – Keratin Complex has changed the beauty industry with a complete range of products and styling tools. www.keratincomplex.com
Roots – Canada – Clothes, accessories, shoes and bags for men and women. www.canada.roots.com
Apollo Jet – Providing private jets, personal jet charters, business aircraft services, and charter flights worldwide on luxury air crafts. www.ApolloJets.com
Solstice Sunglasses – SOLSTICE has over 150 stores and offers the largest selection of luxury, designer and sport performance sunglasses than any other retailer or sunglass specialty store in the United States. www.SolsticeSunglasses.com
Zensation Skincare of Switzerland is essentially based on natural Swiss Alpine plant extracts, fruit extracts, bio technology complex and neuro stimulating ingredients. www.zensationbeaute.com
Votivo Candles – Burning sticks, candles, fragrence mist and more. www.Votivo.com
Worker-B – Worker B skin care helps you fight back by providing a lasting protective barrier and the ultimate in skin repair. www.worker-b.com
Jilliam Michaels DVD Work-out – Get in the best shape of your life with America's toughest trainer. www.JillianMichaels.com
Pura D'Or Oil – 100% natural and organic Moroccan argan oil conditions and moisturizes hair, skin, and nails. www.puradoroil.com
VIETRI Italian dishes and dinnerware sets are made in Italy of earthenware and stoneware ceramic pottery. www.Vietri.com
L'OBJET -Pictures Frames, crafted beautifully inside and out, L'Objet picture frames are luxurious housings for one's most treasured personal photos. www.l-objet.com
Tata Harper Skincare, 100% all-natural, non-toxic skincare. www.TataHarperSkincare.com
Chocolate Shop Wines - the chocolate-lover's wine.
Paper Shower – When you need to freshen up, and there's no soap and water – PaperShower.com
J. Hilburn mens shaving products – Known for their amazing custom tailored shirts, J. Hilburn has released their new grooming line.
And more from Luna D'Oro, Paul Mitchell Shampoo, Kai Body Butter, Nonnie Wallers chocolates.
The Four Agreements - by Miguel Ruiz
Blood Sugar Solution – by Mark Hyman
The Spectrum by Dean Ornish
www.WowCreationsMedia.com
Wow! Creations Public Relations is a boutique P.R. firm which operates a cost-effective public relations agency with a cost structure for modest P.R. budgets. Get your brand or product into the hands of the influencers!
Wait! Don´t forget to Subscribe for Free!
Main Feed | What is RSS?
Enter your E-mail below to Subscribe

*
No spam
|
Privacy Policy
We will not sell or distribute your e-mail address to anyone else.
Written by Jane Emery