I could not think of a better evening spent than one of champagne and diamonds. That's exactly what I got to do at the stunning Redbury Hotel for the Parade Designs Jewelry event.  This collection of dazzling jewels is truly special.  Every piece created by the amazing designing duo, Allen and William Pung, is so beautifully styled. Having spoken to them I got the sense that their intuition of beauty is in every single piece.  I was floored by seeing the pieces in person.  Honestly, WOW! The bling! Parade designs are exquisite. I was so pleasantly surprised and delighted by pieces I have never seen before.
We see beautiful jewelry – we see it on red carpets, we occasionally see it in commercials, we see it in ads, but we don't get to see this quality mixed with innovation all too often.  My personal favorite is the Yana Bracelets.  They design them with everyone in mind. They can be easily on a wish list for the norm, and for the rich; QUICK…..get one in every color! "Yana represents a vehicle to convey a person on a spiritual path, one filled with love and friendship", what a perfect gift to another or a special treat for you. It was truly difficult to pick a favorite because every single selection is so different and so beautiful, but I love being able to focus on what immediately catches my eye.
Let me divert for a moment to what caught my taste buds as well. The champagne usually flows at events; a lovely addition to this evening was the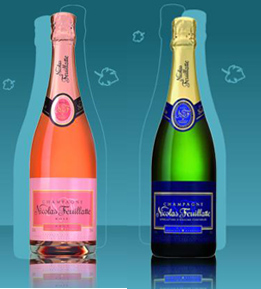 champagne by Nicolas Feuillatte. I have to speak for a moment on how extraordinary this champagne is. It's wildly common to serve the "requisite" drink at events, no one is complaining, yet no one expects anything spectacular. Surprise your guests.  Serve Nicolas Feuillatte.  Brut or Rose', both will appeal to the most delicate of tatse buds, mine, having a tendency for the rose, I'm in love.  The nice thing about being in love with champagne is you're never disenchanted, as long as you stick to the good stuff.
The same can be said for jewels, champagne and diamonds are always a delightful pairing, Parade Designs and Nicolas Feuilatte are the best of the best.  was on display and I think I tried on every piece; I couldn't take my eyes of them.  Each piece sparkles and shines, yet has an understated feel that makes them wearable every day. Even to the gym or yoga class, you'll be sure to be noticed.  I expect to see much more of these designs on celebs everywhere. I picked out the piece I'll be wearing to my next red carpet event, I'll pick the dress later, and it's all about the jewels!
The website provides stunning pictures and all the ways to make these jewels your own. They have authorized retailers in SoCal, I highly recommend seeing and feeling the pieces in person. What a lovely way to spend an afternoon.  I had such a wonderful time at this event, every person that works for the line is just so sweet and it's very refreshing to see how much they adore Parade Designs. It's an exciting line and I'm happy to get to share it with my readers.
Adding to the excitement, I am able to give you a sneak peek into their newest collection Lyria Le Mere inspired by the upcoming film The Odd Life of Timothy Green.  Be sure to check out both! I look forward to seeing so much more from Parade Designs.
Wait! Don´t forget to Subscribe for Free!
Main Feed | What is RSS?
Enter your E-mail below to Subscribe

*
No spam
|
Privacy Policy
We will not sell or distribute your e-mail address to anyone else.
Written by Kali Cook