The Holistic Health Gathering, a celebration for women by women, will be a night of spiritual leaders talks, physical movement and music on Saturday, June 23, 2012 in Santa Monica, CA at Naam Yoga Studio. Sponsored by Whole Foods and Naam Yoga LA, not only will you have the opportunity to empower yourself with tension-freeing movements and inspirational speakers on relationships, beauty and health, but the Holistic Health Gathering is a chance to give back to women in need. The proceeds of will benefit OPCC's Sojourn Women's Shelter.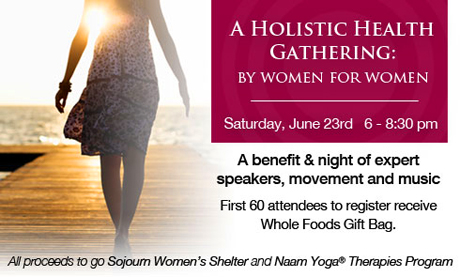 Here's what is in store for you at the Holistic Health Gathering from 6 pm – 8:30 pm, Saturday, June 23rd: Naam Yoga (Mind & Body Yoga), Women's Community & Outreach, Feminine Empowerment and Relationship Coaching, Women's Health, Skin & Beauty tips and embracing the Divine Feminine. A reception will follow the event and gift bags will be given to the first sixty attendees.
What to Bring
Can't bend yourself into a pretzel or maybe never even stepped foot into a yoga studio? Not to worry, beginners are welcome. This event is about embracing and upholding women for where they are at in the present moment. All Naam Yoga asks is that you wear comfortable loose fitting clothes as to not restrict the flow of energy and bring a blanket or cushion to sit on, if you like.  There will be a limited supply of blankets and mats available.
About Naam Yoga LA
Naam Yoga LA is a not-for-profit global mecca for people who care about health, community, service, and spirituality.  It is a spiritual wellness center that offers a variety of classes, workshops and events many of which are free, designed to feed the body, mind and spirit.  The free Community Naam Yoga Therapies classes are highly therapeutic classes that employ a combination of self-healing and preventative techniques for specific health conditions that have been used for thousands of years to support regeneration, physical and emotional balance, detoxification, mental clarity and restorative sleep.  Every class includes gentle movement and stretching, healing visualization, breathing exercises, mantra, hand reflexology postures, conscious relaxation and healing music.
Sojourn Women's Shelter
Sojourn provides battered women and their children a safe space to regroup, rebuild, and reestablish their self-esteem and lives.  OPCC, (formerly the Ocean Park Community Center), is a network of shelters and services for low-income and homeless youth, adults and families, battered women and their children and people living with mental illness.
Tickets are $21 presale, $25 at the door.
June 23, 2012, 6 – 8:30 PM
Holistic Health Gathering: For Women By Women
1231-35 4th Street
Santa Monica, CA 90401
(310) 751-7550
www.naamyoga.com
Wait! Don´t forget to Subscribe for Free!
Main Feed | What is RSS?
Enter your E-mail below to Subscribe

*
No spam
|
Privacy Policy
We will not sell or distribute your e-mail address to anyone else.
Written by Lanee Neil