Lisa Jai is a Canadian actress and Spoken Word artist, who is fast becoming a recognizable face in the world of acting. Based in Hollywood, California Lisa has an amazing story to share with the world to inspire others that may be suffering from a disability like she is. Lisa's life is a lot different to so many others because she suffers from rheumatoid arthritis- but this has not stopped her determination to follow her dream of acting.
In 2010, Lisa was nominated by Ruth Tonin of the Arthritis Society in Toronto, Canada and won the "Unsung Hero" award from the City of Toronto. This was such a huge accomplishment for her and something that means so much to her, because she was recognized for something she is so passionate about.
Before Lisa left Toronto, she attended an awards ceremony on February 2010 at The Carlu in Toronto, where she sat with members of the Diversity Committee, which was bittersweet for her but for good reason. They had no disabled seating available, even for a lady in a wheelchair who had to be carried, while another person carried the wheelchair. The rest of the guests including Lisa had to climb two levels of stairs to get to the seats on the balcony. This explains why there is so much more equal rights work to be done. There been more cases like this at certain conventions held by her very own union, which is pretty appalling- Added by cruel remarks made when she has attended other meetings. Lisa just took it in her stride and remained focused and grateful for her achievements even when all odds were against her.
Lisa relocated to Los Angeles to further her acting career. Since arriving in Hollywood, Lisa trained at the Stella Adler Academy of Acting and worked with some of the biggest producers, writers and directors in the industry. Lisa is now being recognized for her incredible acting ability as well as being a spoken word artist in the hip hop community of  Toronto. Using her personal experiences and struggles that she has endured, Lisa is focusing her energy as an actress in the world of theater, which keeps her busy full time.
Lisa is currently performing with the Cornerstone Theater Company in Watts, California and has already appeared in "The Unrequited"- Directed by Shishir Kurup .This story tells the tale between two worlds, where she played the lead role of  Isela Sanchez. The play is based on the yiddish play "The Dybbuk" where she played a Latina woman, which she loved as she resided in Cuba for a brief time and was able to use some of her Spanish language skills for the role.
This was Lisa's first Equity show in America and the play received amazing reviews and Lisa was even given a mention in LA Weekly for her performance. Lisa was extremely proud of her first production outside of the Stella Adler Academy of Acting, because she got to work with the community of Watts, California to packed houses every night and standing ovations for every single performance.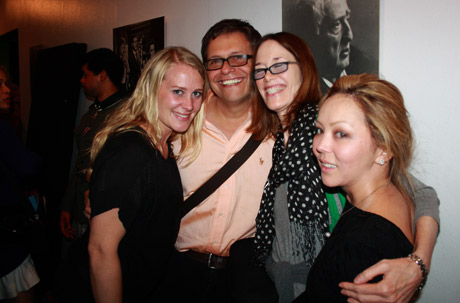 Lisa also played in a production of  Anton Checkhov's "Three Sisters", where she played the role of  Masha.  Lisa is currently wrapping up her role in Macbeth and she is set to play in a trilogy of movies produced by Lost Angeles Productions as well as a comedic play which Lisa is excited about because she gets to play some comedic roles after being in so many dramatic roles.
This goes to show how against all odds, Lisa never gave up on her dream and worked hard to achieve them. Lisa's biggest goal is be on Broadway because this is where her heart really lies. With the rate things are going in her career, nothing seems impossible for this inspirational performer to achieve.
Wait! Don´t forget to Subscribe for Free!
Main Feed | What is RSS?
Enter your E-mail below to Subscribe

*
No spam
|
Privacy Policy
We will not sell or distribute your e-mail address to anyone else.
Written by Amber Claire Bollard