Secret Room Events proudly presented a Caribbean style retreat to honor the 2012 MTV Movie Awards. The Secret Room Events luxury celebrity gift suite took place at The SLS Hotel, a luxury hotel in Beverly Hills on May 31st, 2012. These honorees enjoyed the lavish event and brought attention to a worthy cause for our four legged friends at The Stymie Canine Cancer Foundation.
This exclusive event, open to celebrities and select media, was a big success celebrating the 21st annual MTV Movie Awards which aired on Sunday, June 3rd. The celebrity gifting suite hosted some of today's most unique, luxurious and fashionable companies, products and services. From exotic resort vacations and high end jewelry to hip and trendy baby and pet products, luxurious skin and hair care products, the Secret Room also provided a total pampering experience.
A Charitable Platform
The Secret Room always uses their high-profile platforms to support and promote various charities, and this day, Aimee Thompson, founder of The Stymie Canine Cancer Foundation was at the Secret Room MTV gift lounge for the MTV Movie Awards with her charity. The Stymie Canine Cancer Foundation is a 501(c)(3) non-profit foundation which raises funds for families in need of financial support for the cost of cancer treatment for their pet. Cancer has become the #1 killing disease in our pets today and 1 in 4 dogs will get cancer. The Stymie Canine Cancer Foundation is there to help families when the financial burden is too much. www.stymieccf.org
[youtube]http://www.youtube.com/watch?v=3ykcI1U-PLE&feature=plcp[/youtube]
Coloursburst is Elisa Marconi's art gallery and interior design firm. Coloursburst has been present at more than one Secret Room Event allowing nominees and other celebrities to become instant collectors of painter Marconi's unique and colorful brand of abstractionism. Coloursburst has also brought color explosions to many commercial and residential spaces across the country through its interior design wing.
[youtube]http://www.youtube.com/watch?v=FB8kTOkj3f4[/youtube]
Wossene  Bowler established New Awakenings Coffee to use it as a fundraiser to help people suffering from cancer in Ethiopia. 100 % of all profits from New Awakenings Coffee are going to build Africa's leading CANCER research and Treatment Center in Ethiopia. Very delicious coffee!
http://www.newawakeningscoffee.com
[youtube]http://www.youtube.com/watch?v=A4YCIIA80sE[/youtube]
Who was that cute one in the fur coat walking four legs down this red carpet? The K9 class was represented as honorees and recipients of gracious generosity. Accommodations were made by Secret Room to have a special area just for the pampered pooches providing pet products including:
No more lost dogs! The Tagg™ pet tracking system uses advanced GPS tracking technology to allow you to see where your dog is and receive a notification if he or she wanders off. The lightweight tracker attaches to your dog's existing collar, and is designed to be worn at all times, even while swimming. Now you can have peace of mind that you will always be able to locate your pet if lost. www.pettracker.com
[youtube]http://www.youtube.com/watch?v=DWgL31afWRI[/youtube]
FroBo Pet Water Bowl guarantees to keeps your pet's water cold and fresh for up to 8 hours, and bacteria-free. With its non-electrical and easy to use "Freezer Core", the "FroBo" simplifies the process, providing owners with a hassle-free and worry-free routine of making sure their pets are taken care of when they are home alone.
[youtube]http://www.youtube.com/watch?v=stKqs1RB6WM[/youtube]
Miracle Dog Rescue was there with FroBo, with some cute puppies up for adoption. Erin Murphy adopted a puppy.
[youtube]http://www.youtube.com/watch?v=aLRpmSxDB-M[/youtube]
Chew toys from Bionic Pet products: Bionic Pet toys are the most durable dog toy material found, with just the right shapes and designs a dog would choose! You can toss it to play catch, you can wrestle in a tug of war with your dog. These are so durable, in fact, it was tested in a blender! And it was no worse for ware! These dog products have won in the top ten best several times and counting.
[youtube]http://www.youtube.com/watch?v=WwRDGdm4D3Q[/youtube]
Also, Bella and Roo Urban Collars. Dogswell all natural dog treats, Bunches-Bunches snacks.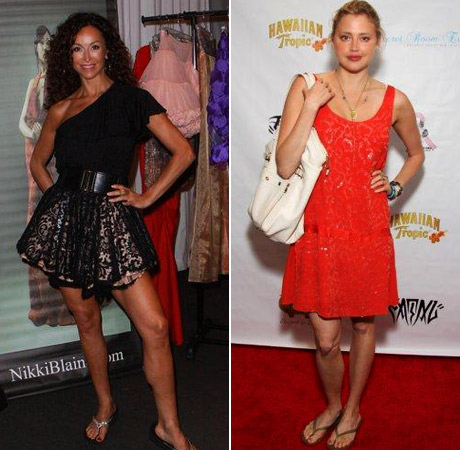 Pantofola d'Oro is a legendary Italian shoe company that opened its doors in 1886. These days Pantofola d'Oro still specializes in top-quality soccer shoes, and luxury sports shoes for the worlds most discerning athletic shoe fans.
The Superberries provided their health products with Aroniaberry. The Aroniaberry was utilized for its high value for nutrition and was recognized by Native Americans as nature's healer and protector. Now these super berries are conveniently packaged with that sweet natural flavor that is good for you and tastes great.
Vitamints are a clever idea for taking your vitamins as a breath mint. It is convenient to keep these with you in your purse or pocket ready to eat. Get your daily supply of vitamins that are available in a variety of flavors so you can find the flavors you like the best.
[youtube]http://www.youtube.com/watch?v=JYlNOrtdFc8[/youtube]
Plum Organics, all natural baby, toddler and child food and snacks. BPA-free packaging, culinary-inspired packaging.
[youtube]http://www.youtube.com/watch?v=erycbH_mSA4&feature=plcp[/youtube]
BeyondClear™ is a brand new skin-cleaning system, with Clarafoam technology. Their product is call the Quickie, which will exfoliate your skin and prepare it for the regime – BeyondClear™ Balances, Repairs and Strengthens your skin AND Delivers Softer, Smoother, and Healthier Skin. This is a new revolutionary acne system.
[youtube]http://www.youtube.com/watch?v=2KQ8oR12Wzg[/youtube]
The Orange Owl is a company that specializes in bath and body products and making a difference. Terms like 'Green' and 'Consciousness' are tossed around a lot, but founder and CEO of The Orange Owl, Akshata Nayak, is definitely the real deal. Nayak's focus is split evenly between running her eco-friendly business, crafting her all-natural skincare products, working as a professional nutritionist and directing her impoverished children's education initiative:The Schooling Project.
Fatal Clothing is a tattooed-inspired clothing  brand for all who can't get enough of that real So-Cal badass style.  Originally the brainchild of tattoo enthusiast Mark Atkins, Fatal Clothing is a company that now clothes hardcore tattoo art lovers around the globe.
[youtube]http://www.youtube.com/watch?v=9Ij3txzpvLI[/youtube]
Private Island Party is a top NYC costume and party accessory supplier. This is an online supplier that provides merchandise fitting into a wide range of possible party themes. Private Island Party will provide the fun and unique gifts all will love.
[youtube]http://www.youtube.com/watch?v=-TFQPNXJVqY[/youtube]
One Bag at a Time is a company that has had quite the revolutionary run designing and manufacturing durable, reusable, and eco-friendly totes.  One Bag at a Time President and Founder and former English teacher, Lisa Foster, became aware of the negative environmental impact plastic grocery bags have in 2005 and she decided to take action. Currently, One Bag at a Time has sold over ten million reusable custom tote bags to stores and consumers and actively supports anti-plastic grocery bag legislation.
KellyLash is a LA boutique that specializes in quality eyelash extensions and semi-permanent make-up.  Proprietor/Aesthetician Kelly Mattson also offers specialized beauty products and provides expert training in her craft.
[youtube]http://www.youtube.com/watch?v=VHn9EBdh6zo[/youtube]
Jem Lew (The Love Project) is a new collection of necklaces that from eclectic designer Melissa Lew. Her love themed necklaces recently debuted at Secret Room's Exclusive MTV Movie Awards Style and Gifting Lounge. Inspired by Chinese philosopher Lao Tzu,a portion of the proceeds from sales of Jem Lew (The Love Project) necklaces will go to charity.
[youtube]http://www.youtube.com/watch?v=YODQicNx7e8[/youtube]
Body Eclectic Skin care is designed to tantalize and tempt any fancy, and southe your body and satisfy your senses. Soaps are made out of a base oil vegan blend specially created for it's cleansing, soothing and emollient properties, essential oils, and are handcrafted.
[youtube]http://www.youtube.com/watch?v=FQ0hRmWGIDE[/youtube]
Imagine an urban army dawning black, metal studded Chuck T's for combat boots And double-edged razor blades for dog tags. You might be imaging an army dressed by rising young fashionista and Created by Fortune designer Mellissa Fortune. Created by Fortune is Mellissa's foxy, edgy-glam collection of head-to-toe accessories
Born 4 Couture is a unique North Texas based outfitter for little debutantes and rock n' roll rebels. With her daughter in need of a life saving operation, mom Amber Lancaster sprang into action and created her baby clothing line Born 4 Couture to pay for the surgery. Now Lancaster is a successful designer who always works with her top model, her daughter.
Baby Keba is an all-organic affordable clothing line for infants that aspires to cross over into an all out philosophy. Plus, it's a green philosophy. The clothier and creator of the Baby Keba experience, Makeba Gies, strives to combine style and luxury softness with doing good for the environment. All Baby Keba is made from renewable 100% Pima cotton.
Sella all natural skin care provided their bath, body and skin care products.
Exotic Bora Bora Resort trips accommodations to 3 top 5 star resorts to choose from.
Looking good for the awards requires clean, healthy and protected skin so Hawaiian Tropic provided samples of their hydrating sun protection. A great product to use while on vacation at the Caribbean or just for the sunny days in LA keeping your skin well protected from the sun while hydrating your skin.
Products were also provided by Pura Botanica, Eden Allure, Zensation Skin care, Nikki Blaine Couture, Kay Unger New York, Phoebe Couture, Snap Sacs, Sourpuss, Schwarzkopf Professional, Thro by Marlo Lorenz, CheeCha Puffs, 13 Personalities, Greens Your Color Gyc Bottle, Nick And Mo, Avanti Fitness, 3RD & Army, Serendipity Bags & More, Life Coach Lisa Haisha, Multipure International, Private Arts LA, Annies, Paper Shower , Guylion Belgion Chocolate Truffles, Verdette, Scandalous Designs , and Eco Lunch Boxes.
Yoga Fit filled a gift bag with their products. Rusty north America and O'Neill gave apparel from their clothing lines.
Secret Room also pamper their guests with luxurious services ranging from massages, pedicures and spray tans. As well as Botox, Juvederm and Restylane treatments were provided procedures. Car services drove celebrities to Beverly Hills with doors opening by the SLS valet. Then escorted to step the red carpet for pictures by professional photographers capturing moments from the fun filled day.
Secret Room Events is owned and operated by Rita Branch and Amy Boatwright, two business partners who are dedicated to putting today's big celebs next to sponsors' hot new products and raising money for a worthwhile charity. They are known in the industry for producing exclusive events surrounding major celebrity awards shows, movie premieres, product launches and private entertainment industry related events.  Invitation only marketing events take place in conjunction with major award shows and offers both cross promotion opportunities for established companies and a great break for new ones.