Written by Susie Salva
Eagle Rock Entertainment is proud to announce the release of Foreigner's Alive & Rockin', recorded at one of Europe's most popular Hard Rock Fests, the 2006 Bang Your Head Festival in Balingen, Germany. This 9-track concert, previously released on DVD only (Eagle Rock Entertainment) is now available for the first time on CD.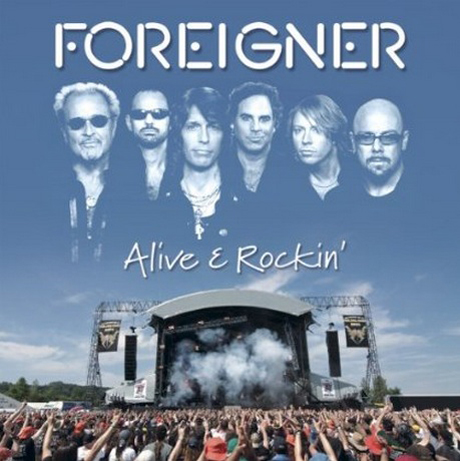 "My initial musical vision for Foreigner was to combine blues and R'n'B with British Rock and make it sound soulful and authentic," says guitarist Mick Jones. "I'd grown up in England and had the English influence but I was also inspired by many elements of American music from Mississippi blues to country. Foreigner was the vehicle to get that musical blend across." Jones is now the only original member of Foreigner featured on this CD Alive and Rockin'.
That "blend" was never more evident than on this rockin' night as Jones—with vocalist Kelly Hansen (Hurricane), drummer Jason Bonham (Bonham), keyboardist Jeff Jacobs, multi-instrumentalist Tom Gimbel (guitars, saxophone, flute) and bassist Jeff Pilson (Dokken)—knocked out a crowd-pleasing set that included eight U.S. Top 20 hits including anthems "Juke Box Hero" "Cold As Ice" and "Hot Blooded."
Starting off the Foreigner CD is a slowed down version of "Double Vision." The loss of Lou Gramm from the line-up is evident on this disc but Hansen does a respectable job on vocals stepping into some big shoes and pulling it off. Mick Jones is the soul of the band and has been able to infuse the excitement of the original line-up into this power house of professional players. It's great hearing Jones' chops and it brings their relevance to the forefront again.
Hansen encourages the crowd at the Festival to sing along with "Dirty White Boy," but the sounds from the crowd are absent from the disc. An extended version of "Cold As Ice" with a killer keyboard riff is present as a lazy version of "Starrider" featuring a killer guitar riff but the song they have delivered is still lacking excitement. A sexy sax rules on one of Foreigner's signature songs "Urgent," as Jason Bonham flexes his muscles on "Juke Box Hero/Whole Lotta Love," tipping his hat toward his fathers (John Bonham) alliance with Led Zeppelin. The band finishes off the CD with "Hot Blooded," performed with that driving signature guitar line caps off this show in Germany.
Mick Jones maintains the integrity of Foreigner while making an effort not to put together a tribute band. It appears that he has been successful with this current line-up.
This most beloved of Classic Rock bands has been serving up the hits for over 30 years. With over 70 million records sold worldwide, they're second only to Led Zeppelin on the Atlantic Records roster in total album sales. Jones, producer of 10 of Foreigner's multi-platinum albums, has composed some of the most memorable riffs in rock history. After forming Spooky Tooth with Gary Wright in he early 1970s, he left his native England to move to New York in 1976 and formed Foreigner. With over 50 million sales to their name, and six multi-platinum albums between 1977 and 1987 Foreigner's place as one of the front-runners of the AOR (Album Oriented Rock)genre is hard to dispute.
For all things Foreigner please go to: www.foreigneronline.com
Wait! Don´t forget to Subscribe for Free!
Main Feed | What is RSS?
Enter your E-mail below to Subscribe

*
No spam
|
Privacy Policy
We will not sell or distribute your e-mail address to anyone else.
Written by Susie Salva