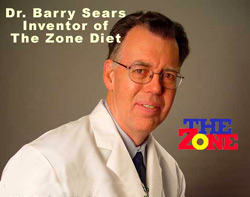 LA's The Place is proud to present our video series, and his participation with LA's The Place new feature, Ask The Experts", with the esteemed Dr. Barry Sears, PH.D., a biochemist expert, who is most famously-known for creating The Zone Diet, a way of eating the proper balance of foods, which is aimed at achieving stable blood sugar levels, hormonal balance, low inflammation, and physical and mental well-being, and is the basis of many diet systems today. He is a leading authority on the impact of the diet on hormonal response, genetic expression, the effects of system-wide inflammation in the body.
As a former research scientist at the Boston University School of Medicine and the Massachusetts Institute of Technology, Dr. Sears has also devoted his research efforts for over 30 years to the study of lipids.
He is the author of 12 books, including the New York Times #1 best-seller "The Zone: A Dietary Road Map to Lose Weight Permanently: Reset Your Genetic Code: Prevent Disease: Achieve Maximum Performance, Harper Collins, May 1995.
He has also published over 30 scientific articles in biochemistry, medical, pharmacy, and nutrition journals, has 13 U.S. patents in the areas of intravenous drug delivery systems and hormonal regulation for the treatment of cardiovascular disease, blood tests, processing chemical compounds, reducing blood pressure, and reducing excess insulin. He also has 4 U.S. patents pending for reducing inflammation in the body.
Click here to watch Dr. Sear's video on "Why Americans are Getting Fat"…
Read all the up-to-date information Dr. Sears has to share on www.DrSears.com. Read his latest article on 'Ominous new warnings issued about Toxic Fat' here…
Click here to read "What is Silent Inflammation?"
His books have sold more than 5 million copies in the U.S. and have been translated into 22 different languages, including:
•    Mastering the Zone, Harper Collins, 1997.
•    Zone Perfect Meals in Minutes, Harper Collins, 1997.
•    Zone Food Blocks, Harper Collins, 1998.
•    The Anti-Aging Zone, Harper Collins, 1999.
•    A Week in the Zone, Harper Collins, 2000.
•    The Soy Zone, Harper Collins, 2000.
•    100 Great Zone Foods, Harper Collins, 2001
•    The Omega Rx Zone, Harper Collins, 2002
•    Zone Meals in Seconds, Harper Collins, 2004.
•    The Anti-Inflammation Zone, Harper Collins, 2005.
•    Toxic Fats: When Good Fat Turns Bad, Harper Collins, 2008.
Wait! Don´t forget to Subscribe for Free!
Main Feed | What is RSS?
Enter your E-mail below to Subscribe

*
No spam
|
Privacy Policy
We will not sell or distribute your e-mail address to anyone else.
Written by Jane Emery