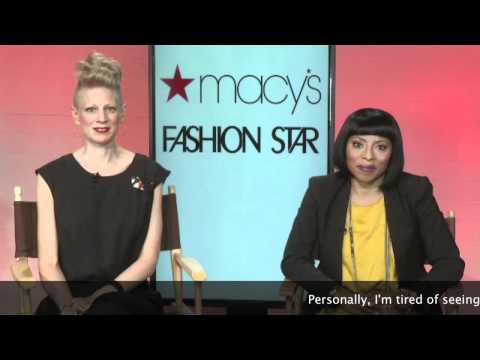 LA's The Place chief Jane Emery interviews "Fashion Star" winner, designer Kara Laricks via Skype about her win and her new designs in 3 different department stores, including Macy's.
LA's The Place: Kara,  after a long season of tough competition, a lot of great designs on Fashion Star, you have won the show. You proved John Vavartos indeed did have good taste – he was a big supporter of yours during this process… How does it feel, after years of hard work, and having gone through this toughest competition against other brilliant designers, to come out on top?
Kara Laricks: You know, it just feels absolutely incredible! It's been a long time dream to be able to realize the visions, I guess, I have in my head with regards to designs and the opportunity to see them now in 3 of the most wonderful retailers is just beyond what I could have imagined for myself.
LATP: Now, if you can sum up your brand, your style that you impart to your designs in four words, what would that be?
KL: Hmm, let me think. I would say masculine inspired with a feminine fit. That might have been 5 words, but there you go.
LATP: That's ok – you're allowed! Very nice. Now I understand you impart an 'androgynous look' – can you explain a little bit about what that is behind all your designs?
KL: Yes, of course. I just love a masculine meets a feminine aesthetic so I try to create masculine-inspired details. For example, a welt pocket or a tie detail and really turn it into something that is lovely and feminine, but you know, give it that little extra special edge and uniqueness.
LATP: Amazing… Now, I don't think I've seen this too much out there in the fashion world. This is really your own unique taste.
KL: That is what I love to hear. It feels so incredible to have an unique style and an unique vision in this saturated market, in the fashion market were there is so much that does look very similar. It feels incredible to be able to stand apart. It really is one of the best feeling in the world. Thank you!
LATP: Personally, I'm tired of seeing the same old styles sort of just, revamped. You know, nobody is breaking out and coming up with something new that we haven't seen decade after decade, I congratulate you on that!
KL: Thank you, I am here for you.
LATP: Made my day! So, I understand you have some of the styles there, can we take a look at some of your designs?
KL: My favorite part! I am so thrilled to show you! What I brought with me today are three gorgeous looks for Macy's and you know through the course of this show I really relied on Caprice to guide me in terms of what the Macy's customers wants. So I listened very very well, hopefully, to make sure I can get the Macy's customer's versatility and things she can really wear to the office and then change up a little bit and wear it in the evening.
So the first look that I want to show you is kind of my signature tie blouse for Macy's. You know, I had to get a tie in there somewhere and just because it is a tie doesn't mean it has to be very masculine. It is really a great feminine fit, but with that masculine detail, and then just paired with a gorgeous pair of black trousers. I love it. They have really subtle pleats in front and then a great welt pocket in the back with a flattering fit for quite a few body types. That's look number one and now, look number two…
LATP: Save one for me!
KL: Oh, my gosh. I love it! And then look number two, I love this A-line dress because again I feel it's very flattering to many body types, but I wanted to stay very true to that Kara Laricks-aesthetic and make sure I included men's wear detail, like the little chest pocket… And this one too has really cute welt pockets in the back and I just think it is an unique special little detail for the Macy's customer and then with that bold plaid… so good.
LATP:  Very exciting…
KL: Thank you. And then last but not least, I love this. A one piece, a little romper and I love the fact that it look kinda slouchy and funky in the front, you know… It's got this really great men's wear feel, but when you turn around it has a very foxy, kind of sexy racer back and I love the pairing of the two and the fact that its just an easy single piece to pick up, is what's most appealing. Jacket during the day, throw it off at night and you are good to go.
LATP: It's a very exciting time for consumers, and I would advise everybody get over there as fast as possible because these are going to sell out!
KL: I love the sound of that.
LATP:  Kara, one more question: How much did your mentors have to do with the direction that you took?
KL: You know, I went into Fashion Star with the same perspective on design for me as I left with, however, my time on Fashion Star I really tried to be a sponge and I really tried to soak in every bit of expertise, both the mentors and the buyers were willing to give. It was a priceless experience and it is something I wish for any emerging designer. It really, really has helped me to be able to speak about to speak about my brand, it's helped me to develop my brand and it's really absolutely thrilling.
LATP: So you were flexible, you weren't just so focused on what you wanted to do, you took what you wanted to do and you took advice and evolved it out, and… look at the result!
KL: I know, I'm so pleased. I am so pleased!
LATP: So, congratulations, we're going to be watching you, you are definitely a name to watch over the years. I'm so happy for you.
KL: I love it. Thank you so very very much.
Wait! Don´t forget to Subscribe for Free!
Main Feed | What is RSS?
Enter your E-mail below to Subscribe

*
No spam
|
Privacy Policy
We will not sell or distribute your e-mail address to anyone else.
Written by Jane Emery