The Trion:Z line of wristbands, necklaces, and multi supporters operates on a universal principle: Magnets and magnetic fields are all around us, and they affect many areas of our life. The earth exerts a magnetic pull, as does the sun. Together, they regulate our exposure to radiation, among other elements, and they contribute to healthy cell regeneration. These cells in turn emit electrical charges and create their own magnetic forces. When your body is at optimum health, your body's magnetic fields work in concert with those of the earth, but modern technology and lifestyles often block the flow. (See the video below)
This is where Trion:Z comes in.
Trion:Z technology not only restores but also maximizes this magnetic flow. Within a Trion:Z item, you'll find axially-magnetized magnets in a unique Alternating North-South Polarity Orientation. It sounds like a mouthful, but what you really need to know is that the arrangement increases the surface of the magnetic interaction and maximizes the magnetic field flow. The forces draw the shavings to the magnets, and it encourages separate exchanges between the shavings and between the magnets. In essence, you have a four-way magnetic current emitting plenty of negative ions. The transmission is further aided by the use of Mineon Fibers in Trion:Z's Original Necklaces and Dual Loop wristbands. This modern textile is embedded with minerals to produce negative ions and boost the effects even more.
As a matter of fact, Trion:Z products have been proven so effective, that Trion:Z  is approved as a Medical Device by the Japanese Ministry of Health, Labour & Welfare.
How it is the Best and Stands Above the Rest
Compare that to competitors' products: in the cheapest example, you'll find a low-quality, two-dimensional magnet that barely interacts with the metal shavings. Other products may have more than one magnet, but they use "like" poles in the same direction, bringing about a dead zone with no magnetic interaction.
Famous
There's a good chance you've seen Trion:Z necklaces and wristbands on red carpets and silver screens.
The Magtitan NEO Legend has been lighting up the screens on the arm of Robert Downey, Jr. in the movie "The Avengers." You may remember its sparkling carbon fiber surface coated with transparent resin, as well as its attractive, chic design.
Each wristband is made of pure titanium and stainless steel to withstand corrosion. Every Legend bracelet holds two magnets using Trion:Z's Alternating North-South Polarity Orientation technology for the negative ion flow.
Colantotte Technology
The Magtitan NEO Legend uses two 100mT (1,000 Gauss) ferrite permanent magnets arranged in Colantotte's unique Alternating North-South Polarity Orientation (ANSPO™), to create a larger magnetic field flow.
The Magtitan NEO Legend comes in three sizes: small (5.1 to 6.3 inches), medium (6.3  o 7.5 inches), and large (7.5 to 8.5 inches). The small version was designed for women, but all three sizes come with adjustable cuffs to personalize your fit. To commemorate the movie tie-in, the NEO Legend also comes in a limited edition package decorated with scenes from "The Avengers." www.trionz.com/legend
And for Kids ages 5 – 10, there is the Electronic Light & Sound Iron Man Power Band Kids. Now kids can be like Tony Stark in MARVEL'S THE AVENGERS. Let them experience the power! It lights up and makes Iron Man sounds when you move, with Iron Man sounds and light sequences that flash, pulse and strobe. Their friends will wonder if they have Super Hero powers! Unlocks a special sound and light sequence when two bracelets meet. Includes 2 bracelets. Each bracelet contains super bright LED lights and 3 LR 44 batteries. One bracelet makes sounds. Recommended for ages 5-10.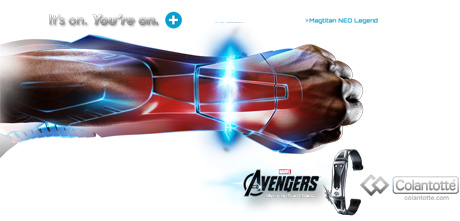 Kids can go on http://colantotte.com/ to the first fully interactive Comic set in the MARVEL Cinematic Universe! You can download the exclusive comic for your mobile device.
The Elite necklace with Co Pendant from  Trion:Z was on display at the Oscars and GLo. It is a stunning design that combines fashion and function. Titanium accents compliment the highly polished, SUS316L Stainless Steel pendant giving this sporty necklace an upscale look. The unique Alternating North-South Polarity Orientation is used, with eight 100mT (1,000 Gauss) magnets, to create a larger magnetic field flow. Alternating polarity eliminates dead zones that are created when magnets are placed side by side with poles aligned. The magnet capsules are adjustable along the waterproof, silicone cord.The Elite contains 8 magnets in all, with 4 in every magnet capsule, each of which can be adjusted along the waterproof and sweat-resistant silicone neck cord. The pendant is stainless steel, framed by titanium accents.
It's available in black, white, and orange, as well as in two sizes: medium (18.5 inches) and large (22 inches). CLICK HERE to see more information and styles…
The Color Palette, a more stylish bracelet that comes in 8 unique colors variations, combines lightweight technology and functional style with Colantotte's signature magnet technology and pure βTitanium. The Color Palette features two 100 mT (1,000 Gauss) magnets in a unique Alternating North-South Polarity Orientation (ANSPO™) to maximize the magnetic field flow. This stylish and water resistant bracelet weighs just 4 grams and is  a fun and functional addition to every individual's wardrobe.
The water-resistant Flex Bracelet offers a relaxed fit featuring premium grade silicone and four 100 mT (1,000 gauss) ferrite permanent magnets incorporating Colantotte's signature magnetic technology in a unique Alternating North-South Polarity Orientation (ANSPO™). Perfect for everyday use, this stylish and water-resistant bracelet is available in 8 unique color variations.
All of the Trion:Z Magnetic necklaces and wristbands are used by many professional sports figures as well, for better performance and endurance.
Trion:Z will retain its "magnet technology and negative ion-producing power" even after being submerged, or exposed to salt water. It should be thoroughly rinsed out after being in salt water or in chlorine to preserve its appearance.
Trion:Z is committed to unwavering quality and innovation by focusing exclusively on one mission: providing the most advanced negative ionic-magnetic products to our customers, retailers, and professional athletes.
You can also have Trion:Z jewelry customized for corporate gifts, trade show giveaways, school fundraisers or event promotions. See how you can promote your business, club, school or cause HERE…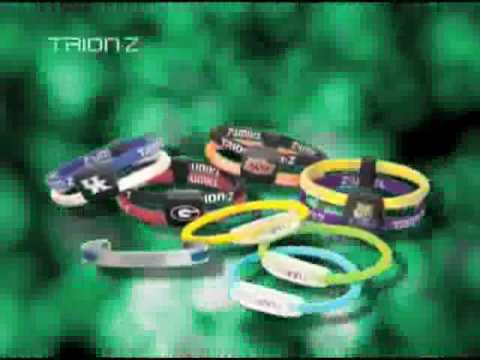 Wait! Don´t forget to Subscribe for Free!
Main Feed | What is RSS?
Enter your E-mail below to Subscribe

*
No spam
|
Privacy Policy
We will not sell or distribute your e-mail address to anyone else.
Written by Jane Emery