Broadway comes to Hollywood with CHICAGO, the winner of six 1997 Tony Awards including Best Musical Revival, which has opened at the Pantages Theatre in Hollywood.  After her critically-acclaimed debut as "Roxie Hart" on Broadway and in London's West End, Christie Brinkley, one of the world's most successful supermodels, made her highly-anticipated Los Angeles debut this week, as she reprises her 'killer' role in this six-time Tony Award-winning musical smash hit at the Pantages Theatre.  Also starring in CHICAGO is television and film personality John O'Hurley as "Billy Flynn".
Set amidst the razzle-dazzle decadence of the 1920s, CHICAGO is the story of Roxie Hart, a housewife and nightclub dancer who murders her on-the-side lover after he threatens to walk out on her. Desperate to avoid conviction, she dupes the public, the media and her rival cellmate, Velma Kelly, by hiring Chicago's slickest criminal lawyer to transform her malicious crime into a barrage of sensational headlines, the likes of which might just as easily be ripped from today's tabloids.
Now in its 16th year on Broadway, the record-breaking smash hit musical CHICAGO is now the fourth longest-running production in Broadway history.  With a legendary book by Fred Ebb and Bob Fosse, music by John Kander and lyrics by Fred Ebb, CHICAGO is the winner of six 1997 Tony Awards including Best Musical Revival and the Grammy Award for Best Musical Cast Recording.
LA's The Place Marc Chamberlain covered the Los Angeles premiere and chatted briefly with Christie Brinkley before the show.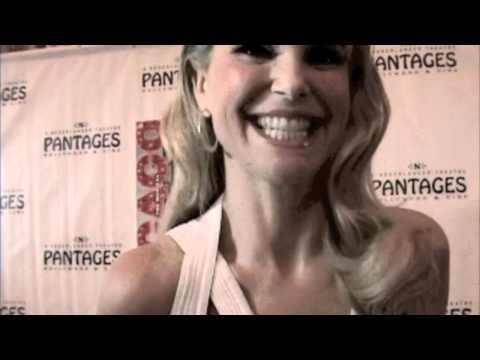 I caught up with Christie Brinkley on the red carpet before her opening performance, who looked absolutely stunning at a young 58 years old.  I remember Christie as a young supermodel starring in Billy Joel's hit video "Uptown Girl" and who has graced the cover of over 500 magazines.  I asked Christie how she stays you young and said one of her secrets is doing lots of yoga.  Christie has been very busy, having launched the "Christie Brinkley Beauty" a line of all-natural skin care products, all while raising 3 children.  I would never have thought I would see her transform herself into an actress.  Christie told me, "I never knew how to act, sing or dance" before being casted in CHICAGO and was a little nervous at first."  You wouldn't know it as she put on an amazing performance as Roxie Hart.  It goes to show you, you can do whatever you put your mind to.  She truly brought her character to life, her voice was amazing, and her dancing was superb.  Says Christie, "I am so happy to be back in LA, I am looking forward to my kids coming out to see me, and taking them to Disneyland".  Disneyland happens to one of her favorite places to visit with her kids.
All together the rest of cast did an amazing job as well.  I personally wasn't really a fan of musical theatre before this, but this performance of CHICAGO has truly made me a fan and has given me a new outlook on theatre.  If you ever wanted to see a Broadway play and cannot make it to New York, now is your chance to see one of the most successful musicals of our time. I highly recommend going to see CHICAGO, and Christie Brinkley as Roxie at the Pantages Theatre.  The show runs from May 15- May 27.  Seeing a live show at the Pantages is truly something you have to check off your to-do list!
PERFORMANCE INFORMATION:  Tickets are available at www.BroadwayLA.org or www.Ticketmaster.com or by calling
1-800-982-2787, as well as at the Pantages Box Office (6233 Hollywood Blvd) and all Ticketmaster Outlets.  Performances are Tue-Fri at 8pm,
Saturdays at 2pm & 8pm and Sundays at 1pm & 6:30pm.  Recommended for Ages 13 and up (Everyone must have a ticket; children under 5 will not be admitted to the theatre) Running Time: 2 hours and 30 minutes including intermission.  Tickets start at $25 in the orchestra
Wait! Don´t forget to Subscribe for Free!
Main Feed | What is RSS?
Enter your E-mail below to Subscribe

*
No spam
|
Privacy Policy
We will not sell or distribute your e-mail address to anyone else.
Written by Marc Chamberlain