The Gentleman's Read is a new online lifestyle magazine to celebrate the return of the modern gentleman. This aesthetically-pleasing site is not just about the latest on sports, but also includes film, design, fashion, art and interviews from some of the best independent websites.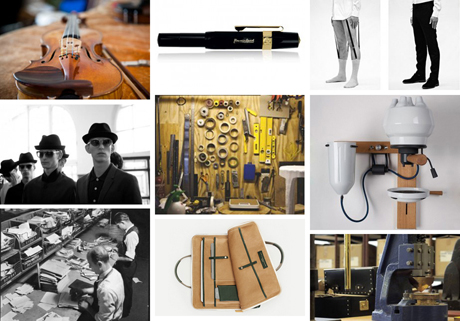 According to the Gentleman's Read website, they define the modern gent as someone who earns recognition through his clear willingness to put more into the world than he takes out; someone with a deep-seated desire to do something that genuinely matters. And A Gentleman's Read is his new online resource.
With contributors from top independent websites including Another Something, Dezeen, Gilt Taste, On Plate Still Hungry, Portable, Post-New, The Boilermaker and Trendland, offering discerning insights and articles, galleries and interviews, A Gentleman's Read is a shot of inspiration for the man who wants to make a difference.
Here are just a few of the online magazines you'll find on A Gentlemen's Read:
Dezeen is a carefully edited selection of the best architecture, design and interiors projects from around the world before anyone else.
Trendland is quickly claiming the leading edge of organic, spontaneous trend information. The relatively young e-zine (2006) has gained a significant following among international trend-watchers and design addicts alike. Relentlessly pushing the limits in both rare content and alluring web design, the site is a beacon for voracious aesthetes around the world.
On Plate Still Hungry is a food, drink, travel and culture magazine that sees a worldwide collective of writers, artists, chefs, designers, photographers, musicians and filmmakers share meals, stories, interviews and ideas on the daily, family styles.
Post-New is the inspirational source of newness. We discover, curate and report innovation, thinking, ideas and people that do more than just break the rules.
Another Something is about finding exceptional craftsman, inspiring stories and creativity around the world.
A Gentleman's Read brings you the ideas and stories that really matter, curated by Ketel One Vodka.
Inspired by over 300 years of family distilling history, Ketel One knows a thing or two about pairing tradition with modern innovation. Handcrafted to this day at the Nolet Distillery in Schiedam, Holland, Ketel One Vodka is the perfect marriage of old world pot still craft and modern distilling techniques.
Check out A Gentleman's Read now at www.agentlemansread.com
Wait! Don´t forget to Subscribe for Free!
Main Feed | What is RSS?
Enter your E-mail below to Subscribe

*
No spam
|
Privacy Policy
We will not sell or distribute your e-mail address to anyone else.
Written by Lanee Neil