Every year, George Lopez and his celebrity friends take to the links and raise money for his charity, The Lopez Foundation, and this year was the Fifth Annual George Lopez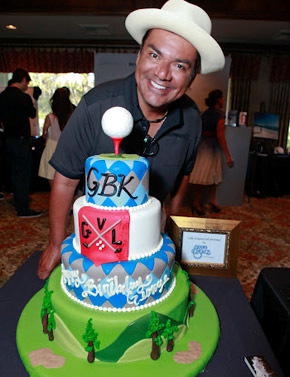 Celebrity Golf Classic and the 2012 Mercedes-Benz Dealer Championships , which took place on Monday, May 7th, at the Lakeside Country Club in Burbank. And once again, GBK (gbkproductions.com), LA's top luxury lifestyle gift lounge and special events company, provided the icing on the cake with the official gift lounge for the celebrities that attended the tournament.Celebrity golfers including George Lopez, Eva Longoria, Anthony Anderson, Bruce Jenner, Rob Riggle, Kenny G, Alfonso Ribeiro, Andy Garcia, C. Thomas Howell, Kevin Rahm had a great day at the links for charity and were treated to a special gift lounge produced by GBK Productions in support of The Lopez Foundation.
They received gifts and gourmet treats from the luxury brands including the following companies:
Shoe company Crocs™ was on course gifting their new Crocs Golf shoes, designed by renowned golf instructor Hank Haney. These are done right! Comfortable, lightweight, waterproof, handsome. The one-of-a-kind comfort of Crocs™ shoes paired with the expert knowledge of Hank Haney, makes these the lightest, most comfortable golf shoes in their class. An alternative to traditional golf shoes, they feel as good as sneakers, are technically-engineered for the course and to clubhouse to home – you can wear these everyday!  They were voted "Best New Products" at the 2012 PGA Merchandise Show. Watch the video for more great features! www.croc.com
[youtube]http://www.youtube.com/watch?v=ChEIbGdm8yE[/youtube]
Colantotte International, Inc., known for their wristwear line of Colantotte; the Flex bracelet offers the highest concentration of negative ions and magnets, and was worn by Robert Downey, Jr., in The Avengers. It's been said that these products improve strength, balance, athletic performance and overall wellbeing. Many professional athletes wear these. www.Colantotte.com www.TrionZ.com
[youtube]http://www.youtube.com/watch?v=PUTAJa-xCX8[/youtube]
Balance TV – Balance is a modern, contemporary national cable TV show about how business people and movers and shakers deal with balancing health and wealth in the 21st Century.
[youtube]http://www.youtube.com/watch?v=iI8sVVJ9O7g[/youtube]
They were at the suite providing celebrities with a non-transferable gift certificate from Balance TV worth $25,000, to appear on the show, which will air on Discovery Health next month. If you are interesting in submitting yourself or your business to be featured on the show, go to www.BalanceTV123.com and fill out the form…you never know!
RevitaLash gifted a 6-month supply of the newly formulated RevitaLash ADVANCED eyelash conditioner that lengthens and thickens eyelashes – it really works! Forget false eyelashes, have your own beautiful lashes naturally! Hair by RevitaLash, which revitalizes what you have and makes it look thicker, and keeps you from losing any more hair, Perfect Primer, which gives your eyelashes a nice base to make them look even thicker when you apply RevitaLash Mascara, Spotlight Highlighting Pencil and Raven 24 hour eyeliner.  www.RevitaLash.com
[youtube]http://www.youtube.com/watch?v=LVcnK81rfb4[/youtube]
ZIRH shave care/ skin care products for men gifted their ZIRH Clean Alpha-Hydroxy Facial Wash and ZIRH Aloe Vera Shave. In business for decades, ZIRH products have stood the test of time for a good reason! www.ZIRH.COM
[youtube]http://www.youtube.com/watch?v=LQ0xFUGTHzc[/youtube]
Half Breed Clothing Co., founded by Rudy Tabasa, gifting Tees, Tanks, and Sweatshirts to celebrate the multi-ethnicnicity of people and discussed how to build pride within our multi-ethnic communities. www.HalfbreedClothing.com
Vineyard Napa Valley – The wines of Napa Valley's Black Cat Vineyard are crafted, by hand, with a passion for perfection. Guests received a bottle of the 2008 Family Cuvee, Napa Valley, Red Wine Blend. The 2008 Cabernet is quite exquisite!
Bogey Time – A new paradigm in golf apparel, Bogey Golf provided golf caps and golf towel. www.BogeyTime.com
[youtube]http://www.youtube.com/watch?v=daPXXQBU4JA[/youtube]
The golfers sampled delicious treats from gourmet sponsors including Bread Basket Cake Company – who unveiled their specially designed cake and gifted their rich red velvet truffles and a gift certificate for a custom-made cake. www.BreadBasketCake.com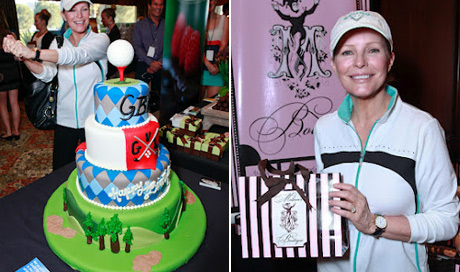 Cheryl Ladd after a day on the course with the boys! Time to relax and have fun…
Milena's Boutique – Milena`s Candles are made from exclusive organic coconut and kosher soy wax, pure essential oils, soy oils, organic wood wick, and cotton wicks. Pure, containing no petroleum products, no chemical dyes, no lead wicks, and no carcinogens! www.milenasboutique.com
It's True! My Pillow IS the World's most comfortable pillow", plus…it's washable, antibacterial, support pillow, with a 10 year warranty. They guarantee it, or your money back! www.MyPillow.com
Apple-Revolution.com – Designer Caramel Apples for All Occasions.
On the course, guests were treated to an array of refreshments and activities including KISSKAM – KISSKAM.com brings those special jumbotron moments straight to your event making it lovable, kissable, and memorable.
Camacho Cigars sampling their Camacho 10th Anniversary Cigar, Camacho Triple Maduro Cigar, and Camacho Connecticut Cigar.
Air Pacific also gifted free airfare to their favorite golf courses around the world.
Celebrities that attended included:
Alfonso Ribeiro  "Fresh Prince of Bel-Air"  (Carlton Banks)
Andy Buckley      "The Lying Game" (Ted Mercer), "Bridemaid's" (Helen's Husband)
Andy Garcia        "The Godfather Part III" (Vincent Mancini)
Anthony Anderson         "Scream 4" (Deputy Perkins), "Transformers" (Glenn Whitman)
Brian Dietzen      "NCIS" (Jimmy Palmer)
Bruce Jenner       Former Olympic Gold Medalist
Bruce McGill       Rizzoli & Isles
Bryan Fisher        "George Lopez" (Jason McNamara)
C. Thomas Howell      "The Amazing Spider Man"(Ray)
Carmine Giovinazzo    "CSI: NY" (Detective Danny Messer)
Cheech Marin     "Cars 1 and 2" (Ramone) and "Spy Kids" (Felix Gumm)
Cheryl Ladd         "Charlie's Angels" (Kris Munroe)
Columbus Short Scandal (Harrison Wright)
Curt Menefee     Fox Sports anchor/reporter
Dondre Whitfield        "Make It or Break It" (Coach Mcintire)
Eizabeth Small             We The Party
George Lopez     Lopez Tonight, George Lopez (TV Series)
Greg Ellis           "Pirates of the Caribbean: On Stranger Tides" (Groves)
Greg Maddux      Former Major League Baseball pitcher
Greg Noll             Professional Surfer
Jack Wagner       "The Bold and The Beautiful" (Dominick Marone)
Jamie Bamber    "Law and Order: UK" (Matt Delvin)
John C. McGinley     "Scrubs" (Dr. Perry Cox)
John Rocker        Retired American Major League Baseball relief pitcher
Kenny G               Musician/Jazz Saxophonist
Kevin Dobson     "April Moon" (Jeffrey)
Kevin Rahm         "Desperate Housewives" (Lee McDermott )
Kunal Nayyar      The Big Bang Theory (Raj Koothrappali)
Michael Crabtree   Wide Receiver for the "San Francisco 49ers"
Michael Bearden    Composer "This Is It"
Miles Doughty    Guitar/Bass/Vocals for "Slightly Stoopid"
Rob Riggle           "21 Jump Street" (Mr. Walters)
Ryan McPartlin   "Chuck" (Devon Woodcomb)
Salli Richardson Whitfield      "Eureka" (Allison Blake)
Tommy Thayer   Lead Guitarist for Kiss/ Black 'n Blue
Vanessa Marcil   "General Hospital" (Brenda Barrett)
William Devane  "Leprechaun's Revenge" (Pop O' Hara)
The George Lopez Celebrity Golf Classic benefitted The George Lopez Foundation, who's mission is to create positive, permanent change for underprivileged children and adults confronting challenges in education and health, as well as increasing community awareness about kidney disease and organ donation.
Following the tournament, there was a silent and live auction benefiting The Lopez Foundation. For more information about the foundation, please visit: www.TheLopezFoundation.org
GBK, formerly GBK Productions, is a luxury lifestyle gifting and special events company, specializing in entertainment marketing integration. Formed in 2000 by Gavin Keilly, the company's Founder and CEO, GBK consists of five divisions: GBK Celebrity Gifting, GBK Special Events, GBK Weddings, GBK Charitable Consulting and GBK Marketing/Public Relations. Widely known in the entertainment industry for bringing that little extra something into the Gifting Lounge environment, GBK offers its clients a full range of marketing services. For more information on Gavin B. Keilly (CEO), Carla Domen (VP) or GBK, please go to: GBKProductions.com.
Photos by Tiffany Rose/WireImage