Italian fashion designer Roberto Cavalli is presenting his special edition  "Wild Diva" exotic eyewear at the Fall/Winter 2012-13 week for women in Milan. Cavalli is partnering with Marcolin Eyewear to create these unique flashy frames.
"The alluring Wild Diva model is a celebration of woman and pays homage to her femininity. An iconic, glamorous, savage model with a unique look whose audacious shape and surprising colors make it very daring; these sunglasses are for women who want to be noticed."

These special edition sunglasses feature a "second skin" effect that seems to be bursting off the frame.  Express your wild diva attitude with strong traits and bold lines, featuring crocodile, ostrich, and shagreen prints.
Capturing attention with its chromatic contrasts of color. From the winter colors that swing from black tobacco to purple and back, to the stronger and more extreme pink, violet, yellow and acid green colors, all with matching or contrasting shaded lenses to add emphasis to the fashion essence of these sunglasses.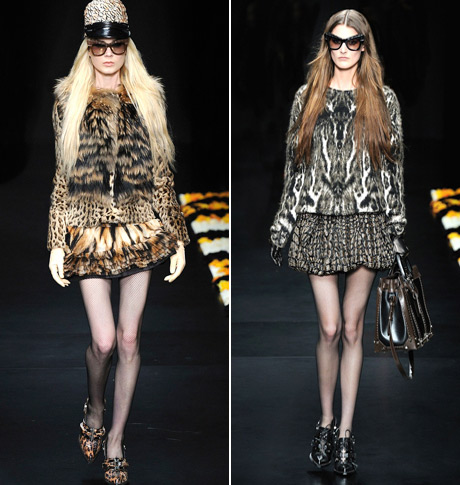 "An earthly paradise populated by creatures of fantasy…the Eden of femininity…my creativity is expressed through clothes which make the Cavalli woman a sensual and mysterious being." – Roberto Cavalli
Visit the Marcolin website by clicking HERE
Visit the official Roberto Cavalli website by clicking HERE