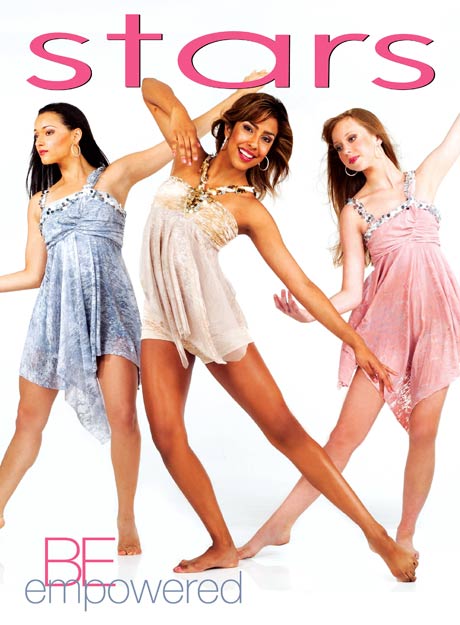 Stars Dancewear is making headlines with their amazing dancewear line and inspirational blog series, "Stars Girl Empowerment Series". The Long Beach, CA company founded by entrepreneur, Jennifer Moyers, is making waves in the Australian and overseas markets with their top-of-the-line dancewear clothing. Stars Dancewear was launched in 1999 and has been going strong ever since with worldwide customers and a full team of staff, dedicated to making the company a success. Their line specializes in trendy, fun and exciting dance wear for the inspiring dancers out there- with costumes for the stage- to casual items you can wear on an everyday basis. Stars Dancewear is without a doubt, a cut above the rest.
The Stars Dancewear website has all of the ingredients that the teen girls of today really love. From the different styles of dancewear, to the blog, which is fit with guest bloggers and celebrity guests, Stars Dancewear is a great site to check out. Guest models also wear the clothing on the site and show the readers out there, how to mix them up with items from their own closets.
There are also weekly posts, showing the latest fashion trends and make-up must haves and styles for the season. Stars Dancewear are showing the aspiring performers out there, that they too, can feel good about themselves with encouraging posts to read each day, to the different colors and styles of dance wear to choose from, for their next performance or outing.
Their Facebook page (https://www.facebook.com/1starsdancewear.net) is also attracting thousands of 'likes'- with cool and fun competitions to enter to win stuff like a Justin Bieber autograph, and credits towards purchasing items from their site. Girls all over the world are tuning into Stars Dancewear. It is a refreshing change for young girls trying to reach their dreams to have a positive outlet to turn to, for advice and encouragement. If girls are having doubts in their minds about reaching their goals or think its impossible to achieve them, then the Stars Dancewear blog is the place to feel inspired . The girls of today are in need of a place that is positive and educational- maybe even a place to turn to, to voice their opinions, or simply to shop, but Stars Dancewear, creates a very positive feeling. Stars Girls would like to help spread their positive energy to all of the young girls who are aspiring stars or excel in their lives, in whatever they do. Stars Dancewear specializes in trendy, fun and exciting dance wear for the aspiring dancers out there- with costumes for the stage- to casual items you can wear on an everyday basis. Stars Dancewear is no doubt, a cut above the rest.
Jennifer Moyers wanted to inspire young girls to reach their dreams, just like she did, so she also created the Stars Girl Empowerment Series to have a place for young girls to share their stories and to give the readers inspirational words, that really work. Proving that it's all about the power of the mind and positive energy, Stars Dancewear has attracted some high profile names in the dance and entertainment world to also share their stories. Tony award winner, Levi Kreis recently shared his story, as well as Joshua Johnson, (who featured on the Ellen show), as well as  rising stars Kiana Rivera and Zandalee Conte. Stars Dancewear recently featured in Dancehub  Australia on their site as well as an Australian TV show. Not to mention, Stars Dancewear just featured in Orbit magazine, which reaches hundreds of households in Australia. The sky is the limit for this exciting company and they hope to reach into the hearts of all the Stars Girls of the world to reach their goals too!
Be sure to visit the Stars Dancewear site at: www.starsdancewear.net.
Wait! Don´t forget to Subscribe for Free!
Main Feed | What is RSS?
Enter your E-mail below to Subscribe

*
No spam
|
Privacy Policy
We will not sell or distribute your e-mail address to anyone else.
Written by Staff Writer