Summertime – Wine, Food and Song.
Set your agenda for The 6th Calabasas Malibu Wine & Food Festival, which is back, bigger than ever!  A lavish, 14-day wine and food festival will begin on the warm beaches of Malibu on June 9, 2012, and will take attendants to the scenic hills of Calabasas where they will experience wineries from around the world, local restaurants, breweries, live cooking demonstrations by master chefs and, music! (See list of participants below)
The Calabasas Malibu Wine & Food Festival combines two events: The Calabasas Food & Wine Festival and Malibu Food & Wine Festival. This event has been sold out 5 years in a row, so grab your tickets now! Click here to purchase tickets…
Celebrity Chef Demonstations
World-renowned Food Network Chef Alejandra Schrader, Adrian Giese of Mastro's Steakhouse, Marcel Vigneron of Food Network, Kimmy Tang of Beverly Hills 9021PHO will be participating in live cooking demonstrations.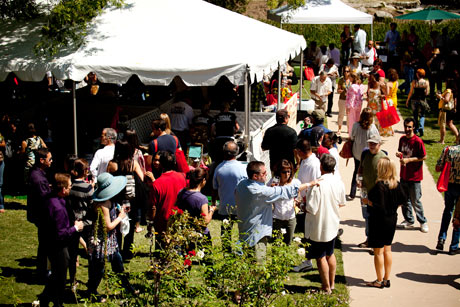 The Hills are Alive with the Sound of Music!
Live entertainment will include the 17-piece Fabulous Esquires big band, USO-style performances by the soulful Satin Dollz and other skilled jazz bands.
A Charitable Cause
Produced by Barcelona Enterprises, the festival will raise funds for the Children's Tumor Foundation, hoping to remind attendants that the joy and life found in a great dish and good drink can make a difference.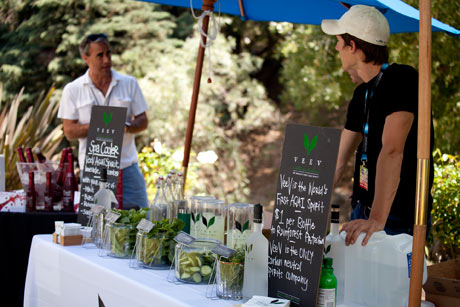 So, set your agenda for the following fun schedule!
Locations for the 14-day festival:
June 9  Malibu Beer Festival- Malibu Pier
June 16  Bubbly, Brews, Buns – Westlake Village
June 20 Calabasas Jazz Festival -  24181 Calabasas Road  Calabasas, CA 91302
June 23 Calabasas Malibu Wine & Food Festival -  24181 Calabasas Road  Calabasas, CA 91302
June 24  Calabasas Malibu Wine & Food Festival – 24181 Calabasas Road  Calabasas, CA 91302
For more information visit  www.malibufoodandwinefestival.com & www.calabasaswineandfoodfestival.com
Wineries, Breweries, Spirits, Restaurants and Vendors!
JUSTIN Vineyards & Winery
Pacific Coast Vineyards
Calabasas Vineyards
Courtage Champagne
Saintsbury
Cielo Malibu Estate Wineyards
Ahnfeldt Wines
Hidden Oak Winery
Moreno BHLV
Ampelos Cellars
Chocolate Shop Red Wine
Ritual Wine
Fresita USA
Casa Torelli Imports
Giessinger Winery
Malibu Rocky Oaks
The Naked Grape
Bridle Trail Wines – CabIn
Calstar Cellars
Urraca Winery
Katarina Wines
Sunland Vintage – Giovinazzo Wines
Millesime Cellars
Bleu Saphir
Wades Wines
Breweries
Beverly Hills Beer
Eel River Brewing Company
SoCal Beer Company
Stella Artois
Leffe
Hoegaarden
Euro Brew (Yanjing Beer- China, Mortiz – Barcelona, Hobgoblin Beer – UK, Holy Grail Ale – UK, St. Sylvester 3Monts , Xingu Black Beer – Brazil)
Spirits
Patron Tequila
Boutique Sake
Ventura Limoncello
RND Vodka
Veev
PAMA / Hpnotiq/Harmonie Liqueur
Medina Brand Spirits
VnC Cocktails
Restaurants/Food
Mastro's Steakhouse
Fresh Brothers Pizza
9021PHO
The Hummus Bar
Randy's Brownies & Desserts
Kind Bar
Chef Alejandra Schrader
Pacific Cheesecake Company
Kira's Kiss Desserts
Z Confections
Jinky's Cafe
Got Kosher? (Sun)
Gladstone's by SBE
Gamela Brazilian Grill
Sweet Arleen's
Maria's Italian Kitchen (Sat)
Bolani
Academia Barilla
Nothing Bundt Cakes Thousand Oaks
Frankie's Biscotti
Stone Oven
NEW YORK PIZZA – Tony L.
GG's Gourmet Toffee
OM Snacks
Normandie Bakery
La Cuisine with Chef Josette
Rustico
SaraJ Pastries
Koutoubia Restaurant & Bar
Cabot
Vendors
EcoWrist West
Cutco
Danmer Custom Shutters
Gourmet Blends
Wait! Don´t forget to Subscribe for Free!
Main Feed | What is RSS?
Enter your E-mail below to Subscribe

*
No spam
|
Privacy Policy
We will not sell or distribute your e-mail address to anyone else.
Written by Jane Emery