Ready for a Night of the Living Dead bar creepy-crawl? The bars (except Varnish) of 213 Nightlife are in a ghoulish competition to win the best Zombi-licious bar scene of Halloween 2011.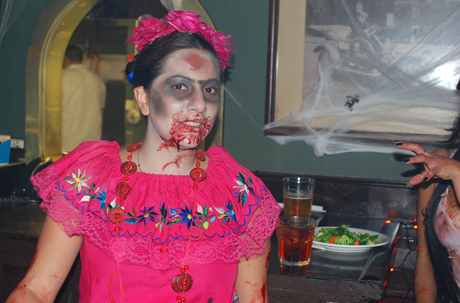 Each bar, with a $500 budget, created a different Halloween theme, a $5 Zombie punch and most got deadly serious about bartender costumes.
After a three-hour devilish drink tour of Cedd Moses' eight bars – Casey's Irish Bar, Cole's, Las Perlas, Tony's Saloon, Cana's Rum Bar, Golden Gopher, Broadway Bar, and Seven Grand – I had my favorites no doubt. My top four bars for best of Zombie show are Cole's for overall execution (yes pun intended), Tony's Saloon for most original decoration, Golden Gopher for best (and most disturbing) costumes and Seven Grand for best Zombie Punch.

LA's the Place brings you the highlights of each so you, sporting your best dearly departed costume, can be the judge for yourself about which 213 Nightlife bar wins the Best Zombie Bar Award.
Casey's Irish Bar brings you Hollywood Zombies with a body bag on the pool table, cobwebs, a mummified Elvis and Manager Gina Alcaraz's Zombie Punch with Jameson, Apple Pucker, and cranberry juice.
Thoroughly raising the dead spirits of 1940's gangsters, Cole's bartenders are chilling with gaping gunshot face wounds sporting toy guns filled with a Tootsie Roll shot. Open your mouth wide and they're happy to shoot you up. Grave Worms and Broken Glass Candied Apples are also part of the show. Cole's Zombie punch was the Dead Rose Punch – a delicious, not overly sweet concoction of Hendrick's gin, Maurin, rose water and blood orange.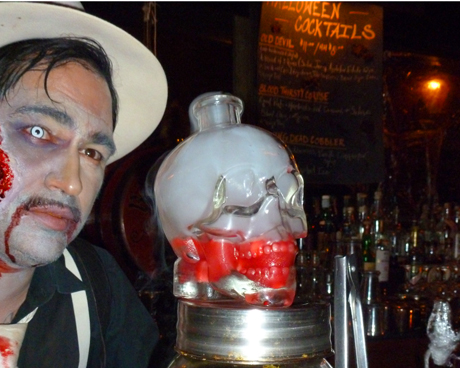 Las Perlas was Day of the Dead themed with skull-faced muchacho bartenders. The Zombie Punch at Las Perlas, the Jalisco, features passion fruit puree, amaretto, tamarind pulp, orgeat, and topped with a splash of pomegranate molasses.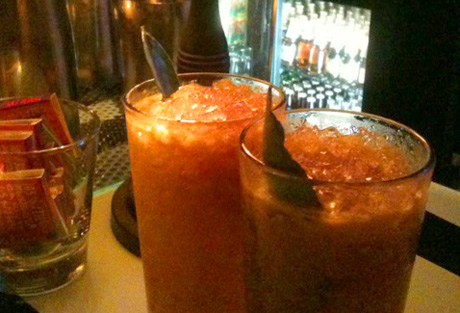 A visit to Tony's Saloon is a way to experience Dexter's murder scenes – albeit quite a bit messier and bloodier than the actual TV character would murder.  Continuing with the Dexter theme, the punch is the Etophin Chloride cocktail (the sedation tool Dexter uses on his victims) of vodka, champagne, strawberries and peaches.
What Caña Rum Bar lacks on decoration and bartender costumes is made up with the stellar "Fiending Frenzy" punch and staff initiation. GM Allan Katz showed up to chat with the cocktail journalists even though he had surgery that day! Also, the punch description was as creative as the libation – described as 'a pagan threesome of Don Q rums, the freshest citrus on Dope Island, spices of temptation, a few drops missionary's blood, garnished with broken dreams
Broadway Bar features Dead Rockstar Zombies. Back from the grave, Jimi Hendrix serves up Sympathy for Devil punch of Fresno chiles, tequila, tangerine, green chartreuse, fresh lemon and lime juices, and blood of the innocent (blueberry pomegranate).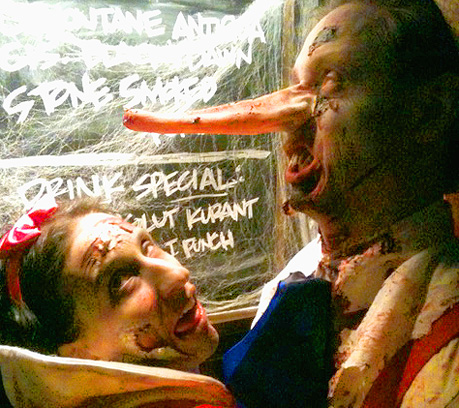 Pinocchio was always a creepy character to me, but Golden Gopher takes the Disney theme to an all new level of childhood nightmares. The Dark Side of Disney's gruesome animated Disney characters include Snow White (the scariest of them all because she kept wanting to eat me), Robin Hood, Pinocchio and a bludgeoned Alice in Wonderland. The Mad Hatter Zombie Punch was made of Sailor Jerry spiced rum, raspberry liqueur and orange juice.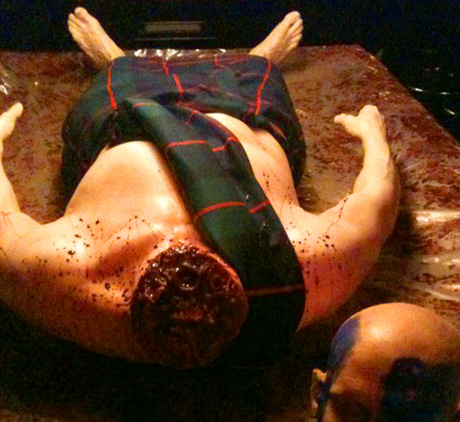 Great Scots! Seven Grand has a Braveheart Zombie theme with bare-chested bartenders sporting wounds and kilts, a decapitated Scotsman proudly displayed on the pool table and dead bodies hanging from the outdoor patio. Seven Grand's The Undead Horde Punch was the best gory brew of all – Devil's Cut Bourbon, pomegranate syrup and soda water.
The frightful nights at the trendy 213 Nightlife Downtown LA bars began Friday Oct 28th and continue on until Monday – October 31, 2011.  $5 Zombie punches and other Halloween drink specials available at all eight Zombie-ed out 213 Nightlife bars.
Wait! Don´t forget to Subscribe for Free!
Main Feed | What is RSS?
Enter your E-mail below to Subscribe

*
No spam
|
Privacy Policy
We will not sell or distribute your e-mail address to anyone else.
Written by Lanee Neil