Sonoma County is a refreshing travel destination for an urbanite like myself as it is a community of like-minded people that are 'terroir-conscious' and are connected to the full circle of life. They demonstrate a 'craftsmanship over commercialism' by buying each others' products. This is evident with common Sonoman sayings touted by locals like "Eat Your Locals" or "Know the Face that Feeds You".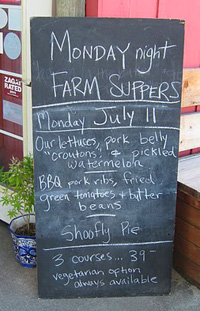 For these reasons, Sonoma is an inspiration of what we must return to if we are to overcome the latest S&P credit rating downgrade, the skyrocketing joblessness and overall recession – small, privately owned businesses with passionate owners producing quality handcrafted products. Main Street must trump Wall Street again and Sonoma makes us belief it's not only possible but profitable as well.
I went to Sonoma recently to seek out artisanal restaurants with passionate chefs serving  local produce, meats and fish. And the brilliant principle behind this approach is that it is not only earth-friendly but each dish explodes with flavor. Make sure to sample the delicious 'fruits' of these four chefs' devoted labor of love. No doubt, before you've had your last bite, you'll be planning your next visit to Sonoma County.
Zazu Restaurant
Chefs Duskie Estes and John Stewart of Zazu Restaurant and Bovolo were one of the earliest evangelists of the Sonoman motto, "Know the Face that Feeds You".  Their own farm supplies up to 30% of their menu's vegetable and pork products at peak, otherwise they buy from local farmers. They even have a "You Pick It" night where guests are encouraged to harvest vegetables from the garden outback and Chef Duskie serves it up in manner that "eating your veggies" takes on a new taste bud thrill.
The cozy restaurant was buzzing (it was a Wednesday night and jamming) with diners enjoying plates of American classic faire with an incredible twist of ingenuity and occasional international flair. An example of this global influence was the "I Heart Pork Bun" – a masterful riff on the Vietnamese classic made of finely shredded pig heart.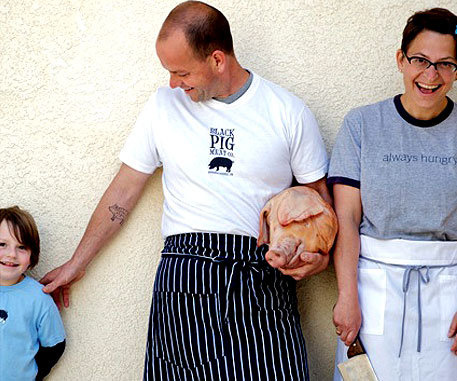 And on any given night in Zazu Restaurant, as this is a local operation with the owners present and accessible, Duskie, John or their adorable children may be seen chatting up friends and strangers alike about which homemade gelato to sample or like proud parents, showing off their pig photos on their i-phone. Be sure to also check out their 'slow food served fast' café in Healdsburg – Bovolo. www.zazurestaurant.com, www.bovolo.com
Estate
As the queen of Sonoma farm-to-table dining, Sondra Bernstein reigns supreme with two extremely different restaurants with the same mission – serving up local produce and meats from her own organic farm. Estate, in a refurbished, stately Victorian home, pays homage to Sonoma's Italian roots and serves elegant Italian cuisine.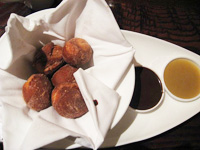 From the highly engineered cocktail menu to the Pizza del Giorno to family style dining at $26 per person, Estate will appease the most die-hard foodie. For an aperitif, try the Fellini with prosecco, blood orange juice and HelloCello Limoncello. For your Primi, the Coriander Fazzoletti is a divinely inspired risotto dish of house-smoke ricotta, pork sugo and spinach.  Save room for dessert, Estate has spectacular homemade treats. If cheese and charcuterie is what you crave, take a seat at the cozy Grappa bar and splurge on a flight of local artisanal Grappas.
While in Sonoma, a lunch or dinner at Sondra's first world-renowned restaurant, the French-inspired the Girl & the Fig is also a must. Or do a Bernstein crawl, having a nibble from each as they are only a few blocks from each other on the same street.  www.estate-sonoma.com,

Vineyards Inn
As pioneers of the green movement in Sonoma County, Steve & Colleen Rose of Rose Ranch and Vineyards Inn Restaurant have been doing the whole composting, biodynamic winemaking, and pesticide-free farming thing way before it was trendy – almost 30 years in fact. Their claim to fame is "The Greenest Restaurant in the San Francisco Bay Area".
Not only are they serious about preserving the planet for future generations, but Steve aka Chef Esteban has a fierce fervor, like a true Spaniard, for cooking up Spanish-inspired dishes. Don't miss the garden-raised stuffed Piquillo Peppers, Paella Valenciana with homemade chorizo or the Fries with Eyes.  The Vineyards Inn also features both a Tapas themed night and Basque family-style dinners on alternating Thursdays. Pairing perfectly with these California-Spanish dishes is their own organic Rose Ranch red and rose wine served on 'tap' and exclusively on site. Ask for Harry's Blend or Margarita's Rose, named after Steve's parents.
For the complete 'green' experience, stay at their aptly named Casa Verde, a quaint B&B with tranquil views of farmland and vineyards. Beverly, Colleen's mom, serves up a mean breakfast and then later, if you're well behaved, freshly baked chocolate chip cookies and milk. www.vineyardsinn.com
To find food artisans, farmers markets and farm-to-table dining in your area, visit Real Time Farms.
Wait! Don´t forget to Subscribe for Free!
Main Feed | What is RSS?
Enter your E-mail below to Subscribe

*
No spam
|
Privacy Policy
We will not sell or distribute your e-mail address to anyone else.
Written by Lanee Neil