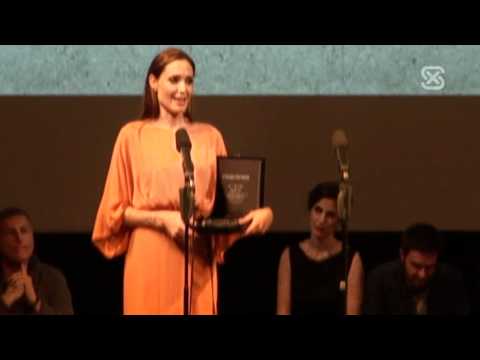 Brad Pitt and Angelina Jolie attended the 17th Sarajevo Film Festival, where Jolie received the Honorary Heart of Sarajevo Award, on Saturday (July 30) at the Sarajevo National Theatre in Bosnia.
"I'm so happy to be in this remarkable city in this beautiful country and I've spent the last year lucky enough to experience not just the warmth and the hospitality of the local people but also your extraordinary talent," she said during her acceptance speech.
"In my career, I have never worked with such disciplined and talented artists as I was able to this last year."  She was referring to filming her directorial debut "In the Land of Blood and Honey".
The 36-year-old actress wore an Elie Saab gown, Tiffany & Co. earrings and shoes and a clutch by Jimmy Choo.
Wait! Don´t forget to Subscribe for Free!
Main Feed | What is RSS?
Enter your E-mail below to Subscribe

*
No spam
|
Privacy Policy
We will not sell or distribute your e-mail address to anyone else.
Written by Jane Emery