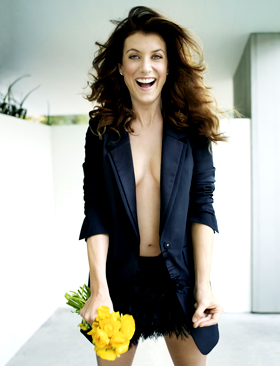 ABC's Private Practice is lucky to have smart and sophisticated Kate Walsh as a part of the cast. In April, More Magazine will also welcome her into their 'cast' as she is featured on next month's cover. Although she's a tough surgeon in stilettos on the show, she kicks off the high heels and opens up in an interview in the April issue of More Magazine. LA's the Place, courtesy of More Magazine, gives you a preview of what Kate thinks about her highly publicized divorce to film exec Alex Young, on not having children, on her sushi dress she wore on the Tonight Show and many other tidbits from the mind and life of Kate.  For the entire interview and photo spread, pick up a copy on newsstands of More Magazine on March 22nd.
On her tabloid divorce to film executive Alex Young: "Oh my God. The worst thing ever.  It was so public, and yet it was so legal-embroiled.  You couldn't talk about anything"…
On lessons learned from marriage and a short courtship: (The couple married after dating for just seven months only to announce their divorce 14 months later), "I've always had the courage thing down, but then I had to develop the rest. I've learned to seek other people's counsel more. That's a good part of growing up."
On not having children: "I feel like a loser.  I would definitely love to be a parent.  But I definitely don't think I want to do it on my own.  Things are just going to go the way they go"… "I thought I'd be married and have three or four kids.  I always knew I wanted to be an actress, but I think I always wanted a quote-unquote normal life because I had a very untraditional upbringing."
On Lady Gaga's 2010 Video Music Awards meat dress: "The explanation was so convoluted; it was like, 'Freedom and Don't Ask, Don't Tell- I'm trying to get that repealed'…and I was like, 'What?  You've lost me'".
Why Walsh decided to go on The Tonight Show wearing a dress festooned with plastic sushi: "I do stuff just to amuse myself."

On Shonda Rhimes Delivering her Private Practice News: On the day Shonda summoned her to her office to give her the good news (her own show, Private Pracitice), "Shonda called me into her office. She and I are friends, but I'm still thinking, what's wrong? Panic. I thought I was in trouble. A real principal's office kind of moment."
On similarities to Addison Montgomery: "What happens after your dream comes true? Then What?" Walsh says. The Show is about "real issues, what it's like to be a woman in your forties, childless, in a relationship, been married, divorced." Walsh pauses, then intone joking, "Not that there are any parallels to my life!"

On forgetting she's not a real doctor: "A friend is pregnant, and I was asking her questions as if I were some sort of expert.  I mean, who do I think I am?"

On the high-heeled shoe trick she learned from her character in Private Practice: "I walk from the car to here, then I take them off.  If you think about it, in the OR, Addison doesn't wear them.  She wears Crocs.  So she just really walks down the hall in her heels looking badass, then goes back to her desk and sits."
Shonda Rhimes on Kate Walsh: "Kate's very socially adept in the sense that when she comes into a room, she's very funny and self-deprecating, and you think, She's kind of great!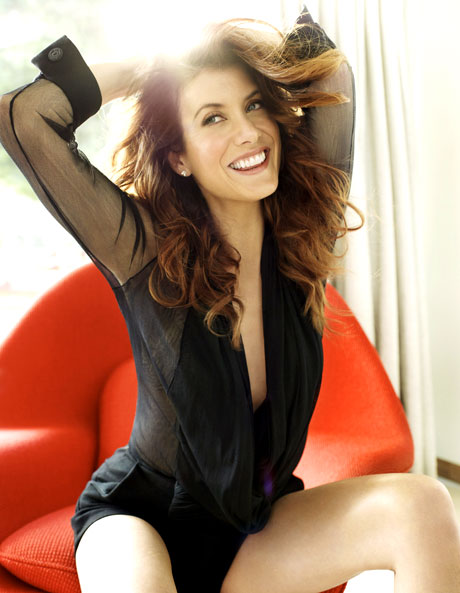 Shonda Rhimes on Kate Walsh's Grey's Anatomy Audition: "I don't remember what her reading was like, just that she [left] and I thought, That's Addison"…"she also seemed smart, strong and beautiful but not creepy-beautiful, so she's believable as a doctor."
On Taye Diggs: "It certainly requires you to take care of yourself.  But I like to eat food, and I don't diet.  I do Pilates, and hike with my dog.  It's weird.  As you get older, everything changes.  Everything starts getting…looser.  But I think it's important to accept that.  I'm lucky.  I've got pretty good genes.  But I think it's a weird thing to fight it."
On passing time by updating her Twitter: "It's mildly addictive.  But when you're on the set so much, you can kind of check in on people. In a strange way it keeps you company, this world of Twitter people."
On remembering her first year in Los Angeles: "I was so overwhelmed, I didn't know how to move around the city…I think I've always created community.  That's part of moving around so much.  I can create an instant home."  She adds with a laugh, "I think that's served me well and other times not served me well.  Like thinking, Oh, hey!  Let's get married."

On her self-designed "Boyfriend" fragrance: "It's all my investment.  It was a big thing to go, OK, I'm doing this!  I'm making this whole thing come together.  My feeling was, if this is successful, it would afford me a little freedom to do what I want."
On her child wanderlust: "It's easy to romanticize the past.  When I lived in New York, I lived in a rent-controlled apartment.  I had three bills to pay: rent, gas, and electric phone.  A very simple life."  Then she reminds herself that 15 years ago she was waitressing unhappily in jazz clubs at night, going to auditions during the day and wondering if a big break was ever going to come her way.
More Magazine's Mission
More is the leading voice of today's sophisticated, affluent and accomplished woman, who is enjoying the richest years of her life, sharing news and advice on beauty, fashion, health, career, travel, money and relationships from her distinct perspective.