In our fast paced world, we have reminders for a whole bevy of things like oil changes, annual check-ups, and paying bills on time to keep our lives running smoothly. For those that wear contact lenses, now there is Acuminder. Acuminder is a simple reminder when to change your lenses, reorder them and when its time for your yearly eye exam via email or text message.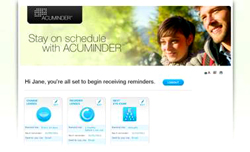 Acuminder (www.acuminder.com) – perfect for all contact lenses wearers – is a simple and effective medical reminder tool that helps improve replacement compliance, lowering risk for potential complications caused by over wear. Studies have shown that many contact lens wearers do not comply with the recommended replacement schedule, and forget to discard their lenses in a timely fashion.
According to a new survey of over 700 contact lens wearers, nearly 95% of Acuminder users surveyed said that they find Acuminder useful in helping them remember when to change lenses, with 66% nothing that it has improved their contact lenses performance. For those who wear two-week lenses, prior to Acuminder they changed their lenses on average every 19.9 days; since using this technology reminder, 76% say that now change their lenses every 14.7 days.
Acuminder is as easy as 1-2-3 to sign up for emails or text message prompts about changing your lenses, reordering your lenses and scheduling your next eye exam. To sign up, go to www.acuminder.com.
Wait! Don´t forget to Subscribe for Free!
Main Feed | What is RSS?
Enter your E-mail below to Subscribe

*
No spam
|
Privacy Policy
We will not sell or distribute your e-mail address to anyone else.
Written by Lanee Neil