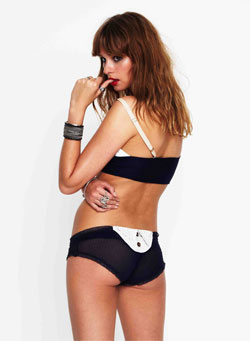 Do you have a lady in your life that likes to borrow your blazer and dress shirts and wear it over a sheer top or maybe just a lady that likes simple, clean lines when it comes to lingerie? Amber Sakai's Spring/Summer 2011 collection of lingerie has the perfect items for your non-traditional sweetie this Valentine's Day 2011.
Sweet & Salty
The designer presents a range of sweet, yet salty pieces that combine flounces and frills with traditionally masculine fabrics and silhouettes. Once again, Sakai's signature bodysuits form the basis of her collection, but this season, they're
given a distinct girl-meets-boy twist. Some are made from provocatively weightless fabric with subtle pinstripes. Others, in draped jersey, are edged in bright piping that gives a sporty spin to their sultry, plunging V-necklines.
Simple but Sexy Lingerie
Elements of lingerie design—another Sakai staple—also take on a more masculine air for spring. And for the first time, Sakai—a former lingerie designer—is introducing undergarments to her namesake line. Keeping with the spirit of the collection, each bralette and matching panty is uncomplicated, yet still sexy thanks to its ultra-soft, tactile fabric.
Clean and classic as most of this season's pieces may be, that hasn't stopped Sakai from adding a little bit of whimsy to the mix. The toile that inspired the whole spring collection was used to create everything from a boned hoop skirt to a wasp-waisted wrap coat to a pair of slouchy breeches—bold showpieces that are best suited for adventurers of the sartorial sort.
Wait! Don´t forget to Subscribe for Free!
Main Feed | What is RSS?
Enter your E-mail below to Subscribe

*
No spam
|
Privacy Policy
We will not sell or distribute your e-mail address to anyone else.
Written by Lanee Neil