An LA's The Place Top Pick for 2010!
Los Angeles is known for its beautiful weather, gorgeous beaches and sprawling metropolis, but where do families go when they want to escape all the hustle and bustle of the big city without sacrificing the benefits of gorgeous southern California? A perfect escape from Los Angeles is a trip to sunny San Diego. In less than two hours, a family can transport themselves from Los Angeles to San Diego and relax in state-of-the-art accommodations designed to help people forget about the city and get lost in the quiet comforts of Paradise Point Resort and Spa – San Diego's Island Resort. Paradise Point is a popular choice for a San Diego family getaway from Los Angeles because of the location and the unique benefits of this amazing property.
Have you wanted to take your family to the tropics, but don't want to deal with the hassle of extensive travel and the expense of airfare and over-crowded resort towns? Paradise Point – San Diego's Island Resort offers families from Los Angeles an alternative. After the short drive from Los Angeles to San Diego, families have the chance to experience being transported to a 44-acre island escape dripping with beautiful plants and alive with wildlife. Paradise Point was originally created by famous movie producer Jack Skirball as an exclusive island getaway for the families of the Hollywood elite. Sand was dredged up from the bottom of the ocean to create an island oasis close to Los Angeles, but far enough for an easy to access, tranquil getaway spot.
For an escape from Los Angeles to be truly relaxing, a family must choose a destination that will not only be easy to access but also have a remote, private feel. Paradise Point provides those planning a San Diego family getaway with the option of enjoying a private beach escape. The drive from Los Angeles to San Diego is only a short trip on the freeway, and by the time the youngest are getting anxious the family will have arrived! The time it takes to get from Los Angeles to San Diego isn't the only perk when planning the perfect San Diego family getaway – accommodations are key to easy-going days and tranquil nights.
Paradise Point offer families the choice between standard guest rooms or more spacious and private suites and bungalows on the beach. Traveling with infants or toddlers? Paradise Point provides amenities like Pack 'n Play cribs and iHome MP3 docking stations to help the little ones (and their parents) play and rest with ease. All suites and bungalows are either situated right outside of Mission Bay or amidst the island gardens.
Enjoy a tropical San Diego Family Getaway without leaving Southern California
The Paradise Point Luxury Suites offer separate sleeping quarters with a king bed in the main bedroom and a queen sized sleeper sofa. Outfitted with large dining room tables and deluxe marble bathrooms, the gorgeous luxury suites are situated right on the water and inside the brilliant tropical gardens. Are you planning a San Diego family getaway for four? Reserve the Presidential Suite Complex is a sprawling 3,250 square feet and is the only choice for the best views of Mission Bay. The Presidential Suite Complex is situated closest to the water at Paradise Point and offers families a four room suite which includes 1.5 baths, a full kitchen, dining room and a separate bedroom.
Many of the bungalows and suites are equipped with patios which allow guests to enjoy their tropical surroundings without leaving the comforts of their room, and the bayside rooms are situated just steps from the warm sand and cool water of the Mission Bay.
The family can experience bonfires on the beautiful bay-side beach, and enjoy watching the ducks mingle with the sea gulls at this unique and precious island getaway. Mom and dad can plan a day of putting at the 18-hole putting course while the kids play tennis, basketball, croquet and ping pong all day, or swim in one of five swimming pools. The possibilities are endless!
Looking for more of a transformation of mind and body while on your San Diego family getaway? Consider spa treatments for the whole family at the Paradise Point SpaTerre. Inspired by exotic treatments from all across the world, SpaTerre offers packages perfect for couples looking to give the kids a chance to explore for a few hours alone and even have special options for treating children who want to be pampered as well. Want to plan a special mother-daughter day? Enjoy time in the 900-square-foot salon offering manicures, pedicures, hair and facial treatments as well as a make-up counter and garden patio perfect for spending quality time together.
The Paradise Point SpaTerre blends knowledge of ancient royal treatments from the East with the influences of the indigenous people and plants of San Diego for a truly unique spa experience. The masseuses train for 3 months to perfect the special internationally-inspired spa treatments that are offered at SpaTerre.
Beside the main pool area where families can go to take a dip or swim laps is the Fitness Center, equipped with state-of-the-art cardio equipment, free weights and weight machines to satiate even a workout fanatic who can never be too far from the gym. In addition, guests can enjoy the benefits of the steam rooms and dry saunas for a variety of spa options. There is even a private jacuzzi area for couples looking to enjoy a little romance in tropical paradise!
Ready to feast like a royal family on your getaway? Fill your body with the culinary delights at the renowned  Baleen San Diego. The famous fine-dining establishment boasts acclaim from food critics and resort guests alike, making Baleen San Diego a reason in and of itself to take the trip from Los Angeles to San Diego.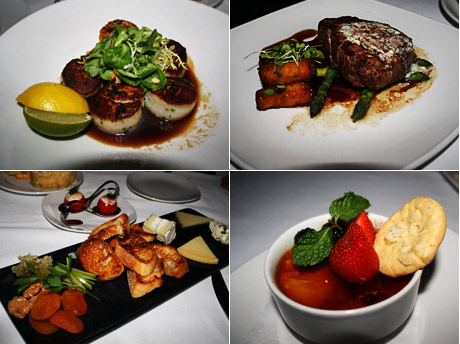 Full of local fine wines and culinary delights with regional flair, Baleen San Diego suggests a reservation and is open for dinner from 5 p.m. until 10 p.m. every night.
Looking for a more relaxed and casual atmosphere for memorable dining on your San Diego family getaway? Chill out at the Barefoot Bar & Grill, where you can choose to enjoy your meal inside or under an umbrella outside next to a tropical waterfall. Barefoot Bar & Grill is open for breakfast starting at 7 a.m. each day. Do the parents need an escape, or do the kids need a quick snack? Tropics Bar & Grill located at the main pool offers alcoholic and non-alcoholic beverages as well as snacks.
San Diego Meetings
Imagine your next major group conference or special event at Paradise Point Resort & Spa, with dramatic waterfront venues overlooking the marina and Mission Bay, garden and lawn view meeting rooms, expansive ballrooms, executive meeting suites and boardrooms. Just 10 minutes from downtown San Diego, California and just 15 minutes north of the San Diego Convention Center and the epicenter of downtown San Diego's business district. This luxurious island resort offers 32 high-speed Internet-wired banquet rooms — including the 10,064-square-foot Paradise
Ballroom.
Weddings
With an island resort setting like no other, Paradise Point Resort & Spa is an idyllic venue to exchange vows. From modest and elegant, to a soiree for 1,000 guests that would be talked about for years, Paradise Point Resort & Spa can create the wedding of your dreams.
No matter which of the over 460 guestrooms a family stay in, which one of the many treatments are chosen in the Indonesian inspired SpaTerre, or how much of the mile coastline is explored – families will come away with the experience of a San Diego family getaway they won't soon forget. With nearby attractions like Sea World and the San Diego Zoo, Paradise Point is the perfect choice for families whether they are looking to stay in the resort for the duration of their trip or if they want roam. With helpful Bell Staff and express checkout, Paradise Point promises to be everything you would expect from a tropical oasis meant to help relax your body and your mind.
Paradise Point Resort & Spa
1404 Vacation Road
San Diego, CA 92109
Hotel Main: 858.274.4630
Reservations: 800.344.2626