The Sea Shepherd Conservation Society has teamed up with Discovery Networks' Animal Planet's "Whale Wars" to commence the "Operation No Compromise" cause and raise funds and support. On the evening of Oct. 23, James Costa's eco-friendly Hollywood Hills Estate hosted a celebration featuring Captain Paul Watson, president of Sea Shepherd Society and the star of "Whale Wars."
The event introduced "Operation No Compromise" to the public, as well as the celebrity guests who attended, including Michelle Rodriguez ("Avatar"), Isabel Lucas ("Transformers"), Taylor Armstrong ("Real Housewives Beverly Hills"), Beau Bridges ("Stargate"), Perrey Reeves ("Entourage"), Daryl Hannah ("Kill Bill"), Vincent De Paul ("Mad Men"), Emrhys Cooper ("Mamma Mia") and Ken Jordan ("The Crystal Method").
Watson also unveiled the newest interceptor vessel, which is set to join the fleet in Antarctica this winter, which has already saved 528 whales last year. According to the Conservation Society, "this year's mission will be the boldest crusade to send the whalers home empty handed."
In 1977, the Sea Shepherd Conservation Society was established to rid the planet of the destruction and slaughter of wildlife in Earth's eco-systems. The International non-profit is consistently making strides to benefit the oceans, an enormous part of the world's primary eco-system.
Airing weekly on Fridays at 9 p.m. EST, reality TV show "Whale Wars" follows Watson as he works with a full crew to stop Japanese ships that hunt whales in the Southern Ocean Whale Sanctuary.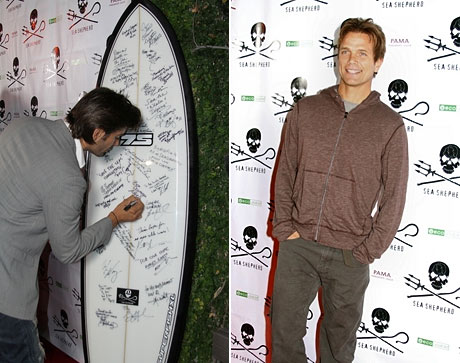 "We are confident that with your help, we will see our most effective campaign ever with 'Operation No Compromise,'" states the Society's official website. "Our ships, the Steve Irwin and the Bob Barker, are currently being prepared for the campaign. We have recruited the best crew we can assemble. Our only challenge now is to raise the funds for the Ocean Adventurer."
Rodriguez served as the event's DJ, and the actress will appear on Season 4 of the acclaimed television series, as she has joined the mission. For more information, visit www.seashepherd.org.
Wait! Don´t forget to Subscribe for Free!
Main Feed | What is RSS?
Enter your E-mail below to Subscribe

*
No spam
|
Privacy Policy
We will not sell or distribute your e-mail address to anyone else.
Written by Mandy Rodgers