There are some things in life that are priceless. One of them is the beautiful, breathtaking coastline of Southern California. Pacific Edge Hotel, a Joie de Vivre boutique hotel, located on prime beachfront property, literally feet from the surf, delivers that priceless experience.
With 130 upgraded guestrooms and suites, many with kitchens, Pacific Edge Hotel's Laguna Beach accommodations include private decks with beautiful, unobstructed views of the Pacific Ocean. Check in …then check out  from the world and relax to the soothing sound of crashing waves, 24/7 for your entire stay!
With everything you need for a fully encompassing relaxing weekend getaway or vacation within walking distance, Pacific Edge Hotel provides the epitome of rest and relaxation.
With access to 280 feet of private beautiful beach right there at the base of the hotel, you can swim, sun and surf. For your day on the beach, Pacific Edge provides complimentary beach towels, lounge chairs and umbrellas. Guests receive high-speed Internet WiFi connectivity throughout the hotel, and can even stay connected while lounging on the beach.
You can opt for sand-free and relax at their two heated swimming pools and unwind in the Jacuzzi. There is also a game room and Arcade for the kids to enjoy.
Pacific Edge Villa
Within the property, a beautiful, 4,000-square-foot, private beachfront venue, The Pacific Edge Villa is ideal for special business retreats, weddings in Laguna Beach, or family vacations.  The Pacific Edge Villa offers panoramic ocean views from all three levels. French doors open onto all three terraces, including the spacious beachside deck that is perfect for both weddings and receptions. An executive meeting suite is also available, perfect for more intimate business gatherings.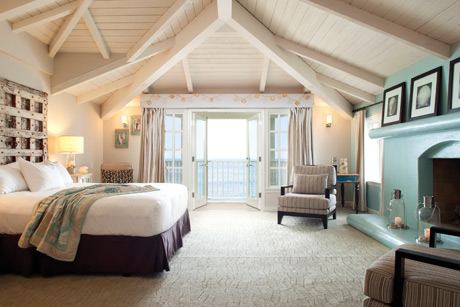 Weddings
The "Big Day" in your life should be as perfect as it can be. If you dream of ocean waves crashing on a beautiful beach in the background when your bestowing your heart forever, Pacific Edge Villa can make your dreams can come true.
The Villa's prime location with panoramic ocean views with a generously-sized beachfront deck that is completely private provides you with all the amenities you need for your dream wedding. The Villa can accommodate up to 120 guests at the Villa alone, or up to 200 when combined with the adjacent rooms and deck.
Business Traveler?
Pacific Edge Hotel has got business traveler covered as well. The Pacific Edge Villa is a beautiful, 4,000-square-foot, private beachfront venue that is ideal for special business retreats. Pacific Edge Hotel also offers Executive Suites catering to the needs of business executives, which include spacious boardrooms with seating for up to twelve guests, perfect for more intimate business gatherings.
Dining
You can enjoy breakfast, lunch and dinner delivered to your room from The Beach House Restaurant, where Executive Chef Michael Ingino creates fine American cuisine. If you want to dine out, just walk down the beach from your room, and over to the Beach House  for breakfast, lunch, dinner, and cocktails. There is some cool history and a great energy about the restaurant:
The original Beach House Restaurant was founded in 1968. The structure was the former home of Old Hollywood character actor, Slim Summerville. The house was built in the 1920's and the restaurant has retained much of its character and charm, with original woodwork, fixtures and wrought iron décor. Slim starred in films such as "All Quiet on the Western Front" and "Tobacco Road" to name a few.  His star is seen today on the Hollywood Boulevard Walk of Fame. There are even rumors of Slim's ghost  happily wandering through the restaurant late at night!
Athena Day Spa

A great getaway or vacation would not be complete without a divine spa! Again, no need to get in your car. Athena Day Spa is just a few more steps in the sand away, down the beach. Athena Day Spa is a tranquil and peaceful relaxing atmosphere. The design and feel is reminiscent of a Roman Bath. When you step into Athena, your modern day stress will transform into a relaxing, magical experience. Athena Day Spa in Laguna Beach is a family-owned business with over 20 years experience in the spa industry.
Pacific Edge Hotel has a special partnership with Athena Day Spa and offers great discounts for spa treatments and massages, which will only enhance your vacation or weekend getaway.
The Pacific Edge Hotel seems to have been a best-kept secret for quite a while. You'll find a lot of families that have returned year after year after year. There is a quaintness about it that makes it feel like your beach home away from home.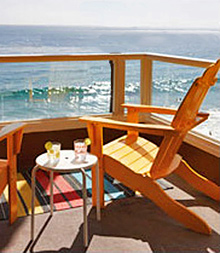 The Joie de Vivre Experience
 Joie de Vivre is California's largest boutique hotel collection.  Joie de Vivre is in the business of creating dreams and landmark destinations full of personality and heart. California's largest boutique hotel collection, Joie de Vivre's 35 boutique hotels mirror the California lifestyle: fresh, inventive, grass-roots, casual and experience-driven. Joie de Vivre's singular goal is to create landmark destinations full of soul and personality. They state: "While others in the hotel world claim to be in the business of selling sleep, we focus on creating dreams."
Photography by Paul Dyer.
Pacific Edge Hotel
647 South Coast Highway, Laguna Beach, CA 92651
www.PacificEdgeHotel.com
P: 949.494.8566, Reservations 866.932.2896
Beach House Restaurant
www.thebeachhouse.com
(949) 494-9707
Athena Day Spa
www.AthenaDaySpa.net
949.376.7918