Adobe Photoshop has long been the gold standard in professional shops and offices that work with digital images. Now, Adobe brings many of those powerful capabilities to home users and hobbyists with its newest releases, Adobe Photoshop Elements 9 and Premiere Elements 9.
The latest versions of Adobe's award-winning software can help you repair photos, create photo effects, match photo styles, piece together panoramas, and assemble richly layered photos for images that deserve to be framed and seen. Best of all, Adobe Photoshop Elements 9 and Premiere Elements 9 bundles these powerful photo- and video-editing capabilities in an affordable, easy-to-use package. Home users and hobbyists can look forward to transforming their favorite pictures and video footage into slick images and films that are ready to be shown off to friends, family, and the world.
One of the biggest secrets of professional photographers is that many of them don't capture the perfect shots on their own. In fact, they're not shy about getting a little digital help behind the scenes, all in the service of presenting the most effective image for public consumption. Adobe Photoshop frequently makes the difference between a good picture and an amazing shot, but unfortunately, there's a steep learning curve with the program. Go to any library or bookstore and you'll find thick tomes dedicated to learning all of Photoshop's tricks and techniques; both online and college courses in Photoshop are also common for those who want to bone up on this indispensable app.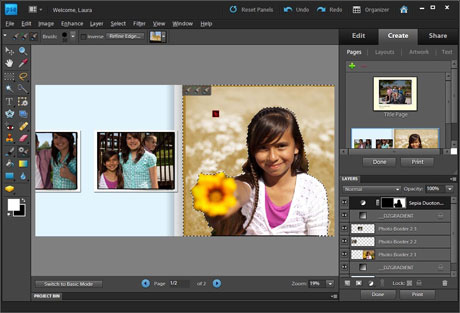 Adobe Photoshop Elements 9 removes much of the hassle of the original Photoshop while providing the program's most useful tools. True newbies can use Photoshop Elements' Guided Editing mode to take them through each step of creating reflections, pop-art motifs, 3D-style frames, and Lomo-style camera effects. A Perfect Portrait feature also provides assistance in the use of the spot healing brush and in red-eye removal, two of the tools that you'll likely use most often and find most helpful.
Red eye is a common effect when you take photos using the flash, so you're probably already familiar with the red-eye-removal tool. However, you may not have used the spot healing brush previously, simply because it's one of the more complicated tools in the Photoshop portfolio. Adobe Photoshop Elements 9 removes many of these obstacles with its comprehensive help system so that you can make the most of this powerful resource. Now you too can, for example, correct blemishes, fix damaged photos, or simply removed large unwanted portions of images.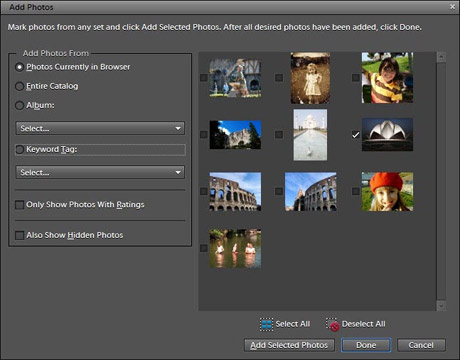 Your vacation photos, especially of grand structures or expansive views, will benefit greatly from the improved panorama feature in Adobe Photoshop Elements 9. As with previous versions of the program, Adobe Photoshop Elements 9 lets you combine your shots, blending the edges to create a unified image, but Elements 9 takes it a step further. This latest version fills in the edges, resulting in a complete and breathtaking composition that captures the perspective and sight as you desire. The process is simple: Choose your photos, then select Photomerge Panorama from the menu. Photomerge will bring your photos together for the panorama shot. Finally, you'll get a Clean Edges dialog box that asks you whether you'd like to automatically fill in the missing content. Click Yes, and Elements 9 will do the rest.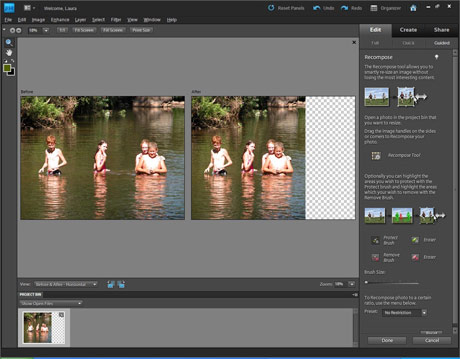 When you look at an extraordinary photo, the subject matter may be the first aspect that strikes you, but other factors are at play. Composition and color tone are two of these, and they're both yours for the manipulating with Adobe Photoshop Elements 9. For example, you may want to bring the subjects of your photo closer together or remove extraneous items from the picture; alternatively, you might want the image to fit a frame of a specific size, but cropping or resizing won't get the results you want. The solution to your dilemma is the Recompose Photo command and the Recompose tool; by clicking and dragging the image handles at the edge of the photo, then moving them toward the center of the frame can decrease the distance between your subjects.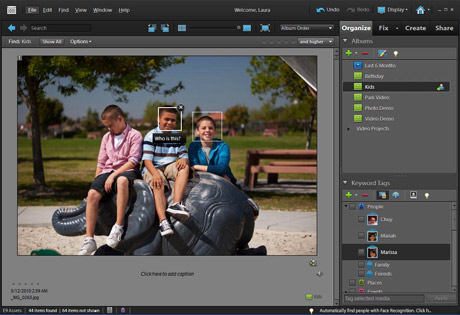 Achieving the color tone or photo style you desire is easier than ever with Adobe Photoshop Elements 9. Bring up two images: your own and a second image with the style you admire. For example, you may want to apply a high-contrast effect to one of your original photos. With the Photomerge Style Match command, you can transform your shot and apply the affects you desire. You'll also want to play with the sliders until you reach the results you envisioned.
In fact, you can accomplish many of these intermediate-level effects with layer masks, which has been available in Photoshop for a long time but is making its debut in Adobe Photoshop Elements 9. With layer masks, you can apply effects and play with the various layers, then reveal a percentage of that layer to enhance your original photo.
Home users and hobbyists have become used to doing more with their photos, and Adobe Photoshop Elements 9 continues this trend, providing malleable layouts for scrapbooks, photo books, cards, and calendars. Drop your pictures into Elements 9′s range of backgrounds and voila–they're ready for you to print yourself or to order online. You get a slick-looking package populated with your own memories, ready to be displayed and shared.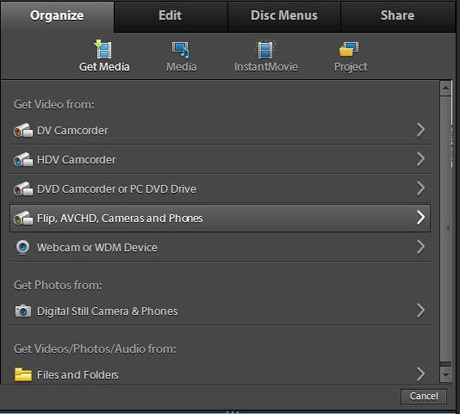 Adobe Premiere Elements 9 promises to bring the same flexibility to video as Adobe Photoshop Elements 9 does for photos. First of all, Adobe Premiere Elements 9 imports from commonly used sources such as Flip cameras, camcorders, and digital cameras. Adobe Premiere Elements 9 also works with HD video.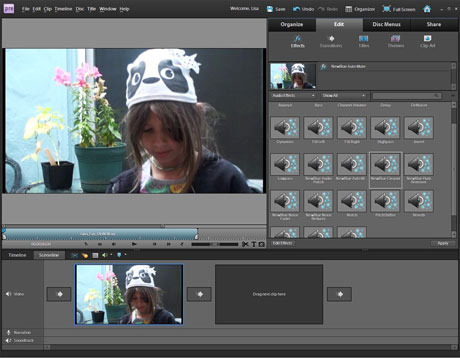 Beginners will appreciate the tools included in Adobe Premiere Elements 9 for basic issues of video editing. For example, Adobe Premiere Elements 9 comes with a variety of options for correcting audio problems, such as excessive background noise.
But Adobe Premiere Elements 9 brings numerous enhancements that will suit both novices and old hands in video editing. One of the most impressive new features in Adobe Premiere Elements 9 is the ability to create Web DVDs–that is, movies that live online at Photoshop.com and come with DVD-like menus. In Premiere Elements 9, create your own menus, then select a still image and a song to be featured in the opening menu. You can designate the chapter points or let Elements create them, thus allowing viewers the option of fast-forwarding through segments.
Users can further spruce up their videos with cartoon effects or a selection of themes such as Pets or Fun in the Sun, complete with professional-looking transitions and titles. You can exercise your creativity in even more ways with the use of composite video; shoot your subject with any color background, though preferably one that isn't too close to their skin tone or their clothes. Then use the Videomerge tool and choose a supplied background clip. Premiere Elements 9 will overlay your clip on top of the background for a brand-new video.
Both Adobe Photoshop Elements 9 and Premiere Elements 9 share a number of features, chief among them a media management hub that organizes all the photos and videos. Anyone who's tried to sort their vacation and birthday and holiday photos will understand exactly how easy it is to lose track of their visual memories; with Photoshop Elements 9 and Premiere Elements 9, Adobe creates one unified locale to store your files and the media containing the memories of your life.
Adobe Photoshop Elements 9 and Adobe Premiere Elements 9 can be purchased as a bundle or separately.
Click here to find out more or to order Adobe Premiere Elements 9
Click here to find out more or to order Adobe Photoshop Elements 9
Adobe Photoshop Elements 9 and Premiere Elements 9 not only organizes your media, it helps you find the desired shots and clips with more ease through the use of the Auto-Analyzer feature and the People Recognition tool. You can also tag your media with labels pertaining to people, places, events, and other criteria that are important to you so that you can locate them more easily down the line.
In addition, Adobe Photoshop Elements 9 and Premiere Elements 9 make it easier to share your photos and video clips on Facebook and the Web. Mac users especially can rejoice: These features are now available for the Mac–you don't need to have a PC to get in on all this multimedia expertise.
Wait! Don´t forget to Subscribe for Free!
Main Feed | What is RSS?
Enter your E-mail below to Subscribe

*
No spam
|
Privacy Policy
We will not sell or distribute your e-mail address to anyone else.
Written by Jane Emery