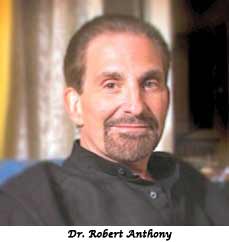 You may not have heard of Dr. Robert Anthony but without a doubt you have heard of many of the thousands of people who have benefited enormously from his techniques. His low profile is unusual for a writer whose teachings are as widely used as his own, but it proves that Anthony's energy is focused on following his own teachings and illuminating them for others, rather than ceaseless self-promotion. Anthony is the author of 15 books, many of which are still best sellers after decades of publication, and, according to and acknowledged by Rhonda Burnes, is the true secret behind THE SECRET – a series of techniques which have shaped the careers of some of the most prominent people of our time.
The mark of a good teacher is the ability to take complicated ideas and explain them in a simple but very powerful way. This is indeed the ability of Dr. Robert Anthony, except the ideas he unpacks for his readers are truly the backbone of success. His approach is so illuminating however, that students can get immediate results.
Instead of teaching motivational seminars or "self improvement", Anthony believes that no one needs their "self" improved and chooses rather to help clients align their own "self" with the natural laws of the universe. Anthony makes a clear point that negative energy is what leads to unhappiness, so rather than guide clients in a path of rejection and elimination of things they don't want, through his program they become naturally attracted to things that they do want.
His first successful program helped many people find the inner strength to achieve success. In "The Secret of Deliberate Creation", Anthony guides clients with a secret technique that helps them attract the things they want into their lives. While these techniques are really only known by the world's elite few, it is important to Anthony that everybody know how to align their self with these powerful ideas.
Also see our last article on him here at LA's The Place entitled "The Secret Behind The Secret". Our own Publisher and Editor-in-Chief Jane Emery used Dr. Anthony's strategies to help create the very successful magazine you are currently viewing.  
His new program, "Rich Mind Life Strategy", literally outlines the "blueprint" of empowerment that is common to all highly successful people whether they know it or not.  Anthony explains that there is no need to struggle to "get rich" when there is actually a way to create a flow of money and riches in your life without the suffering.
In fact, "flow" is a very important word in the new program. Anthony describes truth itself as an experience of having "mastered the flow", and once you do this, all things in your life become much easier and there is no longer "struggle".  Mastering the flow starts with your mindset and filters through to your actions and then your results. Indeed the Rich Mind Life Strategy is aimed to affect everything in your life.
Dr. Anthony acknowledges that today there is a deep-rooted, "got to get rich" mindset because we do not trust the universal flow. However, if you understand the flow, which very successful people do without knowing it, you understand how to keep money and other positive things in your life without struggle.
If something pulls you toward this philosophy Dr. Anthony invites you to join the exclusive Preferred List of his clients for free. If on the list, you can benefit from Rich Mind Life Strategy information including:
* Avoiding financial fears that become self-fulfilling
* A peak at your Personality Filter DNA and how to use this kind of understanding to profit in a variety of situations, and in some ways, how to truly make the impossible possible.
People all over the world have claimed on their own accord that Dr. Anthony is truly a teacher and a healer. He has lived in England, Sweden, Russia, New Zealand and the USA. Today he currently lives and works in Australia running a very successful consulting business.
Dr. Robert Anthony is one of the most sought after speakers and trainers also because of his genuine personality which has been described as very positive and "cut-to-the chase".  Anthony is ready to help you now. He believes there is already too much struggling in the world so why not get right down to it, to the good stuff, the flow, and hopefully, truth itself.
www.DrRobertAnthony.com
Read other LA's The Place articles about and by Dr. Robert Anthony here…
and here…