Hairstyling brand got2b has the right idea about modern day women's hair routines—most involve a heated styling tool of some kind like blow dryers, flat irons and curl irons. Its new line of products protects against the heat necessary for a woman's desired hair style that could also easily damage the hair follicles on an everyday basis.
Available nationwide at food and drug retailers, got2b's guardian angel line uses its own heat-activated polymer to protect the hair at high temperatures created by those popular appliances. On top of that, the guardian angel Flat Iron Balm helps style hair in the straight manner desired after using flat irons. The guardian angel balm leaves a glossy shine on newly dried and straightened hair and contains the first of its kind patented 425º F protection. The light mist does not weigh down you hair, and the clean smell never overpowers. Perfect for those straight hair lovers! With all of the want for hair blown dry and straightened, this spray is a great concept without drying out your hair.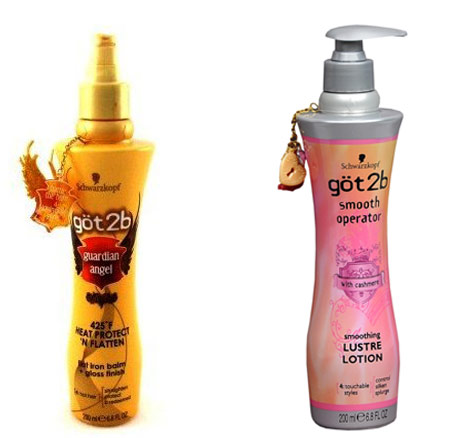 Also from got2b is the smooth operator Smoothing Lustre Lotion, which does just that—smoothes out hair's natural flyaways and unwanted shape. The smooth operator also protects against UV rays, and has a great fruit-tinged smell. (Plus, the bottle has cute, flirty charms attached, quickly distinguishing it from its competitors.) New from got2b is another smooth operator piece, the Smoothing Luxury Mousse, and rounding out the line are the Smoothing Hairspray and Smoothing Drops. All have a unique ingredient—cashmere extract—which strengthens and conditions your full head of hair and tout the tagline, "For the Inner Goddess in Everyone."
Every got2b product mentioned is an affordable $5.99—quite a bargain for the hard work that these items do for your hair! The got2b products are from Schwarzkopf & Henkel, a Fortune Global 500 company. For more information on these products and more from got2b, visit www.got2b.no.
Wait! Don´t forget to Subscribe for Free!
Main Feed | What is RSS?
Enter your E-mail below to Subscribe

*
No spam
|
Privacy Policy
We will not sell or distribute your e-mail address to anyone else.
Written by Mandy Rodgers