Herblicious and healthy too! The restaurant group House of An that opened the famous Crustacean in Beverly Hills is launching their latest restaurant, Tiato, on June 28th in the MTV building in Santa Monica, CA. The concept, driven by Catherine An, is healthy New-American cuisine with a touch of extravagance. Committed to not only healthy food but a healthy planet as well, the eco-friendly built restaurant features full service dining, an outdoor patio, an on-site garden, wine bar, take out area, and a catering department.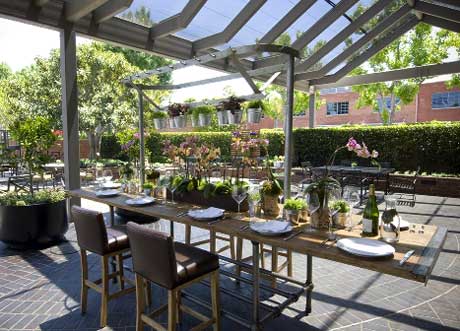 Herb Tia To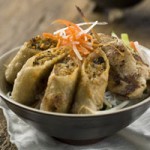 The herb, Tia To (a Vietnamese Perilla), has been used by Chef Helene An since she began her culinary career in San Francisco circa 1971, because it enhances flavors of different foods and provides strong antioxidant properties to her meals.  The herb embodies Catherine's vision for the café: food that is good for you and tastes great, as well.  It is Catherine's vision to infuse her mother's favorite herb into everyday, household cooking like basil, rosemary or mint.
"Tiato embodies the style of eating I really enjoy," states Catherine. "Not only is it an herb rich in vitamins, minerals and antioxidants, but it makes everything taste excellent, too.  It has a fun nature about it because it's a healthy herb that brings a unique zest to food."
Sustainably Built
Tiato's environment is more casual and fast-paced than House of An's other dining concepts, and was designed and built using sustainable products and green practices. The impressive 11,000 sq. ft space located in the MTV/ Lions Gate building on Colorado Avenue is bursting with reclaimed wood, raw concrete, and eco-friendly fabrics, paint and tiles. Catherine made a discerning effort to build the space in a highly earth-conscious nature, as she was raised to value our planet and its abundance of natural resources.
Locally Farmed Ingredients
Great taste begins with great ingredients, and Tiato is committed to using only the finest and freshest ingredients from local farms that are rich in heart-healthy nutrients and antioxidants for its extensive breakfast and lunch menu. Items are so fresh that some of the café's herbs and produce are grown in Tiato's very own on-site garden that surrounds the outdoor dining area. For breakfast, Tiato's deliciously healthy creations include pancakes, omelets, yogurt, and oatmeal – all with Chef Helene's special flair.  Be sure to try the Tiato Eggs, made with forbidden black rice cake, mizuna, shishito peppers, and asian herbs.  Tiato's eclectic lunch menu provides food enthusiasts a vast array of savory choices such as the Hemp Seed & Coriander Crusted Albacore Salad or the Slow Braised Pork Sandwich made with country white, smoked apple cabbage, jalapenos, and brown mustard.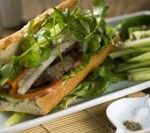 Other lunch menu items include savory salads, sandwiches, wraps, and soups, as well as dishes sold by the pound at its market café. Additionally, Tiato features a variety of premium draft and bottled beers, as well as a wine and sake bar. To accommodate a fast paced lifestyle, fresh take out options are available, making for a perfect "An the Go" dining experience. Tiato's outdoor event space is perfect for guests to utilize An Catering for personalized events. Breakfast items have a price point of $3 – $10, lunch items have a price point of $3 – $14, and deli selections by the pound have a price point of $ 8 – $14.
About House of An
House of An (www.houseofan.com) is an industry leading group of multi-concept establishments in the restaurant and food service industry, run by the women of the An family, a close-knit unit of passionate chefs and food service professionals. Their portfolio includes their original location, Thanh Long in San Francisco, CA which opened in 1971, and the original Crustacean location in San Francisco, which opened in 1991. In 1997, the opening of their award-winning Crustacean Restaurant in Beverly Hills, CA, where Executive Chef Helene An creates her famous, award winning Euro-Vietnamese fusion cuisine, took House of An to another culinary level.  An Catering, open since 2007 and lauded as "Star Caterer to the Stars," allows fans of the restaurant to bring the secrets of the family's kitchen with them to events large and small. In December 2009, House of An expanded yet again with new concept AnQi, a gourmet bistro experience located at South Coast Plaza in Costa Mesa, CA. In June 2010, market garden café Tiato opens in Santa Monica, CA.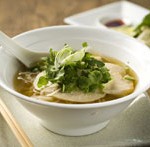 Tiato opens to the public on June 28, 2010, but hosted a special "Press Review" garden party on June 23rd. Tiato is located inside the MTV/Lionsgate building, at 2700 Colorado Avenue, Santa Monica, CA 90404.
For more information about Tiato please visit www.tiato.com or www.twitter.com/tiatocafe.
Wait! Don´t forget to Subscribe for Free!
Main Feed | What is RSS?
Enter your E-mail below to Subscribe

*
No spam
|
Privacy Policy
We will not sell or distribute your e-mail address to anyone else.
Written by Lanee Neil