As Avatar dazzled, Inglorious Basterds satirically humored, and Precious dismayed and moved the world, the eyes of the Oscars deciphered and judged quietly what this year's movies put forward. Now, the time is approaching when the summations of the Academy are unveiled.
Underneath the actual Oscar, there exists another form of lavish appreciation adorned in ribbons and bows and presented in bulk – not just a britannium statue. Distinctive Assets is once again supplying celebrities with Gift Baskets, or a $50,000 purse, so to say.
However, who Distinctive Assets chooses to receive the Oscars Gift Basket is somewhat backwards although noted kindly. Distinctive Assets will hand the $50,000 package of opulence to those that don't receive the Oscar in the following major event categories : Best Actor/Actress, Best Supporting Actor/Actress and Best Director.
Sandra Bullock, James Cameron, Woody Harrelson, Matt Damon, Maggie Gyllenhaal, Jeff Bridges, Helen Mirren, Meryl Streep, Penelope Cruz and Mo'Nique may receive the Gift Basket if they do not walk out of the Academy Awards with a gold-plated britannium statue of deceased and nude Emilio "El Indio" Fernandez, an inspiring Mexican film director who was extremely reluctant and weary of having his nude body sculpted, a.k.a the Oscar Statue.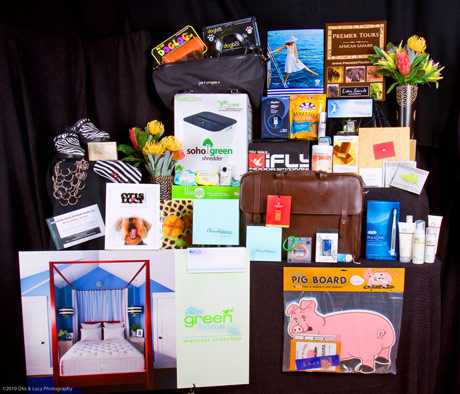 Below is a categorized list of the awaited items :

Beauty and Body
The Oral-B Pulsonic slim & sleek electric toothbrush, DeLeà Signature Perfume Oil,   AG Hair Cosmetics select gift set, Organic Wrinkle Diminishing Serum from La Peau, 10 personal fitness training sessions from Huntley Drive Fitness that attracts Melissa Leo as well as Jason Reitman, one week of fitness bootcamp from Live in Fitness Enterprise that Angela Basset just completed for the red carpet.
Fashion
Ideeli.com special access online shopping cards, hand-made C & C Swedish clogs and other fantastic accessories from The Scandinavian Company, waterproof sport watches from WooLoot, fashion-forward and fanciful jewelry from Millianna Jewelry.
Food
Sumptuous artisan chocolate creations from Chocolatines by Sweet Endeavours, Herbalife Nutritional Sake Mix and a Best Defense Immune Booster supplement, Slimware portion-control plates.
Home Decor
HGTV Green Home Mattress Collection by Serta.
Retreats
A private island retreat to Turks & Caicos Sporting Club at Ambergris Clay, a three night all-inclusive vacation to Winvian Luxury Hotel in the Litchfield Hills of Connecticut (a gift that both Ron Howard and Frank Langella redeemed in 2009) worth $7,000, Acqualina Resort & Spa Miami spa vacation, a five night getaway to the UXUA Casa Hotel valued at $6,000.
Swag for the Stars' Furry Friends
A "Celebrate the Moment" gift package from Fancy Feast that includes a FlipCam Mino, Tiffany crystal-studded cat collar and a variety of Fancy Feast appetizers for the beloved, lucky fur ball, a professional dog studio photography package from Otis & Lucy that Paris Hilton adores, Petprojekt designer dog toys, leashes, and bowls.
Technology
BlueFox Bluetooth headset with maximum noise canceling technology and Microsoft Bing search functionality, an environmentally friendly, carbon-free, ultra-quiet shredder from GoECOlife.
Wait! Don´t forget to Subscribe for Free!
Main Feed | What is RSS?
Enter your E-mail below to Subscribe

*
No spam
|
Privacy Policy
We will not sell or distribute your e-mail address to anyone else.
Written by Jessica Beavers