Voted as a favorite in Oprah Winfrey's O Magazine in The O List as a great gift under $100 and featured in People Magazine as a pick for Guilt-Free Shopping, TOCS watches are in demand due to their 'recessionista' factor. TOCS watches are bold, playful and make a statement without making a statement on your credit card.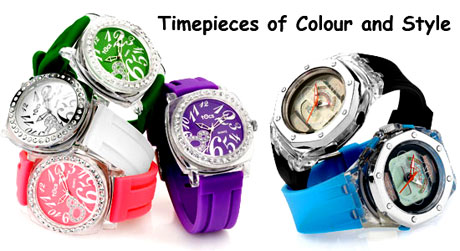 TOCS Trend
TOCS, an acronym for "Timepieces Of Color and Style", combine bold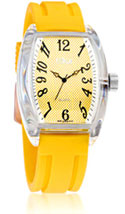 shapes, interesting numerical layouts and high octane colors with high tech, shock resistant materials and rubber wristbands to create the ultimate in a watch – fashion forward yet durable and all under $75.  The Analog Round Glitz (pictured above) is perfect for that casual but upscale event with it crystal-studded face and bright colors. The Analog Oblong, the pick of Oprah, is more subdued and elegant but still comes in daring colors. People Magazine's choice of TOCS, Analog Round Day-Date automatically changes the day and date and its whimsical design will surely brighten your mood.
Mens' TOCS
Women aren't the only ones that get to take part in the affordable fashion of the TOCS trend. The Mens Sporty Diver watch and the Mens Metal Sport are definitely in demand. The large round polycarbonate plastic case offers a classic yet trendy design coupled with colorful comfortable soft resin straps – great for casual or sports wear.
Solar Powered TOCS
You never have to wind a watch again or replace another watch battery because TOCS' Ani-Digi Solar Alarm Chrono watch features a mini solar panel. It can be powered by the sun or by indoor lighting, but also features a lifetime back-up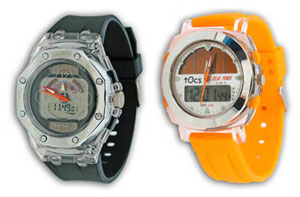 battery system just in case. If you spend time in the water, don't let the solar panel deter you. It is water resistant up to 98 feet. It comes in six different colors and time is displayed using both analog and digital. It has a reminder alarm, a dual time zone feature and also a handy digital stop watch. Also a pick of  Real Simple, listed under Real Steals and LATP has to agree with them. For only $45 dollars, the Ani-Digi Solar Alarm Chrono watch is power packed with features and durability.
All About TOCS
Tocs are a bold new line of fashion watches from Gemtime, Inc., a 30 year old watch industry leader. Tocs maintains 3 offices in two geographic areas to provide their customers with great products and service, their showroom (New Jersey), corporate headquarters (New Jersey), and fulfillment and technology (Florida).
Gemtime, Inc.

Gemtime, Inc. is a third generation leader in watch design. For more than 30 years, they traveled the world, designing, packaging and globally distributing its many brands. Regardless of the brand, every detail of their watches is scrutinized for quality and overall appeal. Every single Gemtime, Inc. watch sold has met their rigorous production standards. Their mission is to produce a watch that is perfect for its intended owner.
Tocs are available online, click HERE to start shopping or find them at Bloomingdales.
Wait! Don´t forget to Subscribe for Free!
Main Feed | What is RSS?
Enter your E-mail below to Subscribe

*
No spam
|
Privacy Policy
We will not sell or distribute your e-mail address to anyone else.
Written by Lanee Neil