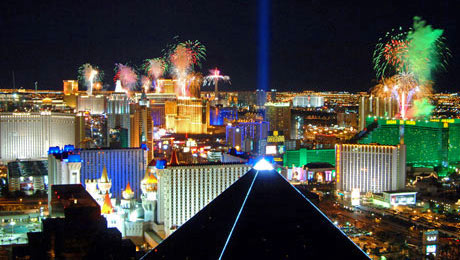 The only way to enjoy New Year's Eve 2009 is in Las Vegas, VIP style – no lines, first class perks and the best reservations in the hottest nightclubs.  LA's the Place introduces Vegas Passport, Las Vegas' premiere nightlife concierge, to help you bring in 2010 in the style you deserve
Party Like Its 2009
Vegas Passport offers exceptional VIP services to revelers celebrating New Year's Eve in Sin City. Guests can avoid the lengthy lines and receive first-class treatment with Vegas Passport as they show off their finest party dresses, sip champagne and welcome the New Year.

Best Sin City Experience
As locals and visitors from around the world head to the infamous Las Vegas Strip for New Year's Eve, many will encounter frantic nightclub hosts and impossibly long lines. Dealing with large crowds and waiting in line to enter the most in-demand nightclubs can be overwhelming and frustrating, but Vegas Passport creates the ultimate nightlife experience for those celebrating New Year's Eve. With unbelievable deals on party packages, VIP hosted entry and table reservations with bottle service, Vegas Passport is the go-to nightlife aid for party-goers looking to have the best Sin City experience while ringing in the new year.
Why Vegas Passport?
Vegas Passport was formed in 2003 as a way to free visitors from expensive VIP hosts (some of whom can charge thousands of dollars) and give them the flexibility to plan their own schedules and itineraries. Since it's beginning, it has rapidly become the go-to resource for hundreds of travelers. It has been featured in such publications as Conde Nast Traveler and 944 Magazine, and is partnered with Expedia, Orbitz, Travelocity, Viator, Mark Travel, American Express, Southwest Airlines Vacations and many other major travel companies. In addition, Vegas Passport has been on the Honor Roll with the Better Business Bureau since 2004. For more information call 877-225-8284 or visit www.vegaspassport.com.
Wait! Don´t forget to Subscribe for Free!
Main Feed | What is RSS?
Enter your E-mail below to Subscribe

*
No spam
|
Privacy Policy
We will not sell or distribute your e-mail address to anyone else.
Written by Lanee Neil