Distinctive Assets
was backstage once again with their amazing gifting suite in support of the
11th Annual "A Home for the Holidays".
The special,  produced by Steven Spielberg and Henry Winkler, continues to tell heart-touching stories about foster care adoption, to help raise awareness for this important social issue.
The Distinctive Assets gift lounge  was also about raising awareness for foster care. They consistently draw the best and brightest stars in Hollywood and the music industry, who lend their support to the charities Distinctive Assets promotes at all of their gift suites.  Stars gracing the gift lounge with their presence this year included Mary J. Blige, Jenna Elfman, Nia Vardalos, J. August Richards, Michael Franti, Taylor Dayne, and Shar Jackson.
Giving Station
The gift suite presented by Distinctive Assets is indicative of their enduring philanthropy and continued support of great causes that began when they first opened their doors in 1999. At the heart of the festivities was an in-Lounge "giving station", providing celebrities in attendance the opportunity to donate one of their favorite new gifts to a deserving children's charity.
The Oxygenetix Gift Lounge
Deciding which gift to donate wasn't an easy task, as the Gift Lounge, sponsored by Oxygenetix, featured many unique and special products and gift packages.
In addition to sponsoring the gift lounge, cosmeceutical designer and creator of Oxygenetix, Barry Knapp, was on hand to provide celebrities with his new, innovative oxygen-infused makeup and moisturizer. Oxygenetix Breathable Foundation covers, heals, minimizes and even eliminates procedural scars. It has been medically proven, that the use of oxygen heals many conditions; the product was designed by doctors and treats a wide variety of skin problems, including skin injuries, wounds and rashes. The foundation also is effective with skin conditions like acne scars, rosacea and dry skin.
Our Editor-in-Chief, Jane Emery, states "I love this product for its natural look, flawless coverage, application and the science behind it."
Patients enjoy the foundation's ability to quickly fade post-surgical scars, almost completely erasing them so that no one will have to know about the work you have had done.The oxygen complex in this foundation, ceravitae, reduces those collagen cell and connective tissue growths that come along with aging or wounded skin.
For more on Oxygenetix Breathable Foundation, visit www.oxygenetix.com.
Slimware – Celebrities attending the Distinctive Assets Gift Suite also received dishes from Slimware. Slimware designs dinnerware to complement healthy eating habits as well as that desire to lose weight. The inventive line of dishwasher safe dinnerware emphasizes portion consciousness without sacrificing an elegant and sophisticated appearance.
At first glance, one may notice that Slimware dishes look just like all the other dishes. It is those who look closely that discover the crafty designed plates that do not allow you to overeat. There are areas on the plates that range in size, subtly letting you know the right portions you should take in. The largest area on the plate is reserved for your vegetables, something you should have plenty of. The other areas get smaller in size and that is where you place the not as good items, like your carbs and proteins. Check out more at www.slimware.com.
Attendees received DeLea' Signature Gems, a new eco-friendly product line that refreshes the air and eliminates odors in your home. DeLea' Signature Gems are made with natural minerals from around the world, offering a non-toxic, family friendly air freshener.
Her fragrant oils are made of 100% oil so they can even be worn by the most sensitive of skins. The oils look like gems themselves. Presented in a lovely jewelry box, the oils sit inside their gem-like bottles, ready to be present and scent.
Zelena Barbay, founder and CEO of the DeLea' brand is proud to say her oils and other products are just as pure and natural as the gems that spring from the earth. She is happy to be included in the latest and very popular concept "Go Green." Learn more at www.deleaoil.com
Petprojekt
The gift lounge honoring "A Home for the Holidays" should also pique the interest of our four legged friends with Petprojekt doggie gear. They definitely brought their fun assortment of dog toys and accessories.
Dogs received their own celebrity treatment with a large bag of goodies. Inside, were plenty of chew toys, including some that look like a juicy fish and a nice, thick steak. Other items in the bag were fashionable and colorful, leashes, durable and dishwasher safe water and food bowls, and even a fragrant bone keychain to add to your dog's color when he or she is not so pleasant smelling. For more on Petprojekt, stroll on over to www.otomik.com.
Hotel Maya – The Distinctive Assets Gift Lounge also featured a deluxe $2,500 two-night getaway provided by Hotel Maya. At its Long Beach location, Hotel Maya manages to infuse the Latin American feel with modern Southern California style.  This hotel is the embodiment of Long Beach romance, diversity, and vivacious lifestyle.
Hotel Maya in Long Beach  is the first distinctive full-service, luxury Long Beach boutique resort hotel, located on the scenic downtown waterfront. Call Hotel Maya to inquire about reservations: 562.453.3669. www.hotelmayalongbeach.com
Also being gifted at the suites were Sunglasses by Kay Unger, Phoebe Couture, and Umbro.
Kay Unger New York is a fashion line meant to give women style and confidence. Based mostly on the co-founder and creative head, Kay Unger's sense of femininity and color, this line can be worn to fit and flatter all women with its exclusive designs and fabrics.
Phoebe Couture is the edgier, more playful line developed from Kay Unger New York. With all the same flatter and fit, Phoebe Couture is eye popping. During the day, throw on one of the unique fabric combinations found in much of the line and at night, jump into something with a little more color at night.
Kay Unger has always had an eye for fashion, but she is just as passionate about the many philanthropic organizations she participates in. Fighting for women and cancer research, while also reaching out to Boys and Girls Clubs, Kay Unger proves herself and her company to be something great. To learn more about Kay Unger and her lines, visit www.kayunger.com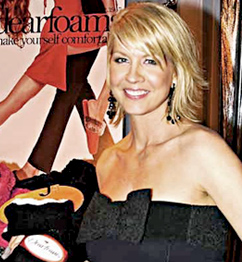 To help keep feet warm these holidays, Dearfoams are warm, comfy, and slip right on. Available in a large variety of colors and styles, slippers from Dearfoams would make a great gift for anyone, man or woman. At the gift lounge they featured their holidays designs. Dearfoams come in boots, slippers, sandals, plus more. Some come in solid colors, like black, tan, and pink, but there are also some for the more daring like pink or black with gray stripes. They even have plaid styles.
Cute and comfortable, Dearfoams you can step out in knitted boots or lounge around the house in memory foam slippers. There are many options, including fur, microfiber, and terry cloth. And to make sure you are in style no matter the season, there are shoes made to make your feet fashionable in the spring and summer weather as well. www.dearfoams.com
K Cakes
Creators of K Cakes, Kim and Kimbr, were on hand at the gifting suites displaying their moist and delectable cakes. After a year of experimenting with numerous rum cake recipes, the ladies agreed on one, scrumptious and from there K Cakes was born.
The cakes are made and glazed by hand, keeping that old-time taste with a presentation that fits the time. K Cakes has also introduced Orange Grand Marnier Cake which promises to be as good as the rum. Presented in such a lovely brown striped box, K Cakes look as beautiful as they taste .For your taste of K Cakes, visit www.cakesbyk.com
Rock Revival – On hand at this year's A Home for the Holidays gifting suite was Rock Revival showing off their rocking style meant to fit all ages and genres. Believing in the phrase that rock will never die, Rock Revival does just that, revives rock. They put together styles combining new and old to create something fresh.
The clothes represent a style that appreciates all that it has come from mixing the rage and violence of the past with what goes on in the heads and beliefs of youth today. Rock Revival is one of LA's The Place Top Picks! To see more of Rock Revival go to www.rockrevival.com
Cha-Cha ChiC
From Cha-Cha ChiC comes their line of fashionable custom t-shirts. Cha-Cha ChiC sought to create Latin inspired tees that convey "A Lot of Heart and a Lot of Heat." The result is shirts that can be worn for any occasion, from a night at the club to a lazy afternoon by the pool.
Cathy Garcia, president of Cha Cha ChiC, draws the inspiration for her tees from the people and pet she feels are most influential. Her three most favorite tees are the Cha Cha Carmen, Cathy in Cabo, and Uncle Sonny's Guitar. The Cha Cha Carmen Tee works for fans of Chihuahuas and Carmen Miranda. It is fun and colorful too. Cathy in Cabo is a tee that expresses Cathy's love of her favorite destination for Cinco de Mayo complete with a delicious margarita and beautiful view of the beach. Uncle Sonny, Cathy's Nino, inspired her to create the Uncle Sonny's Guitar Tee. The shirt is intricately decorated with guitars and colorful stones. For more on Cha-Cha ChiC visit, www.chachachic.com
Petite Marie Organics by Julie Gabriel offers holistic skincare solutions. Created by Julie, a holistic nutritionist and author of The Green Beauty Guide, these skincare products are prepared with certified organic botanicals and without synthetic chemicals. They combat a diverse range of skin problems, including acne, eczema and aging, sensitive skin.
Julie Gabriel created this line to help combat the troubles of earl motherhood. She wanted to create products that were healthy for both mothers and babies. After all, you have to keep yourself pure if you decide to breastfeed so try Petite Marie Organics for you and the baby.
Learn more at www.petitemarieorganics.com
Whip City Candle Company – The gift suite also featured hand-dipped soy wax candles courtesy of the Whip City Candle Company. These unique and environmentally friendly candles were created by hand. Adding to the beauty of these candles is the meticulous attention to detail, which accentuates any interior with their amazing fragrances.
Whip City Candle Company is not only known for their soy candles, but they have other candle products that satisfy customers everywhere. Their Euphoria Spa Line brings the spa to your home. The Beantowne Bears line is fragrant, decorative, and safe. These candles burn with no flame, meaning you do not have to light them, but they still get the job done. Hometowne Illuminations is a line of candles meant to take everyone back to simpler times. For more visit www.whipcitycandle.com
Lynnie An Inner Child – Celebrities attending the Distinctive Assets gift lounge will receive Lynnie An Inner Child gift sets. Lynnie An Inner Child is a series of books meant to rediscover the innocence and "inner child" that lives within all of us. It reminds us of the days where we found companionship in conflicts. The fifteen book series comes with accompanying products like dolls, stationary, and handbags.
Lynn Rosencrantz, author of the Lynnie An Inner Child book series, says she has spent her entire life growing up. She came up with the idea for these books while sitting on a park bench one day. Instead of writing a journal entry from her point of view at that moment, she felt a strong desire to write like a child. From there, her stories developed. Visit www.lynnieaninnerchild.com for more.
Experia Socks are powered by THORLO pads and are anatomically engineered for aero-dynamic fit and protection without weight. These socks are ideal for high performance runners, cyclists, hikers and fitness walkers. For more got to www.thorlo.com/experia-socks.php
Live In Fitness Enterprise – Another highlight at the gift suite will be a $6,200 all-inclusive fitness retreat (including home meal delivery by California Fresh & Fit) from Live In Fitness Enterprise. The fitness boot camp offers customized weight loss programs and comprehensive support as you achieve your health and fitness goals.
What started out as an ordinary boot camp for founder Eric Viskovicz turned into a live-in fitness retreat as he realized that the best way to get results was to take people from their environments and put them somewhere where they can completely dedicate themselves to change. His program covers the physical and nutritional aspects of weight management while also making sure to tackle the mental and emotional issues as well. To learn more, check out www.liveinfitnessenterprise.com
Bed Hog – Born from that familiar debate over who is really hogging the sheets, Bed Hog sheets are designed with a line down the middle and decorative His & Her patterns on the sheets. The flat and fitted sheets are reversible and made with 100% Cotton Sateen and a luxurious 300 thread count.
Created by real life couple Sue and Patrick who had their own bed troubles, Bed Hog sheets are meant to stay where they belong. No matter what sides of the bed he or she sleeps on, the patterns fit and when you wake up in the morning, the new home of the line will prove who really is hogging the sheets. Go to www.bedhog.com for more.
Xstatic – The Xstatic Corporation gifted their Xstatic wellness wristbands which our Editor-In-Chief found to work extremely well. The wristbands are technologically built to energize you when you most need it and all you have to do is wear it. Visit the Xstatic Corporation at www.xstaticenergy.com
Not Just Any Old Day – Also being gifted at the suites were items from Not Just Any Old Day, jewelry pieces accessorized with little calendars. These necklace and bracelet charms are designed for your special day so that you can give a gift that is not so ordinary. With a Swarovski marking the specific day, these calendar charms are a new and cute way to share your special day.
Designer and Creator Michele Esposito came up with the idea as she scoured the stores and web for the perfect gift for her fiancé's birthday she came up with the idea for Not Just Any Old Day. Remembering a charm her grandfather, a jeweler too, gave to her grandmother as an anniversary present, she decided to do the same for her fiancé. Michele made him a key ring with his birthday and eventually she made one for her own necklace. They both loved the pieces very much and from there Not Just Any Old Day was launched. For more on Not Just Any Old Day, visit www.notjustanyoldday.com
WooLoot Sport also appeared at the gifting suites providing watches that were both fashionable and sport friendly. The waterproof watches can help you keep track of time while you are out riding the waves or on your way to meet some friends.
Combining fashion and sports is the goal for the team behind WooLoot Sport. Founded in 2009, by three entrepreneurs from the Tampa, Florida area, WooLoot Sport brings fashion trends from all over and makes them athletic. Keeping in mind what goes into making an athlete a true athlete, hard work, passion, and motivation, WooLoot Sport is able to give to athletes what athletes give to them.
Visit WooLoot Sport at www.woolootsport.com
Hyland's, Inc. – As a 104 year company, Hyland's, Inc. has provided remedies for relieving all symptoms in ways that not only work, but are natural and not harmful to the body. The natural and active ingredients allow everyone to be able to take the medications no matter the age, infants to the elderly. They are also safe enough that they can be taken along with other prescription drugs. With hardly any side effects, the medications of Hyland's, Inc. are safe and affordable in a world where that is not as much the case as it used to be. Learn more at www.hylands.com
Soy Delicious Moisturizing Candles – Eco-friendly Soy Delicious provided gifts with lovely scents that are also environmentally sensitive, non-carcinogenic, and non-toxic. Using soy wax that comes from soybeans, a renewable resource, Soy Delicious candles burn longer and without smoke or soot. To keep the candles as natural as possible, the candles are dye-free and the wicks are cotton core lead-free. See all that Soy Delicious has to offer at www.soy-delicious.com
SUDZZfx – helping restore hair to its natural beauty is SUDZZfx cleans, moisturizes, and nourishes hair using liquid treatments and the latest ingredient technology formulas. SUDZZfx is recomened to those who have noticed damage done to their hair either by environmental stress, hair treatments involving chemicals, blow drying which robs the hair of moisture, or shampoos containing sulfate, which SUDZZfx does not contain. To read more about SUDZZfx visit, www.sudzzfx.com
Distinctive Assets
Distinctive Assets provides Celebrity Placement, Public Relations, Product Integration, Event Production and Branding opportunities to clients in the entertainment world and other industries. Distinctive Assets has hosted gift collections and lounges at many Hollywood events, including the Grammy Awards, Latin Grammy's, HBO Comedy Festival, People's Choice, American Music Awards and Kids' Choice Awards. For more on Distinctive Assets, please visit www.distinctiveassets.com
A Home for the Holidays
With more than 500,000 children currently in foster care throughout the United States, "A Home for the Holidays" chronicles the joys, rewards and success stories of adoption. The annual holiday special is presented in association with the Dave Thomas Foundation for Adoption and the Children's Action Network.
To learn more about A Home for the Holidays visit the Dave Thomas Foundation at www.davethomasfoundation.com.
The inspirational stories of these American families are enhanced by performances from some of today's most popular artists.
The special will include moving performances by five-time Grammy Award winner and Academy of Country Music (ACM) Award winnerFaith Hill, who headlined last year), Grammy Award-winning singer Mary J. Blige, musician and featured adoptee Michael Franti, Grammy and ACM Award-winning country superstar Reba McEntire, Grammy Award-winning Latin pop singer Shakira and Grammy and ACM Award-winning star Carrie Underwood, among others. Jenna Elfman ("Accidentally on Purpose") and Nia Vardalos ("My Big Fat Greek Wedding") are among the celebrities presenting inspirational stories about adoption.
The 11th Annual "A Home for the Holidays" will be broadcast Wednesday, Dec. 23 (8:00-9:00 PM, ET/PT) on CBS.