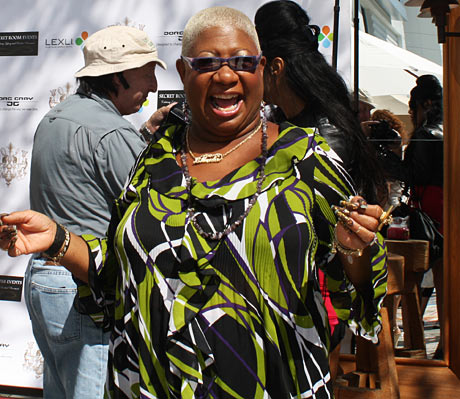 Secret Room Events presented the 2009 "Think Pink" Emmy Awards Style Lounge, one of the most exclusive and talked about events surrounding the Emmy Awards. Emmy nominees, presenters, stylists and media were treated to luxurious products, services, Caribbean trips, martini bar and more as they help support breast cancer research at the 2009 "Think Pink" Emmy Awards Style Lounge, hosted by Secret Room Events and the SLS Hotel.
SLS: Super Luxurious Secret Room
Held at the fabulous SLS Hotel in Beverly Hills, this invite only event benefited the Breast Cancer Research Foundation and the Tiger Lily Foundation. Both were on site to accept donations and inform guests about these most worthy causes. Celebrity guests signed a special Breast Cancer item that was auctioned off with all proceeds going to the Breast Cancer Research Foundation.
Secret Room Events Swag
Secret Room Events invited some of the most luxurious and exclusive companies to showcase their products and services to guests and media at the "Think Pink" Emmy Awards Style Lounge.
As with the rest of the world that are utmost fans of Obama, stars lined up to pay tribute to President Obama and receive the Commemorative Edition Jorg Gray 6500 Chronograph watch that is worn on the wrist of the 44th President of the United States, a watch given to him by the Secret Service. For your own Obama watch or to see pictures of Obama with the Jorg Gray watch on, go to: www.JorgGray.com
Stars clamored to sample Julie Hewett's stellar line of cosmetics at the affair. She is one of the foremost beauty makeup artists actively working in Hollywood today and is also a member of the exclusive Academy of Motion Picture Arts & Sciences, of which there are only 150 members internationally in the Hair and Makeup Category. An idea born of necessity on the set of Pearl Harbor, Julie needed to create her own line of long-lasting technicolor reds. The Noir Collection was the answer to the call for good, old-fashioned red lipstick made with today's updated, more natural ingredients. www.juliehewett.net
Iso Professional caused a buzz with their sizzling colored flat irons ranging from raging hot pink to sassy animal prints . Their Professional Ceramic Hair Straighteners are the newest in technology and temperature control. They also feature Negative Ion Emitting technology to help straighten hair faster and make it smoother. www.isobeauty.com
After celebs got a pedicure, Bare Sole was ready to make their feet red carpet ready with their made in USA, completely customizable sexy sandals and heels. Because each pair of Bare Sole is handmade, they can accommodate almost any foot issue.  Unlike mass produced shoes, they can add additional arch support, extra cushioning, narrow or wide widths, etc and the straps are interchangeable so you only have to have one pair to match any outfit. www.baresole.com
Beltali was there with their functional purse in a belt, hand-made from the softest most elegant Italian leather, as well as sexy leather 'wraps' to go over pants. The very sexy style is the way to be both fashionable and functional! It was a smash at the event! www.Beltali.com
No more dropping cell phones or losing it in your car when you take a turn with Mobigrips. Mobigrips are unobtrusive and affix to the back of your cell phone, giving you an elastic handle to hold your cell phone and giving your cell phone a surface that won't slide around. www.mobigrips.com
Celebs were reveling in the urban yet luxurious Eccentric Symphony clothing line that combines the inspiration and talent of rock musician Nikki Lund and professional surfer Maikai Makena. Decadent, smooth against your skin cotton are the foundation for this distinctive line of embroidered, embellished t-shirts, pants and hoodies for men and women. Not only do you get a new piece of trend setting clothing, your ears will be happy too as each piece comes with a special edition CD of Nikki's band, Secret Mind.Eccentric Symphony went straight to the top of the charts with the celebs www.eccentricsymphony.com
Guests were generously gifted with products such as exotic Caribbean trips, jewels, clothing, footwear, skincare, children's products, home decor and more from the following generous sponsors:
Lexli (lexli.com)
Caribbean Living (caribbeanlivingmagazine.com)
Hope Paige (hopepaige.com)
GoGo Squeez (materne.us)
Absolution ( absolution-cosmetics.com)
The Good Dog Food company (gooddogfoodcompany.com)
Tamara Comolli (tamaracomolli.com)
Gold Canyon Candles(goldcanyon.com)
Luvali Convertibles (luvaliconvertibles.com)
La Falaise (savonlafalaise.com)
Moonlight Pillows (moonlightpillows.com)
Original Sin (originalsin.com)
Beltali (beltali.com)
Geri G Cosmetics (gerigcosmetics.com)
Fanie (fanie.com)
Social Savvy (socialsavvyinvites.com)
Hydrafacials (hydrafacial.com)
Pedicures and manicures by O.P.I. (opi.com)
Spray Tans, eye brow threading and party lashes by Make UMandy (makeupmandy.com)
Cake Pops (cakepopco.com)
Tasty Clouds Cotton Candy (tastyclouds.com)
Chocolate Superfoods truffles (chocolatesuperfoods.com)
Hint Water (drinkhint.com)
Hypnotiq Liquor (hypnotiq.com)
Pama Liquor (pamaliqueur.com)
Coca Cola (coca-cola.com)
Smart Water (glaceau.com)
Rosenthal Estate Wines (rosenthalestatewines.com)
Honest Tea (honesttea.com)
Before leaving the "Think Pink" Emmy Awards Style Lounge, as if gifts from the event sponsors weren't enough, a fabulous eco Green Chic gift bag graced each guest full of additional wonderful products from:
Better Botanicals (betterbotanicals.com)
Boogie Box Fitness (boogieboxfitness.com)
Canus (canusgoatsmilk.com)
Breezy Jewelers (pgonzales85@yahoo.com)
Miche Bags (michebag.com)
Yum Skincare (yumskincare.com)
Loop-2-Loop (loop2loopbelts.com)
Clips 4 A Cure (clips4acure.com)
LeTarte (letarteswimwear.com)
Pooch Smooch Treats (poochsmoochtreats.com)
Shop Go Girl (shopgogirl.com)
Boho Magazine (bohomag.com)
Green Changes (greenchanges.org)
Melis (melis.com)
Yoga Sandals (yogasandals.com)
EBoost (eboost.com)
Organix Hair Care (organixhair.com)
Coolchange (cool-change.com)
Hair Free (noflatiron.com)
Earth Angel Minerals (tryearthangelminerals.com )
Coola Suncare (coolasuncare.com)
UV Sol Beads (uvsolbeads.com)
Aroma Baby (aromababy.com)
Astara Skin Care (astaraskincare.com)
Westside Medical Spa (westsidemedialspa.com)
Planet Beauty (planetbeauty.com)
ThermaFuse (thermafuse.com)
NySeas (nyseas.com)

Here are the fabulous celebrities that attended the Emmys Secret Room gifting suite:
Aaron Spears – The Bold and the Beautiful, Adriene Franz – The Young and the Restless, Alana Stewart – Delivered, Farrahs Story (producer), Alexa Dziena – Entourage, Nick and Noras Infinite Playlist, Alice Greczyn – Lincoln Heights/Privileged, Amanda Righetti – The Mentalist, Andrea Bowen – Desperate Housewives/King of the Hill, Andrea Roth – Rescue Me, Bradford Anderson – General Hospital, Carolyn Hennesy – Terminator 3, General Hospital, Conrad Green – Producer Dancing With The Stars, Big Brother UK, Christa Miller – Scrubs, Cindy Margolis – Seducing Cindy (new series), Colleen Shannon – Playboy Playmate/centerfold, Crystal Allen – Anaconda, Hanna's Gold, Danielle Harris – One Life to Live, Dierdre Hall – Days of our Lives, Dorian Gregory – Charmed, Down AKA Kilo – Grammy winning hispanic rapper, Emily Wagner – ER, Emryhs Cooper – Mama Mia!, Elle Travis – The Days Men Don't Lie, Francia Raisa – Secret Life of An American Teenager, George Eads – CSI, Hakeem Kae-Kazim – 24, Jan Anderson – Travel Show Host, Jay Karns, Julia Campbell & Kids, Jay McCarroll – Project Runway, Jeff Branson – Guiding Light, Jenna Fredrique – Passions, Noahs Ark, Jennifer Korbin – Lingerie, Jennifer Stone – Wizards of Waverly Place, Jesse Garcia – Locker 13, Josh Keaton – General Hospital, Josie Davis – The Sand, various roles on tv shows, Judith Owen – Singer, Judy Tenuta – Comedian, Kari Whitman – Designer To The Stars (tv show), Kate Flannery – The Office.
Kate Linder – Young and the Restless, Katie Amanda Keane – Navy NCIS, My Name is Khan, Kim Coles – Ten Items Or Less, Kim Kilbey – Producer/Hells Kitchen, Dancing With The Stars, Kirk Acevedo – Fringe, Kirsten Warren – Desperate Housewives, Independence Day, Kunal Nayyar – The Big Bang Theory, Loni Love – Comedian, Chelsea Handler Show, Lonny Ross – 30 Rock, Loren Lester – Hung, Lorielle New – Postal, Lorna Scott – Surviving Suburbia, Marcy Rylan – Guiding Light, Maria Thayer – Forgetting Sarah Marshall, Marisa Ramirez – General Hospital, Mary McCormack – In Plain Sight, Michael Hitchcock – Men of A certain Age, Mad TV, Michael Sucsy – Director "Grey Gardens", Michaela Corrozzo – iCarly, Mike Henry – Family Guy, Nancy Cartwright – The Simpsons (voice), Natalia Cigliuti – Raising The Bar, All My Children, Nya Rivera – Glee, Neil Cohen – Producer/ Tattoo Highway, gene Simmons Family Jewels, Nelsan Ellis – True Blood, Nick Verreos – Project Runway, Countdown to the Red Carpet, Oded Fehr – Sleeper Cell, Batman The Brave and the Bold, Riley Weston – Always and Forever, The Nanny Press, Robin COleman – American Gladiators, Rochelle Aytes – Various Roles on TV Series, Ron Artest – Rome is Burning, Patrick Kilpatrick – Daze, Minority Report, Various roles on TV Series, Peter Jacobson – Transformers, Phoebe Price – Red Carpet Personality, Sally Kirkland – The Last Gamble, Samantha Droke – Poor Paul, Sara ER Fletcher – Secret Girlfriend, Scott Bailey – Guidong Light, Shar Jackson – Everybody Hates Chris, Moesha, Sharon Lawrence – Priveleged, The Monk, Sonia Rockwell – Spread, The Passing, Sufe Bradshaw – Flash Forward, Dance Flick, Tamala Jones – Castle, Tanya Memme – Sell This House, Taylor Spreitler – Days of Our Lives, Tom Bergeron – Dancing With The Stars, Entertainment Tonight, Tom Malloy – Producer/Hero of the Underworld, Victoria Justice – Zoey 101, Wess Brown – Wes Brown, Zach Abel – Make It or Break It, and Zoe Myers – Dawn of the Dead.
Secret Room Events
Secret Room Events produces the most exclusive gifting lounges and private events surrounding such award shows as the Academy Awards, Emmy Awards, MTV Movie Awards and Golden Globes as well as movie premiere parties and private celebrity events.
Secret Room Events is owned and operated by Amy Boatwright and Rita Branch. Secret Room Events is an independent events company and not affiliated with the Emmy Awards or the Academy of Television Arts and Sciences.
Wait! Don´t forget to Subscribe for Free!
Main Feed | What is RSS?
Enter your E-mail below to Subscribe

*
No spam
|
Privacy Policy
We will not sell or distribute your e-mail address to anyone else.
Written by Lanee Neil