GBK, a leader in custom, high-class special events and gifts suites, honored the 2009 Oscar nominees and presenters in unique style this past week with their "Circus of the Senses" gifting suite at the gorgeous SLS Hotel in Beverly Hills.

Celebrities and VIPs were invited to engage their senses by touching, feeling, smelling, seeing and tasting their way through the creatively decorated suites, each of which were themed from this year's selection of Best Film nominees.
In the suites, visitors enjoyed boutique design company Freshwata's interpretation of the nominated films, with authentic-feeling props and displays.
Engaging the Senses
A-Listers were treated to tasty hors d' oeuvres and sweets by renown chef José Andés of the the SLS Hotel. They had their senses tingled with beauty treatments such as body wraps and facials, and musical entertainment ranging from DJ to the Nick Rallis Band.
Spirits were raised along with money, as 20% of gift suite proceeds went to charitable organizations such as Director Antoine Fuqua's Fuqua Films Program, Homeless Not Toothless, Hollywood Dreamz, and World Team Foundation. GBK this year also introduced an amazing new way to give something back: Celebrities and VIPs were offered the opportunity to gift back their GBK bag to the charity of their choice. GBK founder Gavin Kelly pays special attention charity, teaming up with non-profit foundations in order to raise much-needed funds for worthy causes around the world.
Those Who Benefited
These diverse 501(c)(3) non-profits were the benefiting charities of the GBK 2009 Oscar Gift Suite:
World Team Foundation (www.world-team-foundation.org). Committed to reducing human trafficking, with a goal of raising money to rescue impoverished children from modern sexual slavery. Their focus is on Thailand, where 800,000 of the country's prostitutes are under the age of 18, and 200,000 under the age of 12.
Hollywood Dreamz (www.HollywoodDreamz.com). Focuses on improving children's lives by providing crucial support for children's education, arts, and character development programs. Through a variety of tools, including scholarship programs for underprivileged youth, assisting nonprofits during funding shortfalls, and providing resources to other organizations, Hollywood Dreamz is able to help those in need.
Fuqua Film Program (www.fuquafilmprogram.org). A twelve week summer film intensive for young adults. Its goal is to expose students to opportunities in the entertainment industry, as well as educate them by offering weekly lectures, exercises, guest speakers, and field trips. At the end, the students will each write, direct and edit their own short film.
Homeless Not Toothless (www.homelessnottoothless.org). Founded by Dr. Jay Grossman, they provide free dental care to the homeless and underserved. Since its inception, Homeless Not Toothless has provided over $1,000,000 in service for this population.
Gifts Designed for All
Goods and services gifted in this year's suites were truly engaging, and nominees and presenters walked away with more than $35,000 in gifts.
K-Swiss (www.kswiss) has a varied line of footwear for the whole family, including shoes for running, yoga, nautical, and walking. Representing innovation, quality, performance and style, K-Swiss' line has grown from its humble beginnings with tennis footwear 40 years ago. Always forward-thinking, K-Swiss even has shoes with "custom insoles" that feature a modular, individualized sole system made for custom performance and fit. Create your own "custom" K-Swiss shoe on their web site.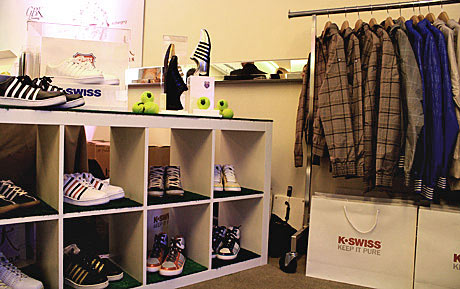 Dr. Chiu's Beverly Hills Plastic Surgery, Inc. (www.beverlyhillsplasticsurgeryinc.com) is led by renown plastic and reconstructive surgeon Dr. Gabriel Chiu, who specializes in minimally-invasive ways to enhance natural beauty. While delivering exceptional results in all aspects of plastic and cosmetic surgery, Dr. Chiu is most well-known for superb body contouring, breast augmentation, and facial procedures. Dr. Chiu's practice provides a positive, relaxing environment, where patients can be pampered in their Chanel-inspired suite with a retail skincare lounge and private VIP reception, while in the care of knowledgeable and personable staff.
Croton Watches (www.crotonwatch.com) has been one of the most sought-after and respected names in watches for over 130 years. With styles such as sporty, vintage, executive, casual, exotic or black tie, there is not much these watches won't match with. Croton also carries a line of exotic leather goods, featuring bags, purses, wallets, belts, CD cases and attaches.
LifeCell Skincare (www.lifecellcream.com) gives stunning results – in 60 seconds. LifeCell Skincare cream uses both light reflective technology to reduce the look of wrinkles immediately and anti-aging properties to make your skin healthier and younger-looking over time. Its all-natural formula helps revive skin's appearance, tightening and adding a youthful glow. The scientifically-proven ingredients reduce the appearance of lines, wrinkles, sagging skin, age-spots, under-eye dark circles and puffiness.
J & A Shoe Company (www.jandashoes.com) kicks up its heels with fashionable, fun, and comfortable sandals, wedges and thongs for women. Made in California with input from customers, J & A shoes use only the best materials imported from Italy. A family-owned business, J & A shoes has decades of experience with shoe-making, ensuring quality, comfort and fit. The three stylish lines Athena Alexander, Callisto of California, and Lia Bijou, range from simple and down-to-earth, to flashy and up-scale. You can find this great line in Nordstroms and other fine retail outlets.
Dara Ettinger (www.daraettinger.com) creates unique, timeless and beautiful jewelry. Drawing inspiration from nature, Dara incorporates natural stones, metals, and elements into her wonderful pieces. From smoothly polished stone rings, cut stone necklaces, bracelets and matching earrings, all of Dara's creations impart warmth, sparkle, shine – and uniqueness.
Textiles for Thinkers (www. Thinkerclothing.com) is for the thinker in all of us. T-shirts with science, tech, engineering and math themes are created for men, women and kids. Textiles for Thinkers also offers "smart" jewelry like "heat sinks" and "black and blue jumper wire".
Nordic Naturals (www.nordicnaturals.com) is the leading supplier of fish oils to the natural product industry. It has been proven that essential fatty acids are crucial for good healthy, and we must get it from an outside source, as our bodies do not produce it. But not all fish oils are alike; Nordic NaturalsWith purity, outstanding taste and freshness, the award-winning Omega 3 fish oils from Norway exceed international standards. They are pharmaceutical-grade, doctor-recommended and third-party tested.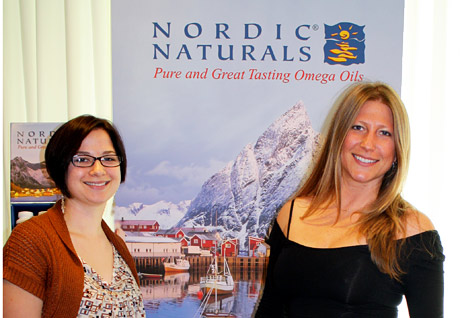 Metropolis (www.metropolistechnology.com). Professional stylists and style-savvy consumers know that Metropolis products deliver the most cutting-edge technology with their styling tools. The tech-enhanced line of premium tools allows for better, longer-lasting styles and healthier, shinier, more manageable hair. The secret is Tourmaline, a mineral used as a natural source of ions. Ions provide special energy that makes hair dry faster, healthier and shinier, and becomes more resistant to humidity. The line of professional products features the Tourmaline Ionic Dryer, the Tourmaline Ionic Iron, the Tourmaline Ionic Digital Curling Iron and the Zirconia Ionic Dryer, all of which keep celeb locks shiny and lushious.
TriSpecs (www.trispecs.com) is a high tech innovation that allows you to answer your phone and listen to music – all through your sunglasses. TriSpecs are a cool new way to wirelessly connect to your mobile phone and music player. Switch from music to a telephone call seamlessly and enjoy unparalleled voice quality. Noise canceling stereo headphones ensure a great musical experience.
Amazon Thunder (www.amazonthunder.com) uses the berry you may have heard so much about – the acai – in their 100% certified organic blend of products. Touted as the "high-energy berry" of the Amazon palm tree, the acai tastes like a vibrant blend of berries and chocolate. The anti-oxidant berry is offered in an Acai Puree, the Thunder Pouch, Thunder Caps, and Thunder Scoop. It does not contain any harmful preservatives.
Senseo Coffee (www.senseo.us) is designed for those who just want one cup of sensational coffee. The personal coffee machine is available in a variety of colors to complement any décor. The accompanying Senseo coffee pods are individual packs of truly inspired flavors including Godiva Chocolate Cream and Crème Brulee.
Verve! Energy Drink (www.verve.com) is a healthy, natural way to get that extra push, with your choice of energy drink or energy shot. The products naturally boost energy with 80-150 mg of caffeine, mangosteen fruit and tropical fruit flavoring. Also available in low natural sugar and sugar free versions.
RevitaLash (www.revitalash.com) is a remarkable conditioner that helps your eyelashes look longer and thicker. Using RevitaLash just once a day will give you dramatically longer natural lashes without resorting to extensions. Even if your eyelashes are brittle, short, fragile, thin, or sparse, this amazing treatment can help you get the healthy look you want. RevitaLash has also launched Hair by RevitaLash, a conditioner that provides a thicker and fuller head of hair.
Hansen Cakes (www.hansencakes.com) showed off detailed, true-to-life images of the Best Film nominees on their delicious cakes made available for guests to sample. Tasty, moist and outstandingly decorated, Hansen Cakes' recipes have been passed down from generation to generation. From traditional 'Old World' designs to contemporary 'high-tech' styles, the Hansen name is recognized as one of the finest in cake baking and decorating.
Milus (www.milus.com) boasts an impressive and innovative collection of watches and jewelry. Luxurious, unique and timeless, these original pieces are solid, yet elegant. Their collections include precision-crafted watches and artistic jewelry, for both men and women.
Icon Products (www.iconproducts.com) are a complete line of quality hair care products. With a range of shampoos, conditioners, treatments and styling formulas, Icon Products are designed to energize, strengthen and de-stress hair. Icon Products has also launched a "Cure for a Cause" campaign, where money from their Cure spray will be donated to help find a cure for cancer.
Lalo Fit (www.lalofitness.com) is headed by Lalo Fuentes, a Certified Strength and Conditioning Coach, personal trainer and lifestyle coach. Lalo offers simple and effective ways to train you body to reach its full potential, whether in person or on his excellent DVD, which you can do in the convenience of your own home.
Earth Kit for Kids (www.earthkits.com) puts the "green" concept in front of children in a way they can understand. These creative kits contain inspirational ideas and useful items that teach children about the environment, including a book, 100% organic cotton t-shirt, fun dog tag, BPA-free water bottle, and a seeded download card with two free songs (card can be planted after use!).
Pür-Lisse (www.purlisse.com) all-natural skincare products are based on time-tested Chinese beauty rituals coupled with modern French technology. Pür-lisse products protect sensitive skin, while having anti-aging benefits. Free of parabens and petrochemicals, the unique skincare line offers Lotus Lupine Peptide Complex, which is a powerful antioxidant for healthy, young-looking skin.
Generate 1,000 (www.dietmagic1000.com) is a synergy of supplemental support that provides powerful anti-aging and immune-supporting properties. These benefits are in a convenient, effervescing formula that can be carried, sampled, and served from the Generate 1000 "Strength Straws", individual-sized servings for mixing in bottled or filtered water.
Styleshop USA (www.styleshopUSA.com) allows you to shop online in style. Whether you need beauty supplies, jewelry, dresses or accessories, Styleshop USA has the internet bases covered.
Emre New York (www.emreny.com) luxury handbags feature standout designs. Merging expert stitching with finished leather to produce a versatile and functional collection, Emre handbags range from medium sized all-Italian leather handbags and clutches to business-style bags and totes. Adding the perfect touch of detailing and hardware allows Emre bags to stand out from the crowd, while creating that must-have look. Fox 5 News cited Emre bags as, "the most versatile bags to come along in years."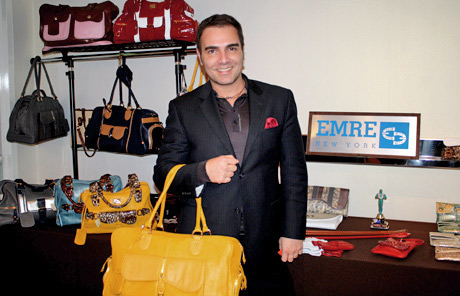 Rock Our World (www.rockourworld.net) features beautiful crystals, minerals, jewelry, gifts and home décor. Each item is hand-picked to ensure quality and integrity. A large selection of gorgeous polished stones ensure that there is something for every style.
Infinity Sun Spray Tans (www.infinitysun.com) is sunless tanning and skincare treatment in one step. The anti-aging, all-natural product blends help prepare and soften skin, while ensuring long-lasting color.
9022 Salon (310.278.6738) has stylists that pay attention to detail. Exquisite color, extensions and chemical treatments.
Got2b (www.got2b.com) is a full line of haircare products which allow individuals to express themselves. These power products are the perfect way to shape hair and show some attitude. From gel, hairspray, shine serums, blow dry lotion, rubber cement and freeze spray, got2b gives users the power to create.
Mistura Beauty Solutions (www.misturabeauty.com) offers their 6-in-1 Beauty Solution to simplify your life. Featuring their Miracle Match Colour Blend TechnologyTM, Mistura easily mixes with all skin types and colors. A favorite at the 2009 Golden Globes and Sundance, this product replaces six different make up items without the need for multi-step applications or multiple brushes. It can be used as a bronzer, eye shadow, concealer, foundation, blush and lipstick to make life simpler for busy women.
ZeroSmoke (www.zerosmoke.org) helps people quit smoking – naturally – without drugs or pills. It is non-allergenic, and easy to use. Based on the principles of acupuncture, ZeroSmoke uses two biomagnets to create a precise pressure point on the outer ear, which stimulates the production of neurotransmitters in the brain, eliminating the desire to smoke quickly and efficiently.
Waterford Crystal (www.Waterford.com) speaks of quality. The fine crystal is used in gorgeous items ranging from classic crystal stemware and chandeliers to sporting trophies and the Times Square New Year's Eve Ball. A wedding gift staple, Waterford Crystal has withstood the test of time, offering elegance and sophistication.
Force for Earth (www.forearthonline.com) lets you save on fuel costs with their Force for Earth Fuel & Engine Conditioner. The conditioner helps your engine burn fuel more efficiently, so it saves gas and reduces toxic emissions. It also lubricates the walls of the combustion chamber to help prevent engine damage, increasing the life expectancy of your vehicle. Non-toxic, non-hazardous, safe for the environment, and easy to use.
Indulgent Escapes (www.indulgentescapes.com) features the finest in luxury travel with vacation options in beautiful Mexico, Central America, and the Caribbean, including fabulous destinations such as Raffles – Canouan Island, The Crane Resort – Barbados, Beach and Water Club – Puerto Rico, and Morritts – Grand Cayman.
Six Senses Destination Spa (www.sixsenses.com) offers world-class innovative services that combine cutting-edge holistic and modern treatments within the beautiful and tranquil Thai Islands. The spa features four unique interrelated spa concepts (Chinese, Indian, Indonesian and Thai) with ground- breaking fitness programs. An amazing spa/vacation combination.
Kirkwood International (www.kathleenkirkwood.com) helps you instantly increase your bust size without having to undergo surgery. BUST-ease is a revolutionary bra insert that is seamless, lightweight and shaped like real breasts, BUST-ease helps give you a fuller and firmer look. Invisible under clothes, the cool, quick-dry fabric even works with swimwear. Said Paula Abdul, American Idol judge, at the gift suite, "The gels are hot and sticky. Your bras are smooth." Kirkwood also has a line of body slimmers, that provide a smooth and sleek silhouette.
About GBK
GBK is a fundraising and special events specialist that provides extraordinary service to its clients. Known in the industry for their unique way of mixing entertainment with charity, GBK hosts gifting suites for the most memorable and high-profile events. Visit them at www.gbkproductions.com.
Stars-a-Plenty
This year's list of star attendees at the GBK gift suite included Aaron Carter (Recording Artist), Adrien Brody (The Piano), Alexander Skarsgard (True Blood), Chi McBride (Pushing Daisies), Deidre Hall (Days of our Lives), Deanna Russo (Knight Rider), Dustin Lance Black (nominee, Milk), Erin Cummings (Dollhouse), Jamie King (Tudors), Joel Murray (Madmen), Joey Fatone (Dancing with the Stars), Keenan Thompson (SNL), Kyla Pratt (Hotel for Dogs), Kunal Nayyar (Big Bang Theory), Madisen Beaty (nominee – Benjamin Buttons), Michael Sermanick (nominee, Wall E and The Curious Benjamin Button), Marianne Jean – Baptiste (Without a Trace), Paula Abdul (American Idol), Paul Ben Victor (Daredevil), Rachelle Lefevre (Twilight), Rebecca Alleway (nominee THE DUTCHESS), Robert Buckley (Lipstick Jungle), Rachael Smith (Former Miss USA), Scott Hamilton Kennedy (nominee, The Garden), Sean Faris (Forever Strong), Wally Pfister (nominee, Dark Knight), Adam Gregory (90210), Amanda Righetti (The Mentalist), AnnaLynne McCord (90210), Anil Kapoor (Slumdog Millionaire), Bradley Rapler (Winner of Superstars of Dance), Chris Boyes (nominee, Iron Man), Cody Longo (Ball Don't Lie), James Kyson Lee (Heroes), Jason Kennedy (E! Correspondent), Jennifer Coolidge (Legally Blonde), Julia Ling (Chuck), Kate Flannery (The Office), Katie Price (Peter and Katie), Keily Williams (Cheetah Girls), Loretta Devine (Grey's Anatomy), Madeline Zima (Californiacation), Michael Calin (nominee, The Duchess), Michael Copon (The Scorpion King), Michael Sheen (Frost Nixon), Peter Andre (Peter and Katie), Riki Lindhome (Changeling), Skylar Astin (Woodstock), Terrell Owens (Dallas Cowboys), Tichina Arnold (Everybody Hates Chris, Transformers 2), Tom Arnold, Tony Denison (The Closer).
Sponsors and gifters included Six Senses Destination Spa in Thailand, Milus, Waterford Crystal, Indulgent Escapes, K-Swiss, Metropolis Technology, Tri-Specs, LifeCell Skin Care, RevitaLash, Barbara Conner Jewelry, Nordic Naturals, Styleshop USA, Body Beautiful, Mitstura Beauty, Infinity Suns Spray Tans, 9022 Salon, Senseo Coffee, Rock Our World, Verve!, got2b Hair, Force for the Earth, Generate 1,000, Lalo Fit, Dr. Chiu's Bevery Hills Plastic Surgery, Croton Watches, Icon Products, Earth Kits, Zero Smoke, J & A Shoe Company, Dara Ettinger, Emre New York, Indulgent Escapes, Pur-Lisse, Kirkwood International, and Hansen Cakes.